'You Destroyed My Life' -Kemi Olunloyo Cries Out Over Reunion Of Her Eldest Son And Baby Daddy After 34 Years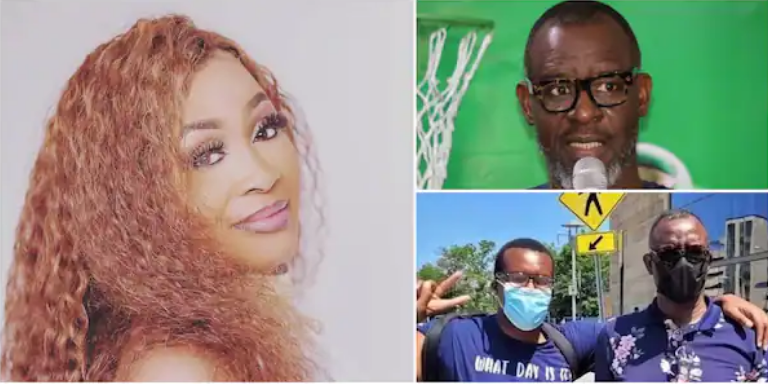 Kemi Olunloyo, is dealing with some issues in her personal life at the moment and she recently opened up in a video shared on Instagram.
The investigative journalist shared details about her relationship with one of her baby daddies, Babatunde Ogunade, whom she revealed as the vice-president of the Nigeria Basketball Federation.
According to the 57-year-old single mom, her son's father, Babatunde practically destroyed her life while she struggled to raise her baby on her own and never reached out to her before reuniting with his son after 34 years.
Kemi who got pregnant at 22 said she never had a life between age 22 and 45 as she was busy raising her kids on her own.
Recall that Kemi broke down in tears when Babatunde, the former Lagos State Chairman of a female basketball team D'TIGERS reunited with his child last month.
In her recent post, the journalist expressed her grievances at Babatunde who reconnected with their son behind her back in America.
According to her, Babatunde had concocted a lie to their son in his favour, stating she stopped him from seeing his son, meanwhile Olunloyo said he rejected her when she got pregnant and forced her to struggle on her own as a single mum despite her son's autistic condition then.
The journalist made a reference to how her son who was formally autistic has now left the spectrum but still can't process some facts of life.
In a different portion of her post, Olunloyo prayed the Lord to forgive her baby daddy while recounting her struggles back in the days when she raised their son.
READ ALSO: "Don't Get Pregnant On A Promise" -Journalist, Kemi Olunloyo Warns As She Recounts How She Got Pregnant At Age 23 
In her words;
"MY 34yo Asperger's SON NO LONGER SPEAKS TO ME

The source of my ongoing anxiety. My oldest son's father has never reached out to me before going to reunite with him in America.

Enitan says his father Mr Babs Ogunade VP Nigerian Basketball Federation told him I kept him away when in fact we were abandoned, denied and owed $102,000 (N51M) child support from Feb 1987-2005.

My son says he thought his father was DEAD before he was born and was told by Mr Ogunade that I prevented him from knowing his father.

Meanwhile I suffered raising a violent autistic child who has now left that spectrum and is high functioning but still can't process many facts of life.

May God forgive you Babatunde. You destroyed my life. I never had a life between 22yo and 45yo. No parties, clubs, vacations etc what young people do in University. I was raising a baby lecturers held while I was taking exams.

Other students babysat for me, sometimes I took the child on his carrier to class and still managed to get a first class degree.

So much pain you put me through. Your mother who stood by you throughout is watching me vindicated now. You fathered a child with me and called me a one night stand but never knew tomorrow. Now you turned my son against me.

Thank you. You now have each other."
SEE ALSO: 'I Have Not Seen My Second Child For 18 Years' -Kemi Olunloyo Cries Out In New Post