Brave Afghan Women Stage Protest In Kabul For Women Rights Despite Heavy Taliban Presence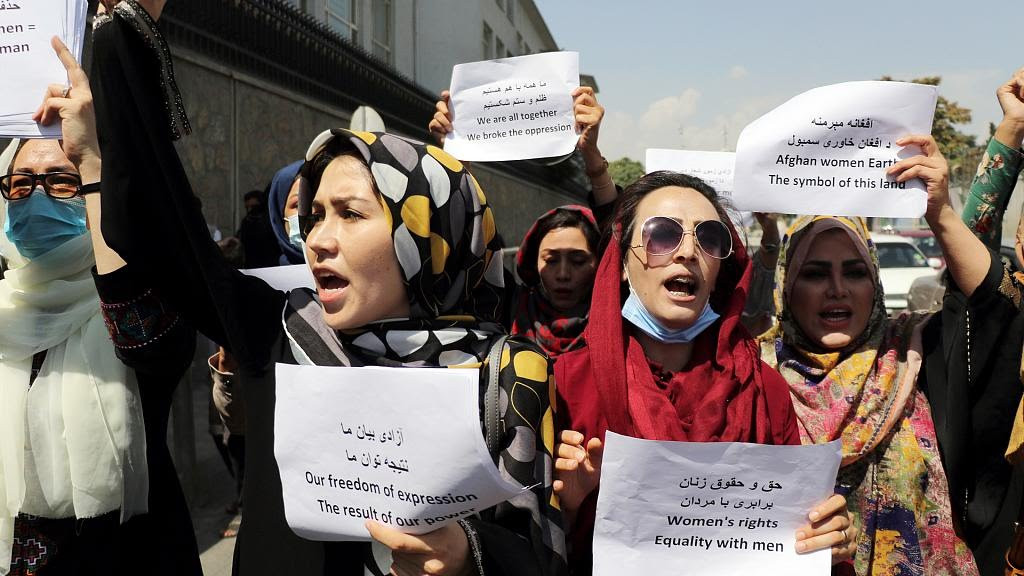 Afghan women rights activists on Friday, September 3, took part in a demonstration in Kabul calling for equal rights and full participation in political life.
Last month, Taliban militants took over Afghanistan's capital, almost two decades after they were driven from Kabul by US troops.
Although Afghan security forces were well funded and well equipped, they put up little resistance as Taliban militants seized much of the country following the withdrawal of US troops beginning in early July.
Same day, many watched with sobriety the fleeing of the Afghanistan president, Ashraf Ghani, and the takeover of The Taliban in major cities, including Afghanistan's capital, Kabul.
This new regime comes with a lot of questions and the fear of what the future of Afghanistan looks like, particularly for women and girls.
In several shocking videos, we see Afghanistans at the Kabul airport trying, desperately, to flee their country; many dead bodies at the airport; men clinging desperately to the landing gear of an American airplane taking off and falling off the plane mid-air; women fleeing their homes for fear of murder, rape, or being married off to Taliban soldiers.
Despite possibility of being attacked by the Taliban who now control Afghanistan, a group called the Women's Political Participation Network marched in front of Afghanistan's Finance Ministry, chanting slogans and holding signs demanding involvement in the Afghan government and calling for constitutional law.
According to reports, there was a brief confrontation between a Taliban guard and some of the women.
The gathering, though relatively small is remarkable and unusual public challenge to the Taliban rule who are known to be repressive towards women.
Since taking over power, Taliban leaders publicly say that women will play a prominent role in society and have access to education but reports in the country point towards a reinstating of harsh policies of Taliban rule two decades ago, when women disappear from public life, have no access to education or work.
The demonstration in Kabul comes one day after women staged a similar demonstration in Afghanistan's western city of Herat.
Women in that protest held a large sign that said,
"No government can be long lasting without the support of women. Our demands: The right to education and the right to work in all areas."
Lina Haidari, a protester at the Herat demonstration, said;
"I want to say that I was forced to stay at home for the crime of being a student 20 years ago. And now 20 years later, for the crime of being a teacher and a woman."
Last month, Taliban spokesperson Zabiullah Mujahid said women should not go to work for their own safety, a slap on the group's efforts to convince the international community that the they would be more tolerant towards women than when they were last in power.