Annie Idibia's Brothers, Wisdom And Sylvester Attack Tuface's Brother And Mom, Demand Public Apology Within 24 Hours Or Else…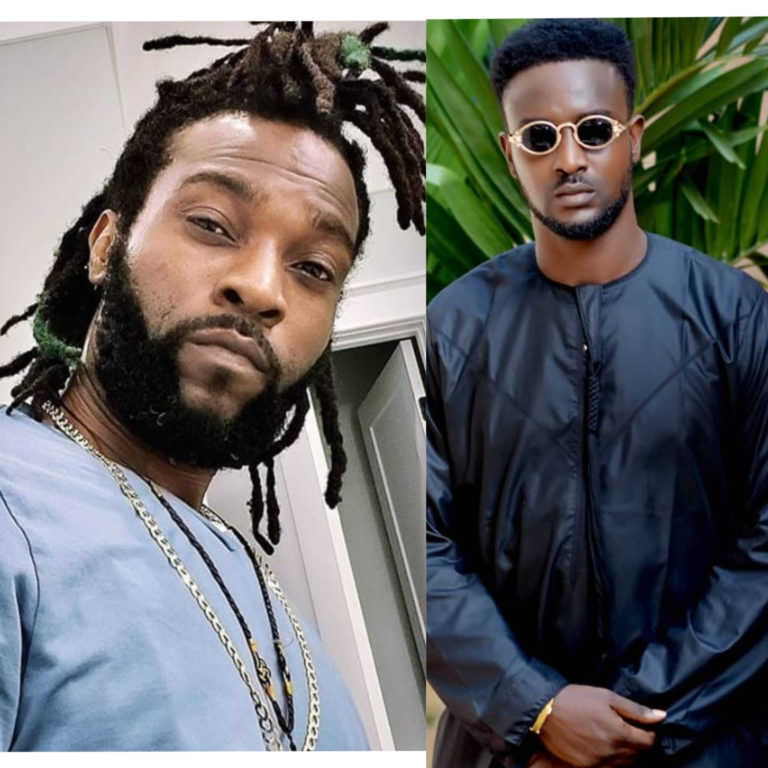 Annie Idibia's brothers, Wisdom and Sylvester have called out Tuface's brothers and mother, after the singer's brothers and the duo's sister, Annie engaged in a messy fight on Instagram.
Wisdom took to social media to call out Charles for calling his mother 'all sort of evil names'.
Recall that after the Nollywood actress, Annie publicly dragged her husband, 2baba for allegedly disrespecting her, by sleeping in the same house with his ex and baby mama, Pero Adeniyi, his brother Charles defended him and spilled some shocking details about Annie.
Charles in an Instagram post attacking Annie accused her of using "juju" on his brother and alleged that Annie's mum helps her in carrying out her evil plans.
Reacting to this, Wisdom who noted that he'll never tolerate any insult on his parents especially his mum asked Charles where his sister attacked the singer's mother in her first call out.
He further asked the Idibia family to issue an apology for having the "audacity to mention his late Father and calling their mother all sort of evil names".
Wisdom also told Charles to ask his brother Tuface, if their mother poisoned him when he visited their house in Victoria Island 20 years ago.
He wrote;
"Charles Idibia @charlybrave it is not a very wise decision to involve in marital issues you can only go so far. If you claim you love your brother truly I don't think you will be the one speaking in his place.

Because of my respect to the entire Idibia Famiily I have been watching and trying to reason with your Mom and Steve your eldest brother. Remember no one is perfect including you and I.

You should let the couple settle their fight. Charles you are the youngest of the Idibias, you had the audacity to mention my late Father, called my Mother all sort of evil names and that's the last thing I would take from the Idibia family.

You should ask your brother if 20years ago when he came to our house at mobil court VI if my mom poisoned him. Why would you call my MOTHER a witch???????

What is her problem with what is happening?? That's an elderly person do u understand the impact?? The damage?? It's obvious you don't even regard yourself and have to no one to advice you.

You are even bringing up yourself personal issues. Be wise and learn to respect your elders! Apologize and clear the air now!!!!!"
SEE ALSO: 'Your Juju Is Finally Catching Up With You' -Tuface Idibia's Brother, Charles And Wife Hit Back At Annie In Explosive Instagram Post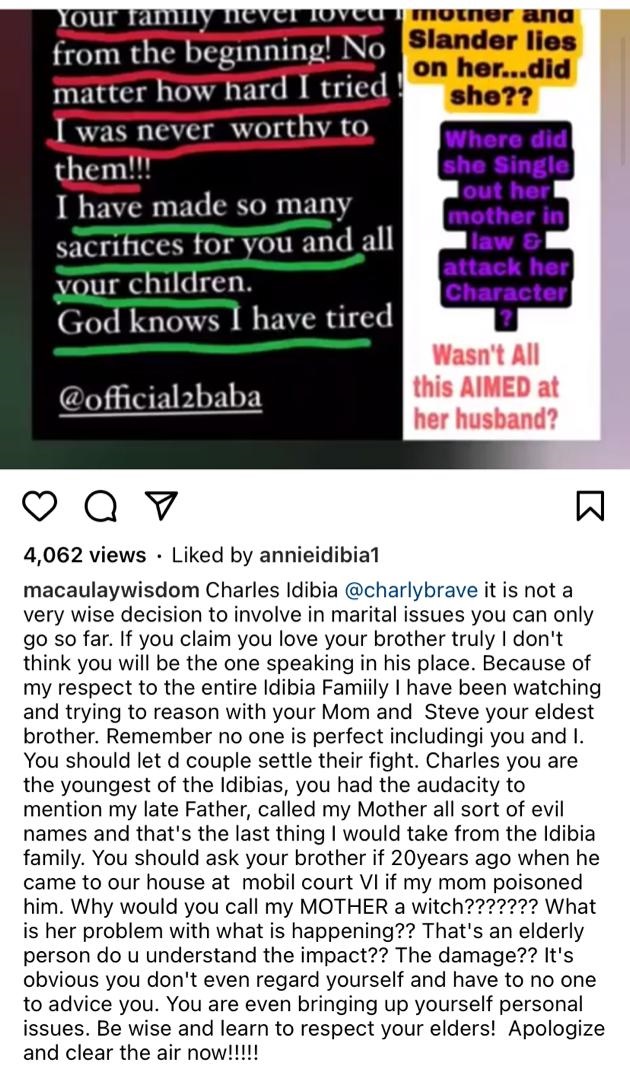 Annie's brother, Sylvester who had publicly severed their relationship before the messy fight, also jumped in to defend his mother.
Insisting that he doesn't care about what happens between his sister and her husband in a now-deleted video, he stated that their mom shouldn't have been roped into the fight.
Sylvester also said that he sent a message to Tuface's mother on Whatsapp, but she listened to it and blocked him after that.
ALSO SEE: Trouble In Paradise: Annie Idibia Calls Out Husband, Tuface Idibia, His Family Members And Baby Mamas In Social Media Outburst
He went on to claim that Tuface's mom blocking him meant she and the singer endorsed her sons' actions. Sylvester also said that he thought Tuface's mother is a decent Christian woman, but has now realized she is an "evil little bitch".
He also demanded for an apology from the Idibias within 24 hours, threatening to fight them on sight if his demand is not met.
In his words:
"I sent 2Face's mum a message, she listened to it, and then she blocked me. She didn't have the decency or godliness to say she will talk to her son. I thought she's a Christian woman. She's only elderly in her age but her mind is a little evil bitch.

Yes Mrs Idibia 2Face's mum, I sent her a message telling her to talk to her son to go and apologise to my mum, she listened and she blocked me, you know what that means?

That means she's the one giving him all the confidence to do what he's doing. It means she approves it, 2Baba also approves it.

Since you guys have been coming for us and we have been quiet, you now have 24 hours to apologise to my mum. I want to see that apology in 24 hours."