'People Like Me Couldn't Survive It' -Georgia Onuoha Writes As She Calls For Prayers For Troubled Marriages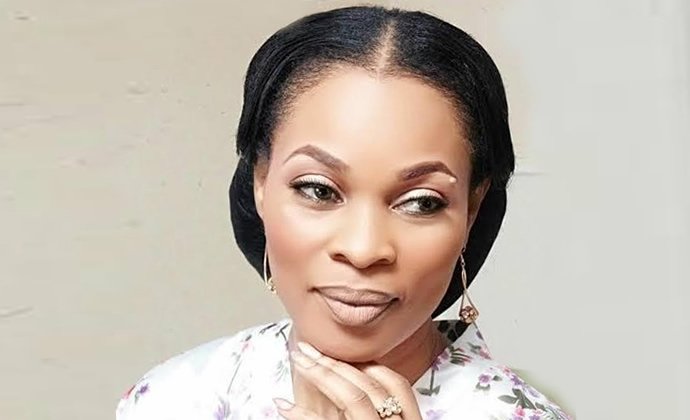 Retired Nigerian actress, Georgina Onuoha has called for prayers for couples whose marriages are going through rough and tough times.
According to her, marriage is not a bed of roses, the reason why a woman like her couldn't survive it.
In a post shared on her Instagram page, the divorced mom-of-two said people are facing difficult times in their marriages and the only thing they need from us all is pray for them. In her words:
"Many couples and marriages are going through rough and hard times.

The least you can do is please pray for them. Marriage is not a bed of Roses.

People like me couldn't survive it.

For all hanging in there, may you find peace and grace to forge along.

While we are always sensationalize about bad news, especially when it comes to famous people and their marriages and relationships crumbling, let us remember they are humans.

Marriage is not easy; whoever tells you otherwise is a liar from the pit of hell. Many give their all and survive, while others like me couldn't make it, while many paid the ultimate price and are six feet beneath the earth.

That being said, it should be our collective duty to pray and be kind towards them. People are going through hard times, and the pandemic has added another layer of depression, pain, and anxiety for many.

Pray for everyone. People are fighting silent battles we know nothing about."
READ ALSO: Trouble In Paradise: Annie Idibia Calls Out Husband, Tuface Idibia, His Family Members And Baby Mamas In Social Media Outburst
The single mom went on to plead with parents caught up in public marital battles to desist from posting DNA test results on social media platforms with children's name on it.
The actress made this appeal hours after popular radio presenter Chinedu Ani, a.k.a, Nedu of Wazobia FM, alleged that the first son birthed by his ex-wife, Uzoamaka Ohiri, during their marriage was not his biological child.
To corroborate his claim, Nedu had posted the DNA test result, complete with the child's name, on his Instagram page.
Reminding all that 'the internet never forgets,' Georgina appealed to parents and bloggers to exercise caution in posting such sensitive documents, warning that it might lead to emotional distress for the concerned child later in life.
She wrote:
"And this is a passionate appeal to parents caught up in DNA issues and bloggers writing about it; please, for the love of God, when posting DNA evidence, please and please at least blackout the innocent children's names to save them from more trauma.

It is bad enough to find out the truth about your identity and have your name plastered all over the internet. Remember, the internet never forgets.

Please, I'm begging all adults and parents to do everything possible to protect the identity of these innocent children ??.

May Christ give all going through challenges in their marriages and relationship the grace and grit they need ??.

My heart is truly saddened by so many events unfolding within our community??. I wish you all well."
READ ALSO: OAP Nedu's Estranged Wife Calls Him Out For Domestic Violence, He Reacts With Shocking Revelations From Infidelity To Son's Paternity And More