Three Ebonyi Teens' Narration Of How They Were Trafficked To Ghana And Forced Into Prostitution Is A Lesson For Parents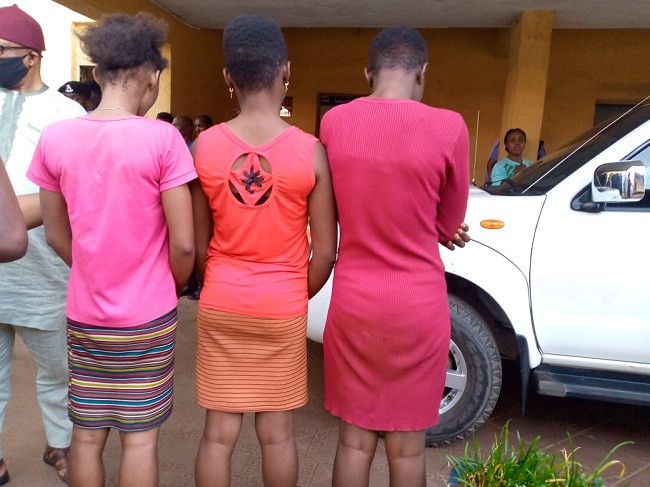 Parenting is an undeniably difficult job and it becomes more difficult as the children grow into teenagers and that's why it is important that every parent build a good relationship with their children right from their childhood, so that they can see them as friends they can easily talk to them.
Three teenagers from Ebonyi State have narrated how they were abducted, trafficked to Ghana and forced into prostitution.
The victims, Ugochi Ojukwu, 17, Ogechi Ejiuwa, 17, Mesoma John,15, and one Ejiwa Ogbonnaya, 18, were allegedly abducted from their Akaeze community, Ivo Local Government Area of the state and trafficked to Ghana for prostitution by two suspects, Ivi Chukwu Chinecherem, 20, and Ogbonna Justice,19, both of Ivo.
Interestingly, police operatives attached to Anti-Human Trafficking of the Ebonyi State Police Command arrested the two suspects after they allegedly tried to abduct another teenager, Faith Ogbonnaya.
The suspects, who were paraded by the state Commissioner of Police, Aliyu Garba, on Wednesday September 8, admitted to the crime and confessed that they trafficked the minors to Ghana without the consent of the parents.
The efforts of the operatives yielded success in rescuing of the victims while effort is on top gear to rescue the remaining girl, Ejiwa Ogbonnaya.
It was gathered that the suspects handed them over to a woman in Ghana who allegedly took them to a shrine where they were administered oath not to run away from the country or else they will die.
After the oath, the woman gave them four men to sleep with them. The men had sex with them for three weeks while parents of the victims were looking for them and reported them missing from their community at Ivo police division.
Narrating their ordeal, one of the victims, Ogechi, said:
"There is one boy in our place and he told me that he has a job. I asked him the type of work and he told me that he is serving somebody; that he was working at a beer parlour and I can sell drinks there.

"I said I am not interested and I can't go with him for the business. I travelled, and at our place, he came back. He still met me and told me the same thing. I told him that I will tell my mum before I will follow him and go for the business.

"He told me that I should not let my parents know that if I told them, they would not allow me to go. He told me that if I told my parents he would destroy me. It was at this point that I agreed to follow him and go.

"We left for Lagos that day from where he told us that we are going to Ghana. He told me and some other girls that were going with us that if we get to Ghana, we will start the business immediately and I said okay.

"When we got to Ghana, a woman there started telling us that we are going to sleep with some men. I told her no, that I can't do such a thing.

"She said that I can't go back to where she took me and that she has already paid my bride price and everything about me, so there was no more going back. She took us to a shrine and we took an oath and she threatened that we would die if we broke the oath.

"At that time, she gave us four men to sleep with us. When the four men started sleeping with us, I developed a stomach problem. While I was in Ghana, my mother started looking for me and reported to the police.

"Police later arrested the boy. The woman put us inside a bus and took us to Lagos where she abandoned us and ran away. We spent three weeks in Ghana."
SEE ALSO: Nigerian Single Mums, Teenagers Share Their Journey Into 'Corporate Prostitution' And It is Deep!
Another victim, Mmesoma said four men slept with her for the three weeks they stayed in Ghana before their rescue.
In an interview with the suspects, they claimed that they took the girls to Ghana to help them and not for trafficking. Chukwu Chinecherem said:
"I have been in Ghana for over two years. During the coronavirus pandemic, I came back to my place in Ivo, Ebonyi State. Two months ago, my friend came for a burial and told me that he would be visiting me in the village and I said okay.

"He arrived and I took him to a bar where we had a discussion. During our discussion, I asked him what he was into and he told me that he was still in Ghana.

"He started telling me that he has a place where he will be selling beer and that he needed salesgirls to sell for him while he will be doing buying and supply.

"One of my friends told me that he has someone, a girl that is looking for a place to sell things. I didn't take the girls to Ghana. They agreed that they were going and the guy sent the money for their transportation."
ALSO SEE: Pathetic Story Of Three Teenagers Lured Into Prostitution By Someone They Trusted Is Heart-wrenching
On his part, Justice Ogbonna said,
"It was the end of August when I met Chinecherem who had lived in Ghana for over two years and returned home.

He told me that one of his friends that was in Ghana asked him to look for sales girls and there was one of my cousins, Ejighiuwa Ogbonna, who told me to look for a place for her to serve as a salesgirl. I told Chinecherem my friend about her. I didn't give the girls to them in the form of trafficking, I just did it to help them."