Aisha Yesufu Rejoices As Her Dyslexic Son Defies The Odds To Graduate From UK University | Be Inspired By His Story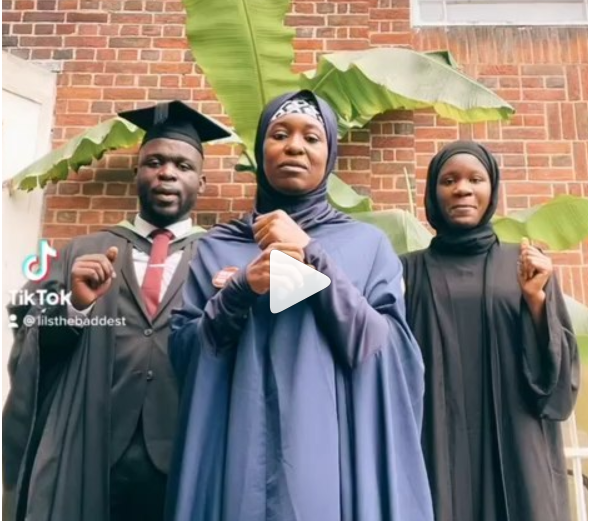 Activist and Bring Back Our Girls co-convener, Aisha Yesufu and her household are in a joyous mood.
And the reason for her mood is because her dyslexic son, Amir Yesufu whom medics had hitherto pronounced as someone who will not be able to go to higher institution, recently graduated from a university in the United Kingdom.
Dyslexia is a learning disorder that affects your ability to read, spell, write, and speak. Children who have dyslexia are often smart, intelligent and hardworking, but they have trouble connecting the letters they see to the sounds those letters make.
Better put, it is a learning disorder that involves difficulty in reading due to problems identifying speech sounds and learning how they relate to letters and words.
Sharing videos of her joyous family and the graduate on social media, the proud mother-of-two recounted how he was taken to a school in England at 14, and today at 22, he is a graduate.
READ ALSO: United By Their Birth Stories, Two Best Friends, Odin and Jordan Defy Medical Odds To Graduate High School
The super excited mum wrote;
"When you were told your son will not be able to go to university. When you had prepared your mind to him not being a graduate and God proves you wrong!

At 14 we took him to a school in England, today at 22 he is a graduate.
#Dyslexia
#AmirYesufuIsAGraduate."
She went further to encourage parents of children with learning disabilities:
READ ALSO: Activist, Aisha Yesufu Talks About How Her Husband's Support Helped Their Marriage Thrive Despite Her Dislike For Chores
"My son has learnt to fail and stand up and fail and stand up and fail again and stand up again! He has learnt not to give up! He is an inspiration!

Some days are extremely hard and we have cried together. We have also laughed at the wins

Don't ever give up on your child with learning disability. Olodo is what we call children who want us to REALLLY teach.

Don't be ashamed of your child. Bring out the talent they have.
My son's talent is Arts, filming, photography, animation etc
#AmirYesufuIsAGraduate
#Dyslexia