Toyin Abraham's Hubby, Kolawole Ajeyemi Spills On 'How We Have Made Our Marriage Work'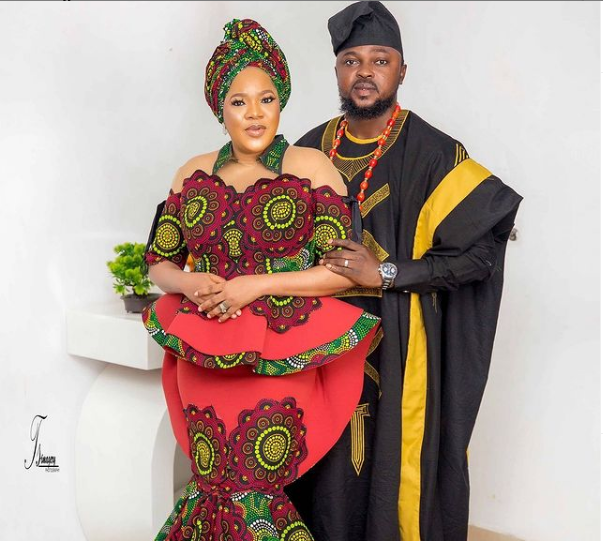 At the just-concluded 2021 City People Movie Awards, one of the Nollywood stars at the event was the husband of star actress, Toyin Abraham.
The talented actor, Kola Ajeyemi who is popularly called Awilo, was at the City People Movie Award to represent his wife who received the Movie Icon Of The Year Award.
The dad-of-two spoke on how he and his wife have been able to make their marriage work.
Below are excerpts of the interview.
Congratulations on the award you have just received on behalf of your wife. How do you feel?
We all know that it's not easy like I said, but we give glory to God. Because with God we believe all things are possible.
With the perception of your fans, many people see you as a more reserved and introverted personality, while your wife is an extrovert who plays a lot and more assertive in the social space. How do you manage the variance as a couple?
READ ALSO: Toyin Abraham Talks About The Impact Of Marriage & Motherhood On Her Well Being
"Oh. Not a problem at all. That's how things roll. The Yoruba people had said, someone has to be out (Outspoken) and the other has to be in (reserved) to make any marriage perfect.

I am not saying we are cotton-wool-white perfect, but we understood each other to the brim. I know my wife as an assertive type and I respect her nature.

She is likeable for who she is and that's what has been working for her. It will be insensitive of me to try to mould her into my kind of person. It is her person that makes her succeed in her craft and business.

For me, being quiet and reserved works for me. She understands that too and she copes with my quiet nature. You see that's the compatibility that allows both of us to thrive so far.

Nothing can change and that's my wife nature. I don't want to change because it's not easy for you to change the person when you know that's her true nature.

She's at her best when she's herself and I am at my best when I'm playing myself. Changing her will mean drawing her back from her personality.

So I love her for being Toyin that she is, and she does so for being me."