BREAKING: FG Bans Senior Secondary Students From Participating In WASSCE, NECO, NABTEB | DETAILS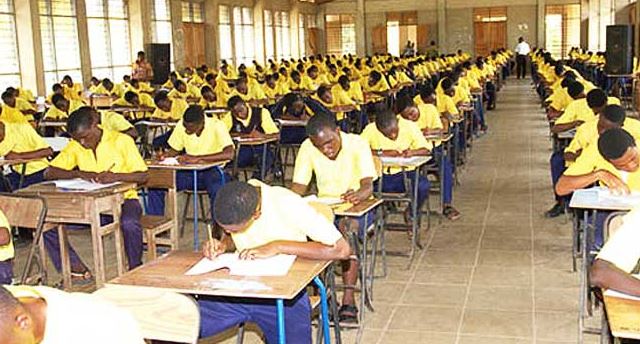 Senior secondary school students 1 and 2 have been reportedly barred by the federal government, from sitting for the West African Senior School Certificate Examination (WASSCE), National Examination Council (NECO) and National Business and Technical Examinations Board (NABTEB).
According to the federal government, any SS1 or SS2 students caught writing any of the above examinations in will be expelled.
The directive was reportedly conveyed in a circular issued to principals of federal unity schools by the Federal Ministry of Education.
In the circular signed by Binta Abdulkadir, Director, Senior Secondary Education at the education ministry and distributed to principals of unity schools, the Federal Ministry of Education also directed principals of unity schools to expel senior students who sit for external examinations before SS3 class, as they could distract other students from achieving their goals.
It read;
SEE ALSO: Reps Move To Abolish This Admission Practice In Nigerian Universities Will Greatly Relief Students & Parents
"The ministry's attention has been drawn to the flagrant disregard to its directive on (the) writing of external examinations such as NABTEB (NTC and NBC), WASSCE, NECO (SSCE) by SS1 and SS2 students.

Students who are involved in the practice find it difficult to settle down on serious studies. They become unruly and distract other students from achieving their goals.

Any student caught to have written any of the above examinations in SS1 or SS2 classes will be expelled from the college. All students must write these examinations after they have been duly registered for the examination by the college.

All students of Federal Unity College should adhere strictly to the content of this circular. And Principals are advised to bring the content of this circular to the knowledge of all parents of the college."
READ ALSO: Celebrity Parents Who Bribed To Secure Admissions For Their Children Into Ivy League Universities Exposed
See reactions below…
@Simbi:
How does an SS1/ SS2 intelligent student's ability to pass the above mentioned examinations be a distraction to other SS3 students?
So a student who has got the mental brilliance and intelligence to pass these exams are automatically hindered by a misplaced priority Govt. led by educated stagnant thinking people who just wake up to pass decrees and laws not even in accordance with the constitutions of our country. This decision is an absolute entrapment on the fundamental human rights of Nigerian students. Na who do us this kind evil for this country??
Another delay strategy by a frustrating government.
@John:
???? good. So that women who brag that their children gained admission at the age of 13,14,15,in such tender age will know that that's the point the lose ownership and control of their innocent children to pedophiles, and or cultism.
At that age they can't defend or stand their ground or even speak up against what they dislike. They keep playing along in order not to be oppressed by older boys or girls. They'll be drowning, and because of intimidation in school, will hide everything from their parents.
SEE ALSO: Amazing! 12 Year Old Boy Makes History as he Receives Admission into Two Universities
@Anonymous:
What kind of negative thinking is this? If a child can do in 5 years what others want to do in 6 years what is wrong in that? What president will approve this nonsense policy. What happens to gifted children? Our rulers loathes those who are academically excellent.
Everything in Nigeria is being done to drag down those who want to move forward. Very sad! JAMB cutoff mark is lowered in favour of those who cannot pass.
Federal appointment is reserved for those who are not qualified. Election is rigged in favour of those who cannot win. VAT is shared in Favour of those who contribute least. Terrorists are pardoned and pampered with monthly allowances while their victims are in IDP camps. People are jailed for stealing phones will those who steal billions are rewarded with ministerial appointments. The list goes on. What a country?
Like this! 10Dislike this! 0Reply