Why This Mum Went On Her Knees At Her Daughter's Wedding To Plead With Her New In-laws Calls For Some Reflection | Video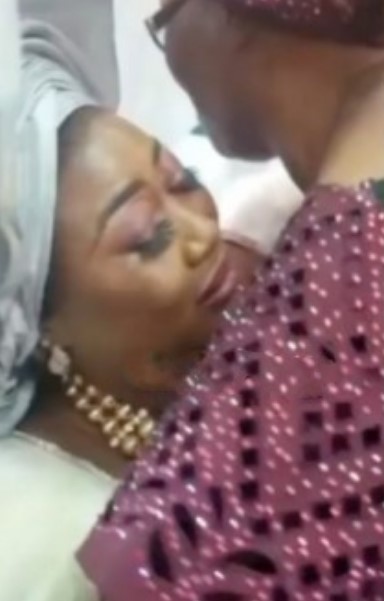 A video from a wedding which held recently captured the emotional moment the bride's mother knelt down to plead with her in-laws to take care of her daughter.
In the video which found its way to the internet, the bride's mother is seen kneeling down with tears in her eyes pleading with her daughter's new in-laws to accept her daughter wholeheartedly and ensure she's well taken care of.
The bride, on seeing her mother in that emotional state was also moved to tears. The video has however stirred mixed reactions from social media users.
See below and let's know your opinion about it….
@olubori_o:
Maybe she faced hell with her in-laws, and doesn't want same for her daughter.
@lymaroyale:
He reach to knee down. Some in laws are from the pit of hell.
READ ALSO: The Family Feud Between Mum-of-Two, Lola Omotayo-Okoye & Her In-Laws Continue Unabated As Her Husband's Twin, Paul Drags Her To Filth On Instagram
@cadeauboxcompany:
Mama also be there for her if they treat her anyhow, be ready to support her and open your home to her again if they dare treat her anyhow.
Sometimes these bad in-laws forget wives are people's precious daughters too. Na love dey cause all these nonsense sha.
@iammat_tie:
E reach to cry Abeg, some in-laws are not nice people ?
@sauceprince1:
Very necessary meehn. Because what they're seeing on social media these days no be joke. I'm also kneeling down, please take care of that LADY.
@justdamz_:
That's a Mother's Love right there, she doesn't want her daughter to suffer what she might have probably suffered.
SEE ALSO: Relationship Expert, Samuel Chukwuma Iwar's Message To Women About In-Laws Is A Game Changer
@iamuncleolu:
The woman go get small craze for head that na why she dey beg dem now because if dem do anyhow dem go collect ?. Make dem take care of her daughter o.
@choplifekitchenlagos:
Awwwwww ????? Yorubas will say you can manage a bad husband but a bad in-law you cannot manage.