Reality Star Couple, Teddy A And BamBam Address The Topic Of Checking One's Partner's Phones In New Interview (Video)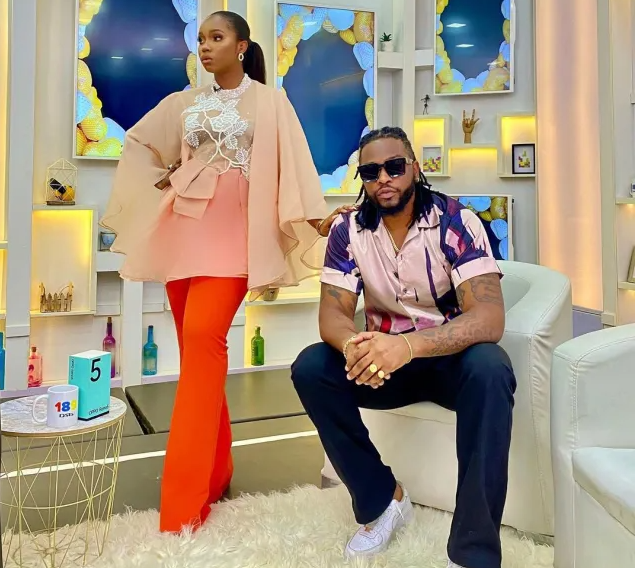 Big Brother Naija couple, Tope Adenibuyan aka Teddy A and his wife, Bamike 'BamBam' Olawunmi, have addressed the issue of couples checking each other's phones.
During a recent interview with media personality, Adesola Momoh, the couple while responding to the question about checking each other's phones, disclosed that they don't do that because it would be disrespectful.
BamBam said she would rather not touch his phone than put herself in a situation that could cause a disagreement between them. According to the mother of one, she places more value on their conversations and what he tells her.
"Sometimes I just rather avoid situations that could escalate into something serious, and the communion that we have together is way more important,"
BamBam told the host.
Teddy A, on his part, said he doesn't check his wife's phone either and they have a mutual understanding on that. According to him, it would be a breach of trust and respect if he goes behind her back to check her phone.
READ ALSO: Are They Really Your Partner If You Can't Go Through Their Phone? Here's Celebrity Mum, Ruth Kadiri's Opinion On It
He however stated that it is normal for some kind of 'conversations' to be on his wife's phone but he won't check her phone.
During the chat, Teddy A also reacted to rumours that he got married to his wife because she got pregnant for him. He debunked the viral speculation, noting that he married BamBam because he loved her.
He reiterated that he took the decision to tie the knot with BamBam who was his love interest on the reality show because they had genuine feelings for each other and not because she was carrying his baby.
BamBam and Teddy A, both former housemates of 2018 reality TV show, Big Brother Naija (Double Wahala), welcomed their baby girl who they have named Zendaya Folakemi Adenibuyan, March 5, 2020.
Their relationship during the 90-day show was hugely criticised as fake but the couple stunned naysayers. Their relationship outside the show blossomed, and a few months down the line, they tied the nuptials in a lavish wedding ceremony.
SEE ALSO: "Don't go through my phone"- Comedian Gordons Reveals How His Marriage Works
Watch the interview here…