'She Has Access To See Them But…' -FFK Reacts To Ex-Wife, Precious Chikwendu's Social Media Plea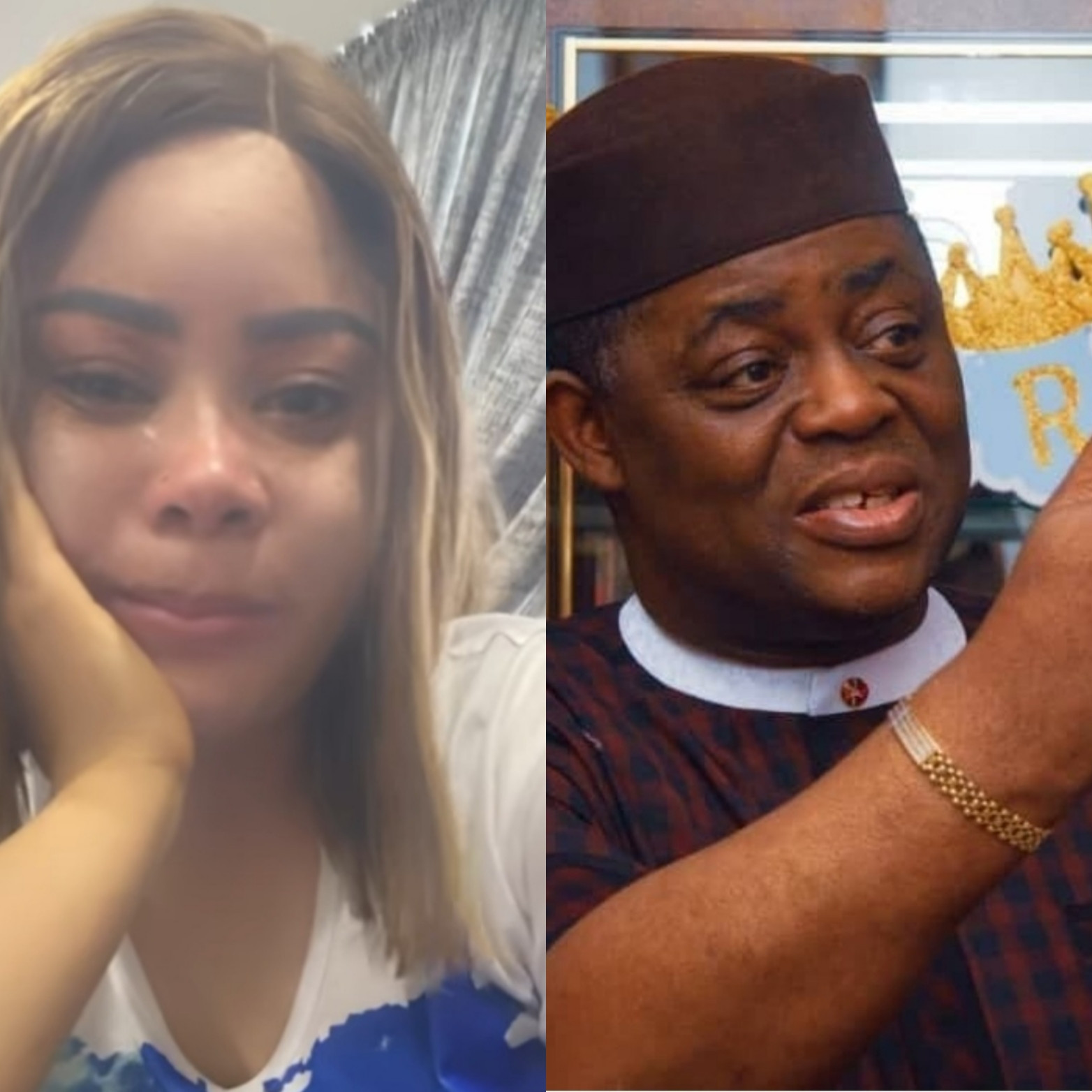 Femi Fani-Kayode, a former Nigerian minister, has responded to his embattled wife, Precious Chikwendu's claims after she called on mothers and well-meaning Nigerians to speak up so she will be allowed to see her sons.
Precious had said that one of her sons had Coronavirus and she only found out in court. She added that another has a wound on his head and she recently found out too.
The mother of four and former beauty queen also said that despite a court ruling that she should be allowed to see her kids, FFK has kept her from seeing them for over a year now and it is depressing.
Mr Kayode has now released a video in a bid to dispute Precious' claim and to show that the kids are fine. He also revealed that Precious has access to see their sons but she's yet to do so.
He captioned the video of the kids playing with their nannies and wrote:
"My handsome Princes with their nurses and nannies and other members of my household taken today.

No bruises, no scars, no head wounds, no Covid 19, no nothing. Their mother has been given access to see them in the house for the last 1 year and 5 months but she has refused to do so.

Despite that they are happy and healthy, they have the very best of everything, they are surrounded by love, light, joy, prosperity and peace and they get the very best of care from a set of highly trained and well respected child care specialists and professionals.

I thank God for their lives and for the lives of the other members of my family and household. The Lord is with us: blessed be His holy name forever. Merry Christmas everyone. ???."
READ ALSO: FFK's Estranged Wife, Precious Makes Desperate Call On Mothers To Lend Their Voices In Her Fight To See Her Kids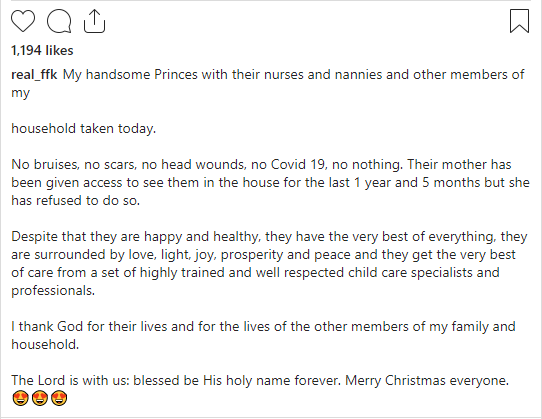 Many Nigerian celebrity mothers and others have reacted to the video.
The love of a paid Nanny can NEVER be compared to the love of a mother. She has access in YOUR house? How?


After all she 'allegedly' did to you, you want her under YOUR roof?
Pls sir, do the right thing. ?????? Everyone knows your Nannies are acting for the camera. And they and very bad Actors. ?
Now it's my sons not ours selfish speech forgetting the good times now the kids have to suffer for the parents decision
Must it be at your house?? So u can cage her. This is ridiculous if she doesn't feel safe around you then let her see her children in a public space.. No mother deserves to go through this pain of not having access to her kids.
@real_ffk be a real man and let Precious see her kids. Stop using your kids as pawns or bargaining tools to get back at your ex. They will resent and hate you for it in the future. Using your children to hurt their mother is child abuse. I am so pained for this lady???
For whatever reason how can a mother be prevented from seeing her 4 kids???? How???? The law in this part of the world was not made for all walahi, it was made for the rich and powerful to oppress the others.