'It Was A Rude Shock To The Ooni'- Palace Spokesperson Reacts To Queen Naomi's Divorce Announcement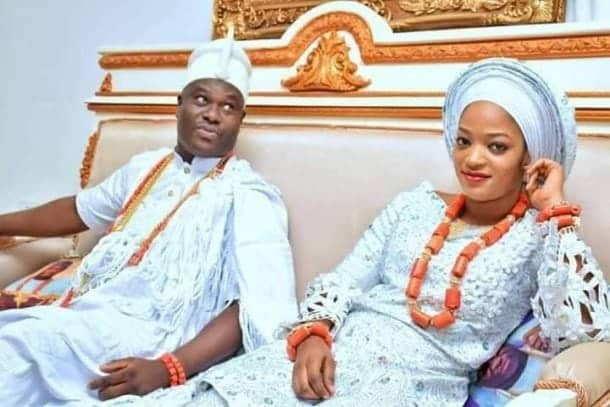 The spokesperson of the Ooni of Ife, Oba Adeyeye Enitan Ogunwusi, has said that the monarch learned of his separation from his wife, Prophetess Naomi, via social media just like every other person did.
Recall that on Thursday, December 23, the Queen took to her social media handles to announce the end of her three-year-old marriage with Oba Ogunwusi. Her post read in part:
"I, at this moment, announce that I shall no longer be referred to as wife to the Ooni of Ife or as Queen of Ile-Ife but as the Queen of the people and mother of my adorable Prince.

Today, I announce the beginning of a new dawn and the close of a chapter. Today, I am a mother to God's unique gift. I am no longer a slave to my thoughts of perfection."
Reacting, the palace spokesperson in an interview with DailyTrust said the monarch was unaware of the reason why his wife took such a decision without any quarrel or prior discussion.
"Ooni of Ife was not aware of the separation. As at Wednesday evening, Kabiyesi arranged Christmas gifts for the Queen and the gift was delivered. Like other people, Ooni also read about the divorce in the media and it was a rude shock,"
he said.
SEE ALSO: Ooni Of Ife's Wife, Naomi Announces End To Her Marriage With The Monarch: 'No Longer A Slave To My Thoughts Of Perfection' 
According to another report, one of the monarch's aides also told The PUNCH that the Ooni of Ife, sent Christmas gifts to his estranged wife hours before the divorce notice surfaced on social media.
Though the Prophetess was said to have left the palace before the divorce notice on social media, it was learnt that the king packaged Christmas gifts and sent them to her. The aide said:
"We were asked to package the Christmas gifts on Wednesday and it was sent in the afternoon to her. We sent the gifts before day two of the music programme in Lagos. Only for us to wake up and find the statement on divorce on social media. Something must definitely be wrong somewhere."
On his part, Ooni's media aide, Moses Olafare, said his boss was still in love with the Prophetess before the divorce notice on social media.
ALSO SEE: Shocking Details Emerge On What Led To The Crash Of Ooni Of Ife's Marriage To Queen Naomi
"On Wednesday, Kabiyesi (Ooni) was still packaging special gifts for her. If you want to separate with someone, you cannot be packaging gifts for her.

"I was aware that Kabiyesi was putting a special Christmas gift together for her. If he is not in love with her, he cannot be doing that. In fact, the Christmas gift has been delivered to her already."