Jada Pinkett Embraces Baldness As She Gets Candid About Her Struggles With Alopecia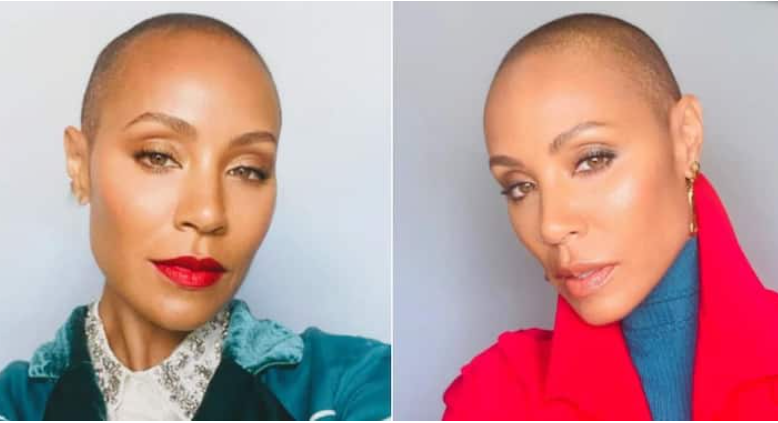 Star mum, Jada Pinkett Smith has finally embraced living with alopecia, an autoimmune disease in which hair is lost from some or all areas of the body.
In a recent Instagram post, the American actress detailed her struggle with alopecia and how she has dealt with it over the years.
The activist who hosts Red Table Talk – a show in which she discusses topical issues with her daughter, Willow, and mother Adrienne Banfield Norris – opened up about the disorder in a candid video where she said one day she woke up with a bald spot due to alopecia.
Discussing the condition, the 50-year-old mum-of-two appeared to be comfortable as she looked at the camera, subtly tilting her head and face to examine the extent of the disease while likely also giving social media users a chance to see first-hand how it has affected her.
SEE ALSO: Expository! Overcoming Stigmatisation, Bullying & Depression: Scorned Nigerian Women & Mums Battling Alopecia Tell Their Motivational Journey To Self-love & Acceptance
Wanting to address the bald patch before her fans did, Pinkett noted that the spot is definitely going to be harder for her to hide. As can be seen in the video she posted, the patch is a small streak of baldness behind her hairline.
"Now at this point, I can only laugh," Pinkett said while grazing over the patch with her finger.
"Y'all know I've been struggling with alopecia, and just all of a sudden one day, look at this line right here. It just showed up like that. Now this is going to be a little more difficult for me to hide, so I thought I'd just share it so y'all not asking any questions."
Pinkett also joked about throwing some rhinestones on top of the patch to cover up the balding and giving herself a "little crown."
The actress explained she didn't want anyone to mistake the line of baldness as a surgery scar. The Matrix Resurrections star added:
"Mama's gonna have to take it down to the scalp so nobody thinks she got brain surgery or something. Me and this alopecia are going to be friends … period!"
Pinkett first openly discussed her alopecia diagnosis during a 2018 episode of her Facebook Watch series Red Table Talk. She said about her initial stages of hair loss:
"It was terrifying when it first started. I was in the shower one day and then just handfuls of hair just in my hands. That's why I cut it and I continue to cut it." 
Being the resilient figure she is, Pinkett said she took stock of her situation and discovered a treatment that stopped some of the hair loss. She said she was getting "my little steroid injections", which seem to be helping.
ALSO READ: Nigerian Lady, Jasmine Oguns Shares Motivational Journey On Winning At Life Despite Being Suicidal & Living With Alopecia
Here's what to know about the disease
If you've seen a lot of extra hair on your pillow, brush, or shower drain, or you've noticed odd little bald spots in the mirror, you might have an autoimmune disorder called alopecia areata.
And when you have an autoimmune disease, your immune system attacks your own body. With alopecia areata, it's the hair follicles that are attacked. This causes the hair to come out, often in clumps the size and shape of a quarter. The amount of hair loss is different in everyone. Some people lose it only in a few spots. Others lose a lot.
It affects roughly 6.8 million people in the United States. In the majority of cases, hair falls out in small patches around the size of a quarter. For most people, the hair loss is nothing more than a few patches, though in some cases it can be more extreme. Sometimes, it can lead to complete loss of hair on the scalp (alopecia totalis) or, in extreme cases, the entire body (alopecia universalis).This condition can affect anyone regardless of age and gender, though most cases occur before the age of 30.
Here are some key points about alopecia areata, according to an article by the  MedicalNewsToday.com
One in five people with alopecia areata also has a family member who has experienced the condition.
Alopecia areata often develops suddenly, over the course of just a few days.
There is little scientific evidence that alopecia areata is caused by stress.
People with alopecia areata who have only a few patches of hair loss often experience a spontaneous, full recovery, without the need for treatment.
There is no cure for alopecia areata.
There is currently no cure for alopecia areata, although there are some forms of treatment that can be suggested by doctors to help hair re-grow quicker.
The most common form of alopecia areata treatment is the use of corticosteroids, powerful anti-inflammatory drugs that can suppress the immune system. These are mostly commonly administered through local injections, topical ointment application, or orally.
Other medications that can be prescribed that either promote hair growth or affect the immune system include Minoxidil, Anthralin, SADBE, and DPCP.
Although some of these may help with the re-growth of hair, they cannot prevent the formation of new bald patches.
Alopecia areata does not directly make people sick, nor is it contagious. It can, however, be difficult to adapt to emotionally. For many people, alopecia areata is a traumatic disease that warrants treatment addressing the emotional aspect of hair loss, as well as the hair loss itself.