Dowen College Writes Its Parents Association, Says It Eagerly Awaits Directive For Resumption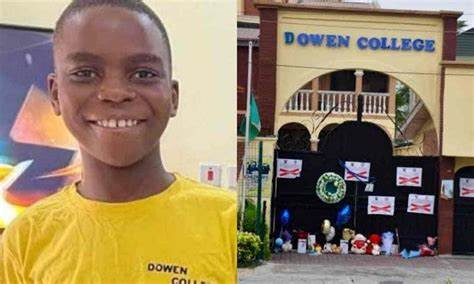 The management of Dowen college, Lekki, Lagos state has said it is thankful for the outcome of the investigations so far carried out in the tragic death of an 11-year-old student of the school, Sylvester Oromoni.
You will recall that on Wednesday, January 5, the Lagos state Department of Public Prosecution, DPP in its legal advice exonerated the five students and staff of the school that were initially arrested over the death of Sylvester.
According to the parents of the deceased student, Sylvester mentioned five names of students that bullied him and gave him a substance to drink before he passed away.
However, DPP in its statement said autopsy carried out on Sylvester's body ruled out murder and also the toxicology carried out on his body found no harmful substance. The DPP exonerated the staff and students and ordered their release from custody.
Parents of the deceased student have come out to reject the decision of the DPP. While Sylvester's mother who could not hold back tears in a viral video, prayed to God to fight for her and cut short the lives of all those who cut short the life of her son (Read Here), his father said he would be heading to court to get justice (Also Read Here).
In a letter sent out to parents of other pupils in the school, the principal of Dowen college, Dr Adebisi Layiwola, said the management of the school is thankful for the outcome of the investigations carried out and eagerly await the directive of the state Ministry of Education for reopening of the school for academic activities to resume.
READ ALSO: Sylvester Oromoni's Case: SAN, Femi Falana Faults Lagos State Verdict That Exonerate 5 Students And Staff Of The School: 'It's To Justify Reopening Of Dowen'
The letter reads:
"Dear Parents/Guardians, We use this medium and opportunity to thank you all for your steadfastness, prayers, support, and encouragement during this period.

We commiserate with the Oromoni family and the entire Dowen College family over the untimely and unfortunate death of our dear late student, Sylvester. The details of his passing are very sad indeed.

We continue to pray that God will comfort and console them and help them deal with the irreparable loss.

We are aware of the conclusion of the investigations by the authorities and are thankful for the outcomes.

We would like to take this opportunity to thank you once again for your continued support as we covet your prayers going forward. We would also like to reassure you that we are working tirelessly to ensure that we enhance our security, health and safety measures around our classrooms and hostels.

Various reforms will be put in place and communicated shortly as we eagerly anticipate the directive from the Ministry of Education on the resumption programme.

We thank you once again for your support and look forward to a peaceful and successful term. God bless you.

Dr. Adebisi Layiwola Principal/Head of School."
ALSO READ: Dowen College: Sylvester Oromoni's Autopsy Results Did Not Bring Out The Issue Of Murder On Anybody -Police Releases Shocking Statement