Precious Chikwendu Narrates Severe Beating Experience From Estranged Husband, FFK In Moving Birthday Note To Her First Son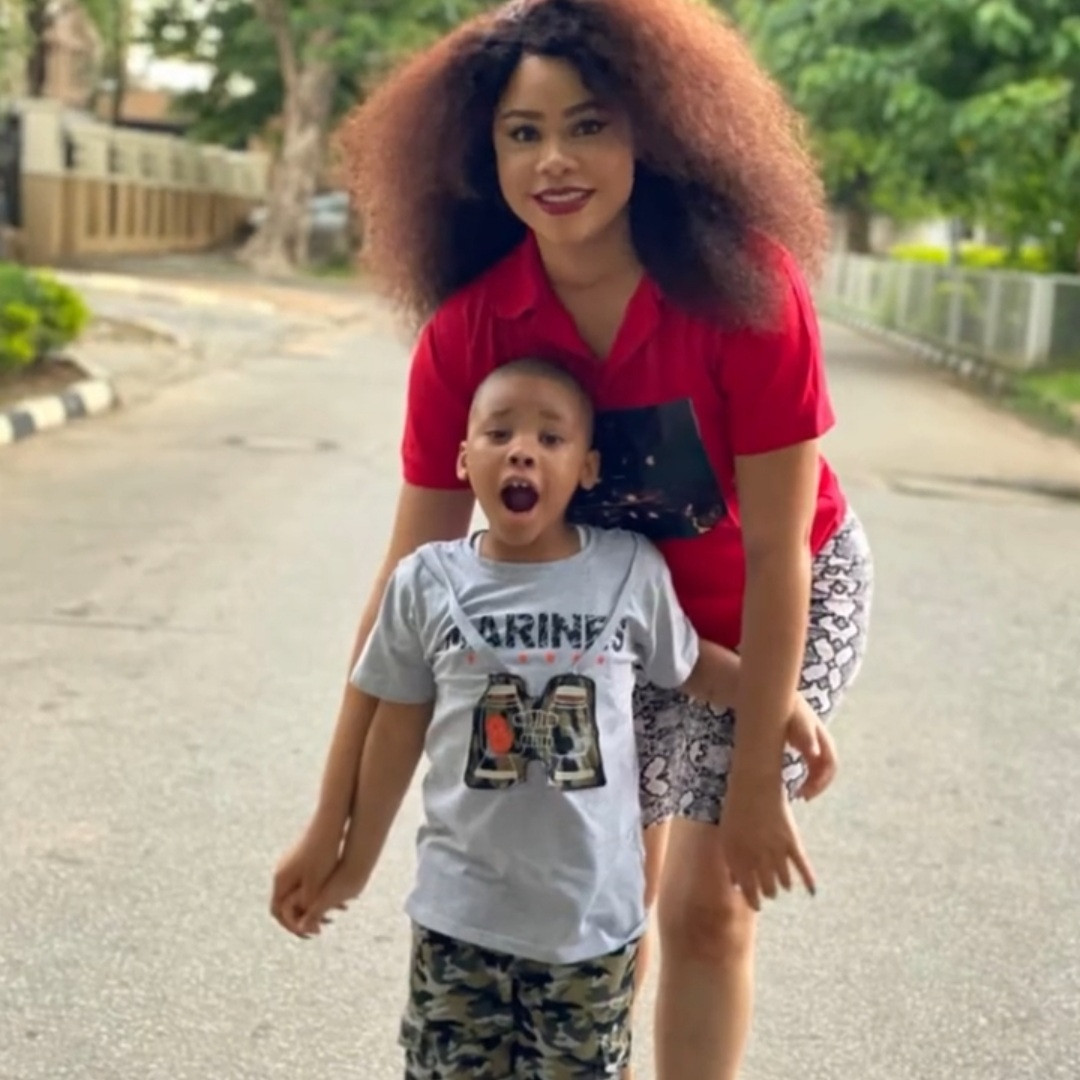 Precious Chikwendu, the estranged wife of former aviation minister, Femi Fani-Kayode took to her Instagram account to write a moving note to her first son, Aragorn, on his birthday.
Beyond the birthday post, she went on to narrate a terrible beating experience from her ex-husband, FFK while little Aragorn was just four months old. The mom-of-4 boys recounted what it was like living with her ex.
FFK and Chikwendu's marriage hit the rock in 2020 following her claim of incessant domestic violence, abuses, and Fani-Kayode's counter-claim of infidelity.
They have since been in a public tussle over the custody of their 4 kids, Aragorn, Ragnar, Aiden, and Liam since the end of the union.
In an Instagram post today, the ex-beauty queen claimed Fani-Kayode started abusing her physically when she conceived their first child. She said her son was just 4 months old when he watched her "get beaten like a puppy" by his dad.
She said her son was in her arms while she was allegedly beaten and she saw the fear in his eyes as they tried to take him from her.
Despite carrying her son, she said the "punches" didn't stop, instead, they increased. She added that the beating made blood gush out of her nose and her son cried as he watched her suffer abuse in the hands of his father, who had just been released from Ikoyi prison.
Praising her first son, Precious said he gives her peace in the storm and she feels so "ashamed" that he has been used as a "pawn".
She added that the past few months away from him and his brothers have been spent in "pain".
SEE ALSO: FFK's Ex-Wife, Precious Chikwendu Opens A New Can Of Worms On How She Was Unable To Consummate Her Marriage For 6 Years Because Her Hubby Had…
See her post below…
"You are that son that gives me peace and calm in the storm, your ability to understand me even in silence still amazes me. I know you are not ignorant of the happenings but can do nothing as you just soak things in and forge on

"Never underestimate the bond between your mother and you the bond that was formed right from when you were in my womb and you witnessed all the punches, you took them with me as you kicked so hard and would only calm down when I whispered and pleaded with you, affirming that you would one day wipe my tears.

"It was only at that point you would calm down and stop kicking as if you understood how those punches and harsh words froze my entire heart and soul.

"What haven't we weathered together? You witnessed so many in my womb and when you arrived this world, you were barely four months old when you witnessed your mother being beaten like a puppy.
ALSO SEE: FFK Makes Fresh Allegations Against Estranged Wife: 'Precious Is Suffering From Severe Bipolar Disorder' 
"You were in my arms that night at the wheat baker hotel after he was released from Ikoyi prison, it was all laughter at first then prayers of thanksgiving and next punches.

"You were dragged from my arms like a little bag of cake and I held on so tightly, the look in your eyes was that of so much fear, I looked into your eyes and I could read you clearly it was more of 'never let me go mum.'

"So, I held on to you, the more I held on to you the more the punches came. You cried out loudly and my heart shredded the more as the splashes of blood gushing from my nose landed on you.

"You were so terrified and all I wanted to do was get you out of that scene. I was able to get off with you and ran to the short stay apartment where Chidera and others were before you slept off on my chest after crying for so long."
SEE ALSO: FFK's Estranged Wife, Precious Makes Desperate Call On Mothers To Lend Their Voices In Her Fight To See Her Kids