Billionaire Rapper, Kanye West Seeks Public Opinion As His Daughter, North Goes On Tik Tok Against His Will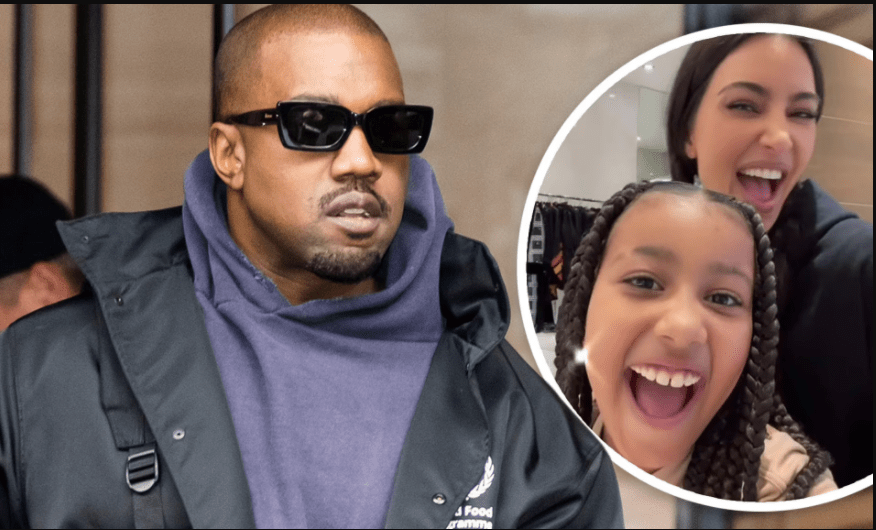 American rapper and dad, Kanye West has expressed his dissatisfaction about his daughter, North West's presence on Tik Tok.
Tik Tok seems to be the new way almost every young adults tries to use to have fun and we have a lot of kids on the platform. Tik Tok is an app that has parental control hence as a parent you can prevent some things by not allowing your kids to sign up to that at all or put their correct age and monitor them.
In an Instagram post, the father of four included a screenshot of the official @kimandnorth TikTok account to call out his estranged wife, Kim Kardashian.
"Since this is my first divorce I need to know what I should do about my daughter being put on [TikTok] against my will?"
the Donda 2 artist said in the post, notably tagging Kardashian.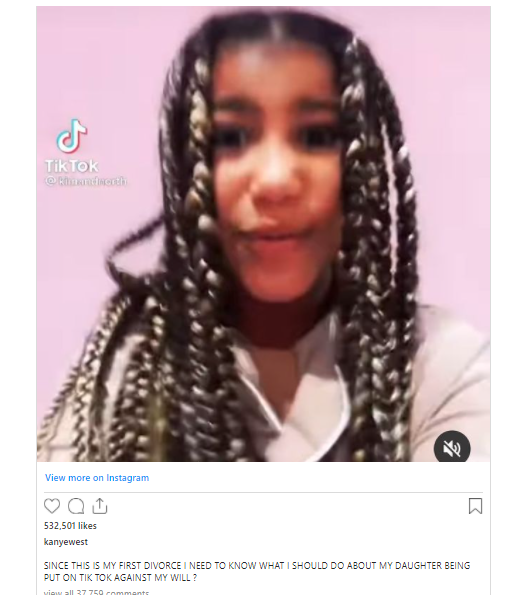 During a recent interview, the 44-year-old billionaire and fashion mogul expressed similar thoughts on TikTok and his daughter's presence on the platform.
In the interview, he explained that he never gave permission for North to join TikTok or wear makeup.
READ ALSO: 'TikTok Is Fun But Not For Children' -Celebrity Mum, Iyabo Ojo Writes To Parents
Late last month, Kanye sent a warning to the famous Kardashian family warning them not to mess with his relationship with his children — North, 8, Saint, 5, Chicago, 4, and Psalm, 2.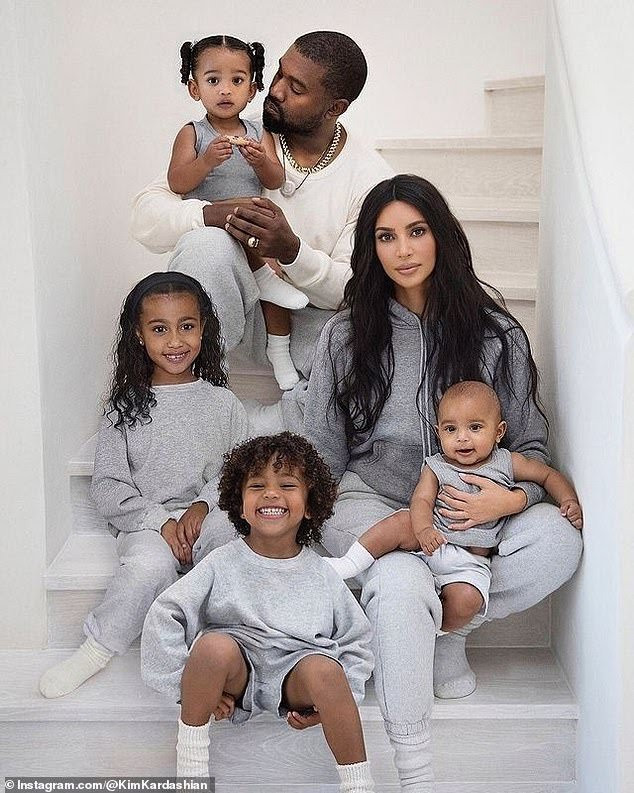 He also revealed that he didn't want his marriage with Kim to be like that of actor, Will Smith and Jada Pinkett Smith who reportedly have an open marriage.
This comes after a social media video by Kanye alleging that he almost missed Chicago's birthday party as the Kardashian family refused to give him the address of where the party was holding.
Kim filed for divorce from Kanye in February 2021 after nearly seven years of marriage, and filed a motion in December to legally terminate her marital status and be declared single.
Kim, 40 has since moved on to comedian, Pete Davidson who is over ten years her junior while Kanye is now in a relationship with actress, Julia Fox after making numerous attempts to get back with Kim.
Sitting down with Jason Lee for an interview with Hollywood Unlocked which has just been released on YouTube, Kanye spoke about his issues with the Kardashians.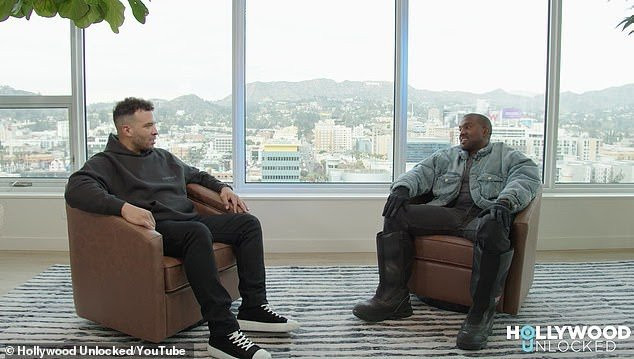 Lee said there shouldn't be any drama when it comes to co-parenting, but Kanye cautioned the reality stars instead – before slamming Kim for 'making jokes' on SNL about their split.
"And to participate without no noise,' he said of the Kardashians expectation of him. Cause they can go on SNL and make jokes. They can make jokes in the media.

They can plant stories about whoever I'm dating whatever they want to do. They can block deals they could do all that type of stuff."
He added:
"But I'mma tell you straight up, don't play with my kids. Don't play with my kids. Whoever y'all work for, whoever y'all think the family is working for, I'm telling you right now, don't play with my children. And it's going to be all legal. It's going to be all legal, baby."
SEE ALSO: Kim Kardashian Files Docs Detailing Exactly Why She Doesn't Want To Get Back With Ex-Husband, Kanye West
During Kim's Saturday Night Live appearance last year, where she kissed Pete Davidson on set, she boasts:
"I've been very blessed in this life, and I'm grateful for everything, honestly, all the ups, all the downs. I mean, I married the best rapper of all time. Not only that, he's the richest Black man in America, a talented, legit genius, who gave me four incredible kids."
The businesswoman continued:
"So when I divorced him, you have to know it came down to just one thing: his personality. I know it sounds mean, but people keep telling me that comedy comes from truth. And if there's one thing that I always strive to be, it's genuine."
Kanye revealed that he would remain calm and wouldn't allow anyone to manipulate his story – before adding the family were trying to 'antagonise him' over the children.
"You ain't finna gaslight me, it's going to be calm like this," he said. "But that's not what we finna play."
Kanye said he was upset about how Kim's security won't let him see their kids. He stated:
"So it's 3 a.m., I just got off the phone with my cousins who I had directed to sit down and meet with Kim because earlier this week when I went to go pick my kids up from school, the security stopped me at the gate.

"So, at that point the security was between me and my children and that was what was not gonna happen."
The issue came to a head when North asked Kanye to come inside and he was once again stopped by security. He said:
"I'm driving them as I bring them back and North is like 'I want you to come upstairs and see something' and it's like 'oh, daddy can't come inside', but that hadn't been defined.

And I'm hearing the new boyfriend [Pete Davidson] is actually in the house that I can't even go to and that's where I call my cousins.

So then my cousins pull up and she's talking to me. I say, 'Give me a breather. Get away from me.' She's not taking accountability for the fact that she didn't do what she was supposed to do and that added to me being in a mood where I was like 'I'm not gonna have it."
Thanking rapper, Travis Scott for sending him the address to his daughters birthday, he said;
"I just gotta shout out to Travis Scott for sending me the address and the time and making sure that I was able to spend that birthday memory with my daughter and to be there with the rest of the family."