Kanayo O. Kanayo Drops Some Words Of Advise With Parents As He Pays His Son A Surprise Visit In School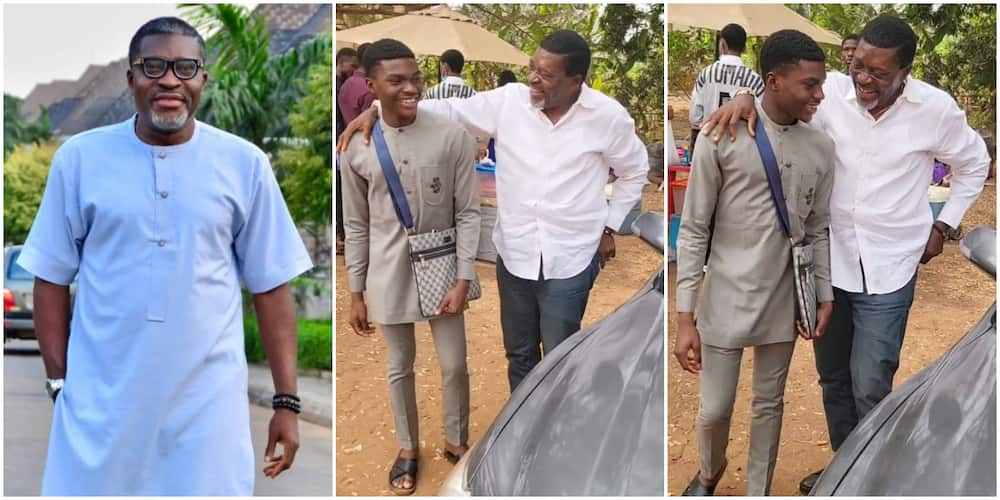 Nollywood actor, Kanayo O. Kanayo recently took to his Instagram page with a post that has warmed the hearts of many on the platform.
The proud dad of four took time out of his busy schedule to pay a surprise visit to his lookalike son who is currently studying to bag a degree. Kanayo's son didn't expect his dad and the young man was quick to point out that he wasn't informed about the visit.
The actor, in turn, noted that if he had told him, it wouldn't have been a surprise visit anymore.
Kanayo also used the opportunity to share some words of advice with fellow parents. He encouraged parents to always pay their wards unscheduled visits in school, especially those who are schooling long distances.
According to Mr. Kanayo, this is to important as it would help to "avoid stories that would make one age under 48 hours".
The 59-year-old actor said sometimes the kids may not be in school and would keep deceiving their parents, adding that it's better for parents to take proactive steps now that they have the chance to do so.
He shared a video on his page and wrote;
"Do you know many of our children leave school to go to unimaginable places? His or her school maybe in Ekiti State, but is in Lekki, Lagos State every weekend grooving.

Please pay them unscheduled visits to avoid stories that may make you age under 48 hours."
READ ALSO: Pornography And Sexting: Teens Writes To Parents As They Share On The Things They Wish Their Parents Had Told Them Before They Entered The Online World
Reacting;
jobranix_de_brand said: "God bless you sir.. Those unscheduled visits made me who I am today. My dad showed up at 12midnight sometimes.. It kept me on my toes and I made it…."
I still see my guy for Quilox the other day, same day u were in Cubana, son was at Quilox ??….. Surprise visit wouldn't help that much…..it's all about the orientation they get at home, more so Dey are at an age where Dey want to explore and peer pressure is badly affecting dem, Bottomline the home training Dey received with the help of God will guide dem and not lead dem astray ????
tom_confectioneries said: "Give them a surprise visit with a white envelope o."
jessicaogoba said: "Good idea sir, some of us are paying for school fee million, but we never make an attempt to check Weather our is staying in school or not or if is attending lecture."
ALSO SEE: Actor And Married Dad-Of-3, Junior Pope Drops A Warning Message For Parents After This Scary Encounter With Their Domestic Help 
jummy added: "One of my dad's elder brother gave him this same advise when I was in 100Levels but I never got the surprise visit from my parents until my final year.
He gave my dad the advise after discovering his daughter who was supposed to be in her final year was not a student. He visited her in the school and discovered from her friends. All the money she's been collecting from the dad, all gone. He was actually pained."