'Ten Years With Ned Nwoko, Worst Decade Of My Life' -Ex-Wife, Laila Charani Recounts In Instagram Live Session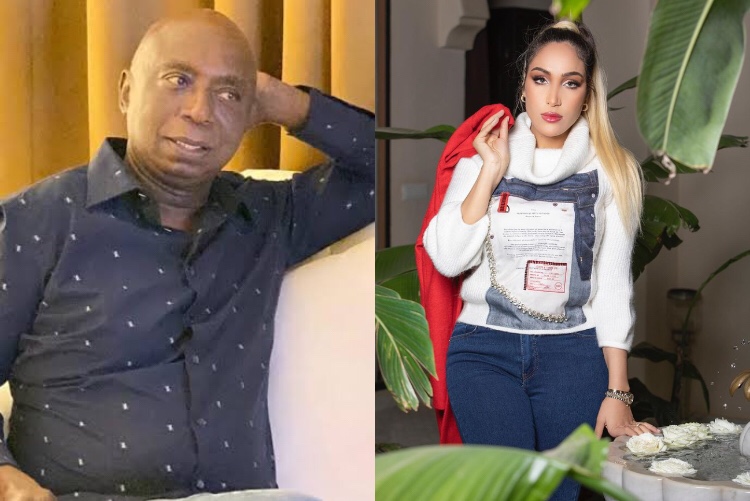 Laila Charani, the ex-wife of politician and billionaire businesswoman, Prince Ned Nwoko has recounted some challenges she faced while in her matrimonial home.
In an Instagram live session on Sunday, the beauty queen described her 10 years of marriage to the father of her children as the worst decade of her life.
The Morrocan mum of three claimed that her relationship with Nwoko changed after he married actress, Regina Daniels.
According to Laila, Nwoko shifted all attention to Regina and her son and only showed love to her and her children on social media. Laila who claimed she married Nwoko as a virgin added that he refused to let her pursue her modelling career after they got married.
The 30-year-old also said she had to look for jobs to secure a promising future for her kids when she could no longer take the heat.
Concluding, Laila said that at the end of the day she wishes him well as he is still the father of her kids.
Laila announced her divorce to the former lawmaker in an Instagram post in November 2021. Confirming their divorce in an Instagram post on December 8, Nwoko accused Laila of infidelity, child abandonment, domestic abuse and others.
IG gossip blog, Cutie__juls in a post gave a run-down of what Laila said during her Instagram live session on 20th February.
Read below:
"On Sunday, 20/02/2022, ex wife of Delta State Politician, Ned Nwoko took to her Instagram live to air out some issues which she said went on while she was married to the Delta State Lawmaker

Miss Charani said she met no other wife living in her former husband's house when she was married in as a virgin.

She said while in her matrimonial home, her ex refused her to do modelling which was her career b4 getting married.

She said since her ex got married to Gina, he started being very mean to she and her kids. And mentioned that there were times her husband would ignore she and her kids for days without any word but will be posting on social media as if they are loved.

She said all attention of her ex was fully for her rival and her son and she and her kids only get shown love on social media.
SEE ALSO: Billionaire, Ned Nwoko Finally Spills About His Separation From Ex-Wife, Laila: 'No Reasonable Man Will Tolerate As A Husband'
She said it got to a time she couldn't take it anymore so she had to go and find herself and work so she can secure a good future for her kids. She said since she left with her son, her ex has refused to take care of their son.

She also said someone has been threatening her daughter, Miya via social media. She said there is also another boy in the house whose mother had no choice than to come and leave him in the house cuz his dad, Ned refused to take care of him while he stayed with his mom.

She also stated that she knows who is behind the threats to her daughter's life cuz that person does not want her daughter to be in the house.

She also stated; "how does a person come on social media to flaunt billionaire status when his kids and people in his house are not feeding well" .

She also mentioned that she wished Ned well cuz at the end of the day, he is the father of her kids but the 10yrs with her ex has been the worse years of her life. She appeared very emotional during her live video."
ALSO SEE: Infidelity: Mum-Of-3, Laila Charani Exposes The Lies Of Estranged Husband, Ned Nwoko Over Their Divorce, Shares Screenshot
See the post below: