'You've Been Sleeping With My Husband Since Your Son Was Only 5 Months' -Kazim Adeoti's First Wife Calls Out Newly Married Actress, Mercy Aigbe In Bitter Rant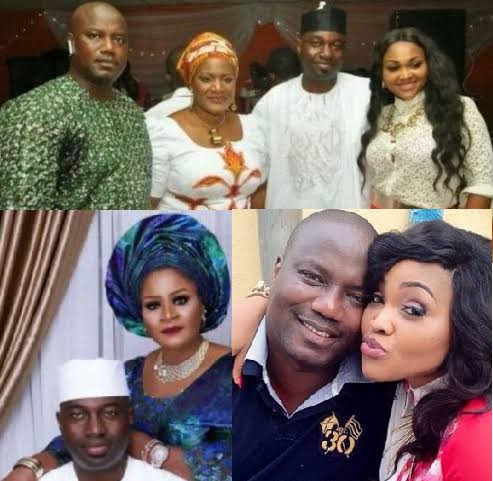 Oluwafunsho Asiwaju Adeoti, the first wife of actress, Mercy Aigbe's current husband Kazim "Adekaz" Adeoti, has broken her silence following the couple's first interview.
Funsho had taken to her Instagram page to unleash her fury and to slam the couple for feeding the public lies following their interview.
In previous interviews, Mercy and Kazim Adeoti had debunked lingering rumors concerning their marriage.
In the interview, Mercy, a mother of two, had denied being friends with Kazim's estranged first wife and that she didn't break Kazim's first marriage (Read Here). She said she only met her at the party.
Mercy also said Adekaz is a Muslim so can marry multiple wives.
Kazim Adeoti also said that Mercy Aigbe didn't snatch him as he is a full-grown man. He said at the time,
"My first marriage is intact. My business is here in Nigeria. If people are saying I am separated, it's because my family isn't here with me in Nigeria but we are good though there was an issue, everything is back to normal.

I am Muslim and my religion permits me to marry more than one wife. Now I am married to two beautiful women."
He further added, "Well my family is in the USA and I shuttle between the US and Nigeria".
Shutting the couple down, Funsho revealed that she was divorcing her husband and he knew that.
Setting the record straight, the mother of four said that 'she did not and will never settle to have a second wife in my marriage to him'.
She warned her estranged husband to stop painting a perfect picture of a marriage he clearly does not have with her.
Funsho told him and Mercy, who she referred to as 'side chick' to continue in their relationship but warned them never to come out to demean her and her children with their childish attitude.
She also revealed that she and Mercy Aigbe were friends but the "shame" will not let Mercy admit it, and she was the one who introduced her (Mercy) to her now ex-husband (Kazim) and had also invited her to his 40th surprise birthday party.
She also alleged that Mercy's son, now 11, was just 5 months old when Mercy began sleeping with her husband Kazim. Mercy was still married to Lanre Gentry at the time.
SEE ALSO: 'Mercy Aigbe Has Been Sleeping With Kazim Adeoti For More Than A Decade' -Family Source Makes Shocking Revelations
Read Funsho's full posts below…
"Let's get the record straight here, this post is regarding an interview recently going around by Media Room Hub with my soon "to be" ex-husband in one of his numerous lies, I want you all to know that in contrary to what Mr. Adeoti said I did NOT and will NEVER SETTLE to have a second wife in my marriage to him.

Kazim, you should stop painting a perfect picture of a marriage you clearly do not have with me Oluwafunsho Asiwaju Couture. You and your side-chick can continue with whatever it is you are doing, BUT NEVER come out to social media degrading me or my children with your demeaning and childish attitude, I will not stoop to your level of rubbish and stupidity.

As for you Mercy let's cut the crap, we were friends, but the shame and your glam lifestyle will not let you admit it, you have been sleeping with Kazim since your son was only 5 months old.

I introduced you to Kazim as my friend. I called and personally invited you and your ex-husband to the 40th surprise birthday party I did for my soon-to-be ex-husband.

You were a constant friend of mine back then, I brought you close as a friend because I liked you, but you repaid me by sleeping with my husband Kazim.

"You were a problem in my marriage for YEARS, now am happy to let you know this is only the beginning of the end for you.

Am DONE he's all yours, ENJOY. Am really passed this. Like I said in my first post "Losing someone who does not respect or appreciate you is actually a gain, not a loss."
Thank you all!".
ALSO SEE: Wife Of Mercy Aigbe's New Husband, Funsho Adeoti, Finally Breaks Silence