If Your Husband Says His Vows Looking At The Officiant Instead Of You, Run' -Lady, @ttexass Who Got Divorced Less Than A Year After Her Marriage Advices As She Shares Her Story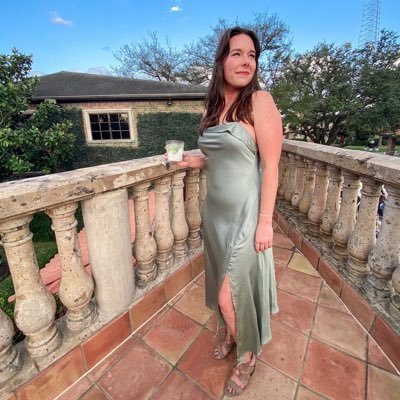 A woman who got divorced less than a year after her marriage was contracted, took to Twitter to dish out a piece of advice to intending couples.
The twitter user, deenyul, esquiggle @ttexass revealed that the circumstances of the divorce were 'absolute dog shit' but she's so much happier now and falling more in love with herself every day.
Urging people not to settle for anything less than they deserve, the Twitter user also advised lovers to run from their partners when they say their wedding vows without looking at them.
Below is her full tweet;
"lol I got married a year ago today and I'm already divorced

The circumstances of the divorce were absolute dog shit but I am so much happier now and falling more in love with myself every day. never settle for anything less than you deserve

Also if he says his vows looking at the officiant (who is also your "best friend") instead of you, RUN

I'm just gonna follow this up for all the people talking shit:

– we were together for 4+ years

– got engaged after 2 and went through a LOT during that time

– I still believe in love and marriage, this just wasn't the right one

– I was a great friend, gf, fiancé, & wife."
READ ALSO: 'No Place In Law To Just Sign Divorce Papers And End Marriage' -Lawyer, Inibehe Effiong Educates Nigerians On The Process Of Marriage Dissolution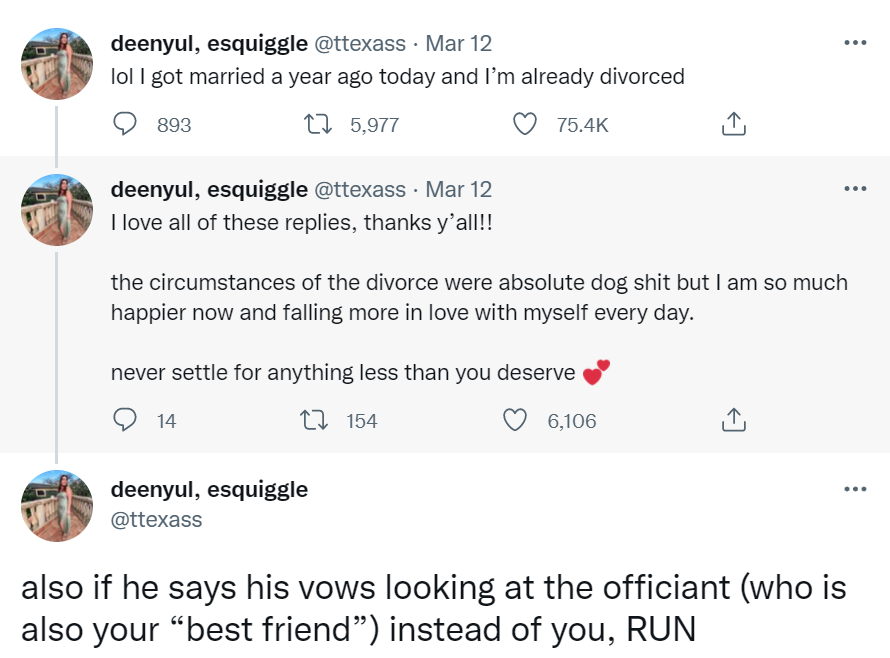 Below are some reactions from other social media users:
Anonymous 
Funny enough My husband did this oh I tease him about it whenever we watch the video. He was shy and is still shy about some stuff till today …11 years and counting. Sorry your own turned out the way it kpele.
Sometimes I just sit and laugh at some comments.. 'we dated him for 4 years', 'he was looking at the officiant while saying his vows'.. see my dear, if you guys are meant to be then nothing can stop that. I never dated my wife , we met and in less than 4 months we are married and living happily till now. In fact on the day of our wedding I was looking at the priest and smiling while saying my vows. Check yourself madam, probably you were hiding your character while dating him, after marriage you decided to bomb the whole place.
I'm always surprised whenever I read couple having marital crisis after dating for years. What were they doing during their dating years that they failed to realize there might be problem in the marriage if they get married. To the people currently in relationships, please always pay attention to each other and watch out for red flags. It breaks my heart anytime I read about divorce or marital crisis.
What kind of man makes a vow and not look at his wife? She is absolutely right.