Actress, Nkechi Blessing Sunday's Ex-lover Opeyemi Falegan Announces End Of Their Marriage, She Fires Back In A Nasty Way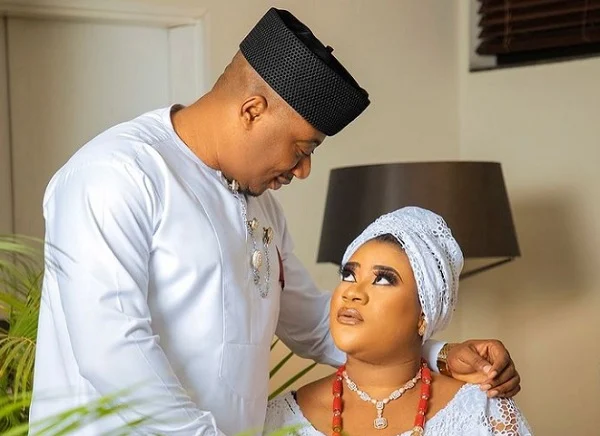 Opeyemi David Falegan, the former lover of Nollywood actress, Nkechi Blessing Sunday has announced the end of their relationship.
Nkechi and Falegan confirmed their marriage in June 2021 after they shared lovey-dovey photos on social media.
The politician who went live on Instagram accused Nkechi of being a lesbian and said he doesn't want to be associated with "notoriety" but only want to be known for his philanthropic gestures.
"I'm not anybody's husband. I don't want to be known with any notoriety or anything controversial,"
Falegan said as he made it clear he and Nkechi are no longer together.
Reacting to this, Nkechi stated that he shouldn't lie about being the one that ended the relationship. The Nollywood star actress added that she can't be using the money she makes to feed a grown man.
Nkechi who also responded to claims of her dumping the self-acclaimed politician after he allegedly built her a house, asked him to provide receipts to back up the claim.
The actress who recently lost her mom also swore on her late mother's grave that she worked hard to build the house, with no help from her ex-lover. She maintained that he's broke and an unserious politician who spends all his time on Instalive.
She said that for the three months she visited him in London after her mother's death, he was doing nothing.
Nkechi further disclosed that when she started getting concerned that he allegedly didn't have anything doing and wanted him to take some time off social media and get a real job, he complained that she's trying to separate her from his "people."
She also recalled how he allegedly poses with people's money and takes back what he gives out. Nkechi alleged that Falegan is threatened by Omoluabi who is doing well for himself.
The actress further revealed that Falegan's manhood isn't working and she has since replaced him with a vibrator.
On claims of being a lesbian, she stated that even if it's true, it shows that her lover's manhood isn't working. The actress who also revealed that their relationship ended weeks ago, averred that she went live to counter Falegan's alleged lies on Instagram.
She also said he can't perform sexually. She then showed her followers a bag containing the sex toys she uses to satisfy herself sexually as she alleged that Falegan doesn't last more than a few seconds.
READ ALSO: Actress Nkechi Blessing Shares Her View On What It Takes To Have A Successful Marriage | Do You Agree?
In her words:
"A hardworking woman deserves a man who can support her. I cannot be smiling in penury. If you cannot support your woman, what are you there for? You have no job.
A lady sent a message to a blog saying honourable has built a house for me and I left him. He should post the receipt of him giving me money. I built it with my sweat, charging N2.5 million monthly for influencing.
He used a fake page to DM a blogger, making false claims. Men don't leave me. I dump them when I'm tired. I cover your secrets. He'll be on live video all day and people start asking what kind of man I'm dating.
People begged me not to do this. I said I'm not doing anymore and you cause problems. What is your problem? What do you want from me? I've left you for how many weeks but you go and form a gist about [Mike] Adeyemi.
Adeyemi and I decided to go our separate ways. I've met people. I'm a woman. I have no explanation to give you."
ALSO SEE: "There Is A Man For Every Woman, Don't Give Up" – Actress And Mom, Nkechi Blessing Encourages Singles In Beautiful Instagram Post
See screenshots below…