Actress, Nkechi Blessing Apologises For Lying About Her Marriage To Ex-lover, Opeyemi Falegan To The Public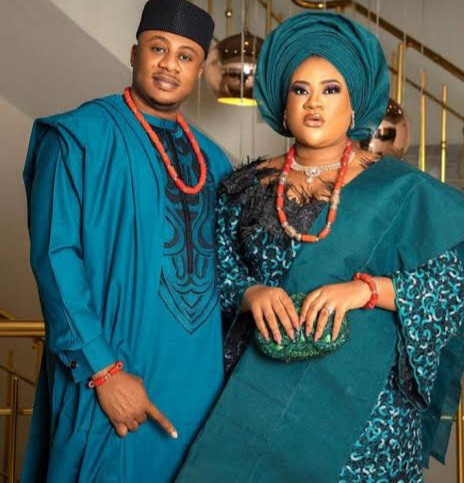 Nollywood actress, Nkechi Blessing Sunday has confessed that she was never married to her former lover, Opeyemi Falegan.
She also apologised for giving the public such an impression. Nkechi shared a screenshot of Whatspp chat which displayed her conversation with Falegan where she noted she was leaving the relationship.
Captioning the post, she wrote:
"I am going to leave this here just because of future reference.

Na that Yoruba Oko mi Oko mi cus all this one. ODF leave my name out of your mouth ooo….I am glad you know me before you say you like me join all my cra#e no let me unleash all for this Mark app..

I walked away from this relationship by myself and left you in it since I left London. But na every day beg and cry. I saw all the red flags and I cannot be caught up in such because, a failed relationship is better than a failed marriage.

I was never married to you. Apologies to anyone who feels I was married to this man…Make Una no vex, na my fault.

Opeyemi please move on in peace, na God wey Dey heaven I take beg you. LEAVE ME ALONE!! I tried hard to meet you at d level of love you claimed to have for me but I couldn't and I wasn't going to lead you on.I decided to take a walk instead…

I wish you all the best in whatever relationship you find in future.. But pls leave this Ghetto Nuisance's name out of your mouth…I go drag you reach 2036 if you no leave me ooooo…ENUF SAID!!!"
On June 10, 2021, Nkechi claimed she was married and shared photos from her supposed 'secret wedding' on her Instastory as part of activities to mark Falegan's birthday.
She went on to caption one of the 'wedding' photos: "The day I said I do to forever."
"I was going to write an epistle, But then again I realized Instagram didn't bring us together. So I will rather say it to you directly.

But still here is to wishing you Nothing but the absolute Best my King. Thank you for staying True to what we share and loving Dis stubborn Girl unconditionally. Happy Birthday Twinnie @hon_falegan_official_."
Nkechi also released a video of friends of her ex calling him out for being fake, as she disputes his claim that she came to him for his money.
She also released a chat with him when he told her not to have any high expectations before they went into the relationship.
SEE ALSO: Actress, Nkechi Blessing Sunday's Ex-lover Opeyemi Falegan Announces End Of Their Marriage, She Fires Back In A Nasty Way
The Nollywood star further shared screenshots where people warned her that he is a "pedophile" and is into "juju" but she chose to give him a chance and prayed to God to show her who he really is.
She said that while visiting him in London,  she noticed he always chose to lay his bed himself. One day, she decided to lay the bed when he wasn't there and saw a white cloth with a red cross under the place where she's been sleeping.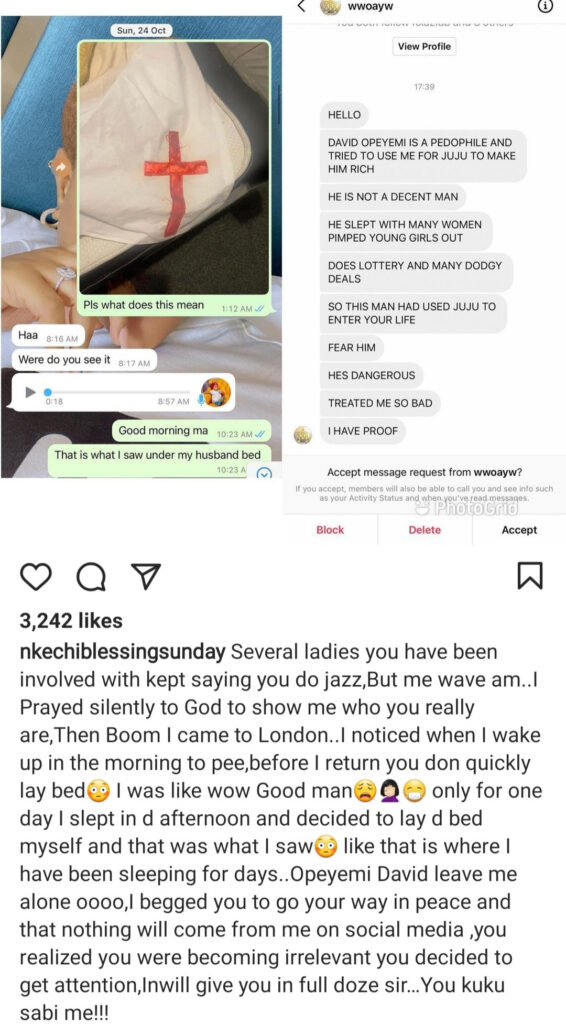 Nkechi further said that when he told her not to have high expectations in the relationship, she had no idea that she would be the one "feeding" him.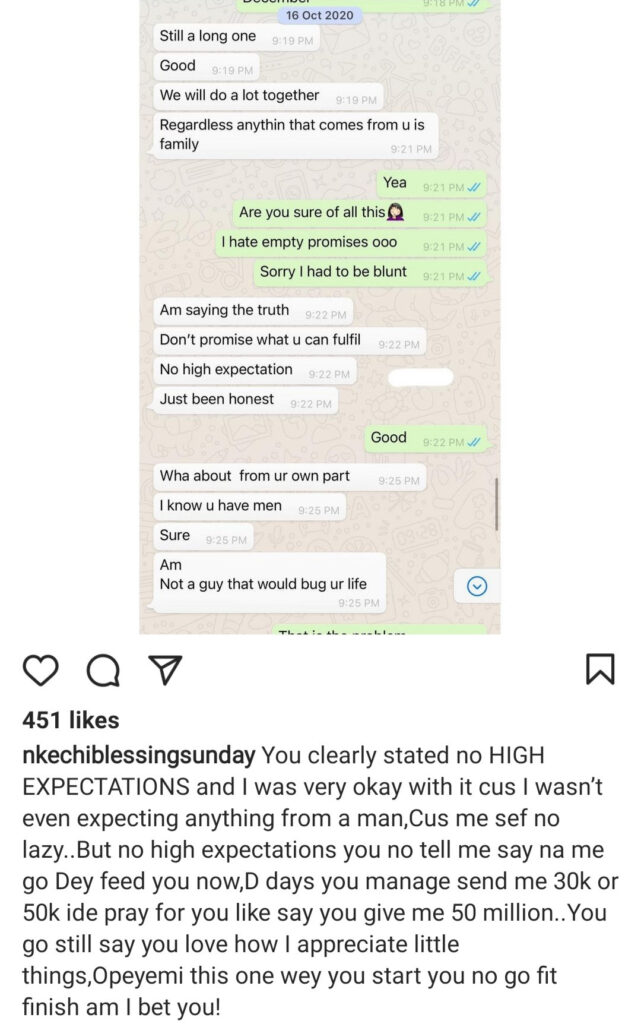 Nkechi also shared a post made by a friend of Opeyemi's.  The friend defended Nkechi and told Opeyemi off.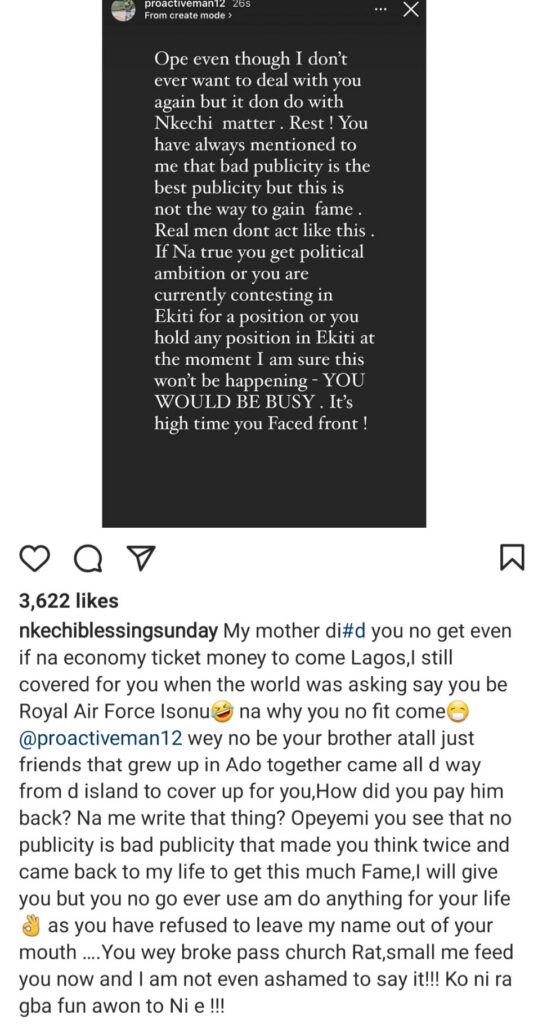 In another post, she shared a video of two of Opeyemi's friends talking about the time they discovered he's living a fake life and has nothing.
Nkechi shared these to dispute the claim he made that she came for his money and for sex.
Opeyemi had earlier said that the actress came into his life to "drain" him, but her behaviour was not compatible with the future he wanted for himself -the reason he left her.
He said the actress came into his life for two things, "money and sex". He added that his foundation is what made Nkechi set her sights on him, because she knows him as a philanthropist.
He further claimed that when they began dating, Nkechi was always making financial demands, stating that she's in the public eye and needs to live up to the standard of one in that position.
He added that when he insisted his money was for his foundation, she told him to take care of the home first before taking care of outsiders.
He also said that when Nkechi came into his life, she was desperate to have a child and wanted him to impregnate her.
However, he said he was not in a hurry since he already has three kids. He said he told her they had to get married first before having kids and she began putting pressure on him to come and see her people.
Opeyemi, a politician further explained that he told her that he needs her to work on her behaviour and poise first before he can marry her.
However, he said her "garage behaviour" remained and he couldn't take their relationship further.
In a conversation with Uche Maduagwu, Opeyemi claimed he finally left Nkechi after he saw a post she made online threatening to beat up any woman who tries to snatch her man.
He added that he doesn't need a woman with such character in his life.
Nkechi Blessing Sunday and Opeyemi Falegan announced their split on Wednesday night, April 6, and have continued calling each other out since then.
Nkechi accused him of living a fake live, being broke with no job, begging people to fund his foundation, buying economy ticket and posing in business class in planes… She also said he was sexually inadequate and couldn't last more than a few seconds in bed.
Meanwhile, Opeyemi alleged she's a lesbian and cast aspersions on her character.