'Marry This Man At Your Own Peril' -Nigerian Mom Alerts The Public, As She Calls Out Her Ex-Husband Who Came To Beat Her At Her Mom's House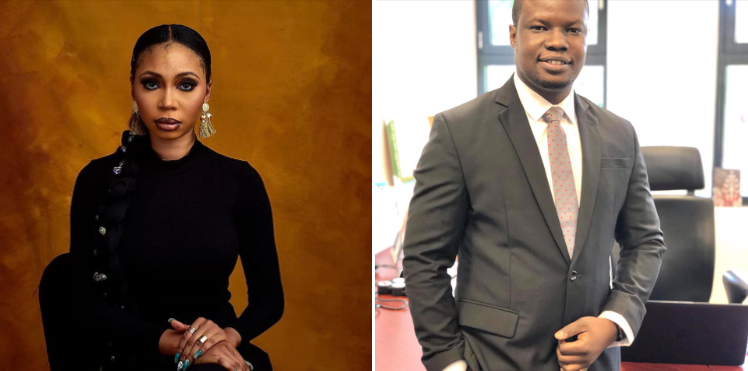 A Nigerian woman identified as Rael Gabriel has taken to social media to alert young women about her ex-husband.
The lady alleged that her husband, Jamilu Gwarzala Dan-mutum, whom she tagged as abusive, recently stormed her mother's house to beat her up over child custody.
Real went on to show a video which showed the moment Jamilu battered her in the presence of their daughter and her mother as evidence to corroborate her claim.
In the video she shared, Rael was heard arguing with her estranged husband who insisted that he won't send money for the child's welfare.
When asked why he came to see the child a year after their separation, he stated that he can come to see his child anytime.
As the argument lingered, the lady was heard crying for help as he allegedly slapped her continuously in her mother's house where he came to see their child.
Rael's mother then called out to neighbors for help, while also telling Jamilu that he won't beat her daughter in her house.
Jamilu was however heard saying "I will beat her". Sharing the video online (watch in the slide), Rael said anyone marrying Jamilu is doing so at her own "peril". She wrote;
So Jamilu Gwarzala Dan-mutum followed me to my mother's house today, to come and fight me, he won't look for his mates to fight o.

I won't keep quiet, let your sister or friend marry this person at her own peril. Let this be here as evidence."
READ ALSO: Nigerian Woman, Ada Uburu Calls Off Her Wedding Over DV, Shares Her Traumatic Experience With Her Partner
In a subsequent post, she revealed that their marriage would have been three years old by the 26th of this month, but she left her marriage over incessant domestic violence by her husband.
In her words:
"My mistake was I kept quiet, I didn't have friends to even vent to, the one I vented to was rattle brained, rumors were being spread spoiling my name.

I was angry, I still get angry when I remember. Piling up anger is bad, Trauma is bad!!! I'm exploding mad cz this all brings memories. If you watched me very well, I never celebrated my first wedding anniversary.

It would have been 3 years on 26th of this month. I reported but was told it's family matter, we should resolve it. Nigga told me nobody would ever believe me because he has a good reputation and friends in high places."
Ironically, Jamilu's Facebook bio reads "A thinker and patriot. An advocate for global peace. Author."
ALSO READ: Tennis Star Mom, Funke Oshonaike Recounts Her Domestic Violence Experience From A Lover And Her Ex-husband: 'He Beat Me In Front Of My Dad And My Pastor'