"I Enabled The Abuse" -Korra Obidi's Sister, Nancy Umeh, Touches Kora's 'Abusive' Marriage With Justin Dean | Watch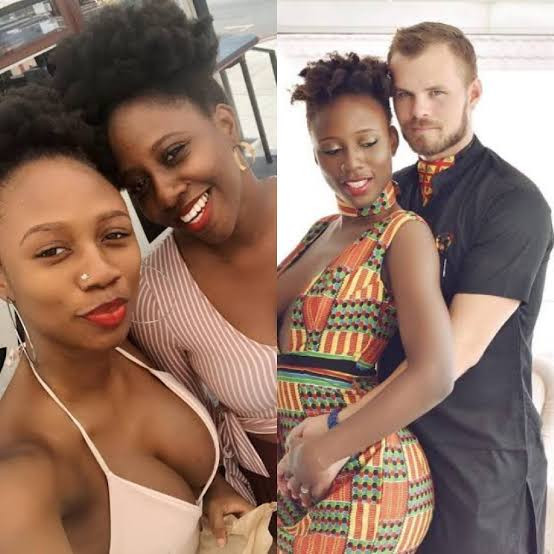 Korra Obidi's elder sister, Nancy Umeh, has called out her sister's husband, Justin Dean as she revealed that she encouraged the dancer to stay in an "abusive" marriage and she has now apologized for this.
This comes a few days after being labeled a thief by his estranged wife. Some days ago, Korra cried out on Facebook, accusing her estranged husband of stealing money from her.
A few hours after he was called out and labeled a thief, the performance therapist, Justin reacted, declaring that he is not a thief as the transaction was a mistake.
In a fresh video, Korra's sister who said she has evidence revealed that Justin abused and smashed her sister's numerous phones to prevent her from making money online.
Nancy took to Facebook to read a 'cease and desist' letter Justin sent to her through his lawyers to warn her to stop defending her sister online.
She read the letter out to her followers and then began addressing her sister's estranged husband. Nancy accused Justin of trying to shut her up for defending her family.
She said Justin has been spoiling her family's name and accused her sister of being a cheat, despite the fact that he never caught his sister with any man yet, her family kept quiet. She said that now she's speaking to defend her sister.
She then accused him of being abusive. According to Nancy, her sister has been abused on several occasions by Justin but she was the one that prevented her from making it public.
Nancy said she prevented her sister from revealing the nasty things Justin has done to her because of her children.
She also admitted that she encouraged the 'abuse' by taking his side and encouraging her sister to obey him.
Nancy called Justin a "narcissist". She said that when she travelled abroad to do Omugwo (nursing mother and newborn care) after Korra welcomed her first child, she noticed all Korra's money went into a joint account she has with Justin, something she said didn't seem right.
READ ALSO: Dancer, Korra Obidi's Husband, Justin Dean Gives More Details About The Cause Of Their Marriage Crisis | She Reacts
Nancy warned that this is usually the beginning of financial abuse for women.
She also claimed that Justin broke Korra's phone multiple times because he wasn't happy about her doing videos on social media.
However, when the money started coming from her videos, she said Justin allegedly used it to pay his student loans.
She explained that each time Justin broke Korra's phone, she took his side and asked her sister to stop provoking him.
She then apologized to Korra for making her stay in an abusive marriage.
Nancy also called out Justin for allegedly taking the $5,000 recently paid into the joint account for Korra, which led to Korra finally coming online to call Justin out.
Nancy also slammed reports that her sister married Justin for a green card and for money.
SEE ALSO: Dancer, Korra Obidi And Her Husband's Marital Saga And Custody Rights Just Got Even Messier 
She said that is far from the truth as his sister was already working and earning more before she met Justin who is a chiropractor and wasn't making much money.
Watch Nancy speak in the video below…