Late Dora Akunyili's Son Opens Up On The Brutal Murder Of His Dad, Dr Chike Akunyili 6 Years After His Mum's Death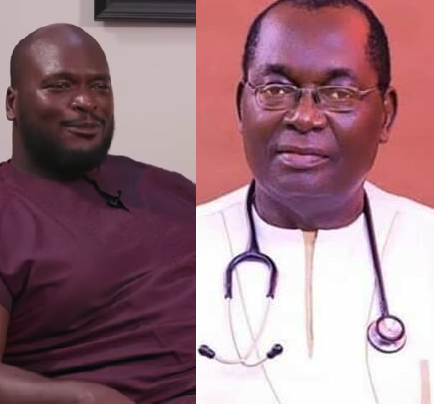 Hon. Obumnaeme Akunyili, one of the sons of Dr. Dora and Dr. Chike Akunyili, has opened up for the first time on the tragic murder of his father.
During an interview with media personality, Chude Jidonwo, Obumnaeme, who is the Director General at Anambra State Project Monitoring and Management Office, spoke about how his father was murdered in cold blood in the streets of Anambra state and left to die a slow, painful death.
According to him, he found out about his father's death by watching a video of his father dying on Facebook.
Dr Chike had travelled to Anambra State to accept an award in honour of his late wife when he was shot in the face and left to die, while passersby filmed.
Obunaeme disclosed during the interview that he was with his father on that day, shortly before he was killed.
"I'm still dealing with it. I was with my dad that day. We went to the event together… We came back home, I took the Onitsha road, I saw him go this side, and suddenly, I'm getting calls that my cousin has been shot…

"I found out my father had died by watching the video of him dying on the floor on Facebook. That's how I knew my father died, I found out on Facebook. And this was a larger-than-life man. And just seeing him struggling to breathe and everybody is there videoing it."
READ ALSO: How Late Dora Akunyili's Husband Struggled For Life As Onlookers Did Nothing After He Was Attacked By Unknown Gunmen (Graphic Photos)
He pointed out the sad reality that no one went to his dying father to comfort him, instead they stood by and filmed him bleeding from a gaping hole in his face.
He continued:
"I think the hospital that could have saved him wasn't there but just the fact that people are trying to save you can make you hold on. Nobody even made an effort."
He lamented the lack of humanity that saw witnesses asking his father's injured driver questions rather than getting him a keke (tricycle) to take him to the hospital as he requested.
"I've not recovered from that,"
he said, adding:
"I don't know how we can normalise that. How that's our new reality, how you can be driving and you can be killed."
ALSO SEE: Late Dora Akunyili's Daughter, Chidiogo Parr Speaks On The Gruesome Murder Of Her Dad, Recounts Last Discussion With Him
Watch him speak in the video below…