Nigerian Woman Writes To Men To Consider These Few Questions Before Wishing For A Good Wife Like Joke Silva
Veteran Nollywood actress, Joke Silva trended on social media a few days ago after she shared an adorable video with her husband, Olu Jacobs.
Olu Jabcos will be turning 80 today, Monday, July 11, and he recently had a lovely photoshoot session with his beautiful wife for his birthday celebration.
Fans admired how the couple have stayed together all through the years and especially how Joke Silva has been taking good care of her husband due to his deteriorating health conditions.
However, a lady identified as OriAku Martin took to social media to write to men who are wishing or praying for a woman, wife like Joke Silva.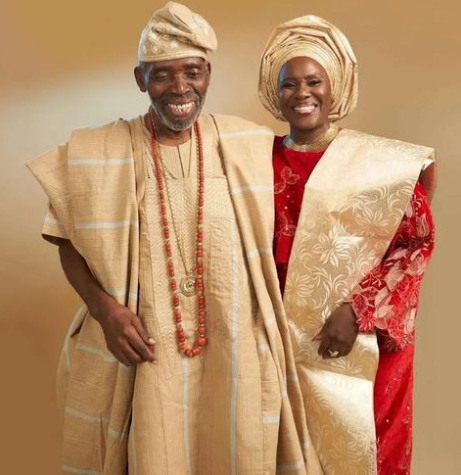 ALSO SEE: Olu Jacobs & Wife, Joke Silva Share Amazing Insights On Their 30+ Years Of Marriage
Her post on Facebook reads;
"Dear men, before you start admiring Joke Silva for being a good wife to her husband even in bad health and start measuring your wife with her.

The man you see here must have been a good husband and father in their youthful time to get such dedication and love from his wife today.

Ask these questions .

Did sir Olu Jacob leave her to be with a mistress?
Did he take care of her in their youthful age or not?
Was she treated like a queen?
Maybe, she didn't even have the experience of fighting or dealing with any things called "sidechick".
Did Olu Jacob marry two wives?
Before you start the comparison, nwoke uche ghi dikwa ya oooo.
Na Husband wey take care of wife them dey take care of when them old."
SEE ALSO: Veteran Actress, Joke Silva Gives Practical Advice To Childless Couples On Adoption As She Reveals She Was Adopted
See other responses below:
@Lala: How you treat your spouse will determine how dem go take look after you. Be good to each other before old age or sickness strike. It could be husband or wife.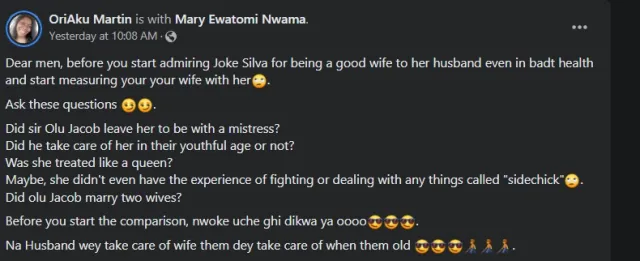 A few months ago, Joke Silva, opened up for the first time about her husband's health condition.
Speaking in a recent interview with media personality, Chude Jideonwo, the award-winning thespian disclosed that Olu Jacobs has dementia with Lewy bodies (DLB).
According to the mom-of-two, it's been going on for a couple of years but this is the first time she's speaking about it publicly. (Read here)
In her words:
"He is dealing with issues and it is been going on for a couple of years. It is known as dementia with lewy body.

"It is a degenerative disease that affects the brain and it is almost like a Parkinson type of disease, it affects the brain and affects the person.

"First time I'm saying this publicly… that is what we have been dealing…but the thing is, it is hard on him because he doesn't understand what is going on and it is hard on us family members as well.

"We have gone through it over the past couple of years but we thank God."
ALSO SEE: Nollywood Sweetheart, Joke Silva Identifies The Factors Responsible For The Success Of Her Over 3 Decades Marriage To Olu Jacobs
She continued:
"We have gone through some times and situations recently that I wish I had the old you here so I don't battle these times on my own but we are grateful for the moment of clarity. I miss the times we work together."