Cynthia Obi-Uchendu Shares 40 Reasons She Loves Her Dear Husband, Ebuka As He Turns 40 Today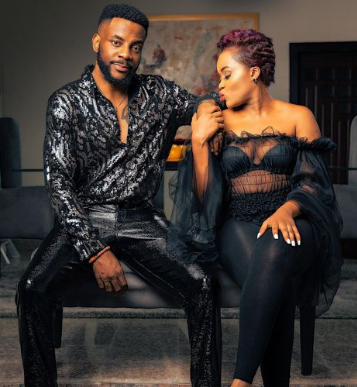 Cynthia, the pretty wife of media personality and host of Big Brother Naija, Ebuka Obi-Uchendu, is in a celebratory mood as her husband turns 40 today July 14.
To celebrate her husband, the mother-of-two took to her Instagram page to list 40 reasons she loves him.
In a video post of fun moments with Ebuka as well as their kids wishing him a happy birthday on Instagram, Cynthia itemised Ebuka's love for family, being kind, patient, loyal, God-fearing and not forgetting his fashion sense as some of the qualities she loves about him.
She wrote;
"This is 40
40 reasons why I love you.
1: You are kind
2: You are an amazing father
3: You are loyal
4: You're God fearing
5: You love your family
6: Your patience
7: Your sensitivity
8: Your constant support of me
9: Your charm
10: Your fashion sense
11: You have an open mind
12: You're a feminist
13: Your eyes get tinier when you laugh
14: You never give up on me
15: You buy me nice bags
16: You're my atm
17: You know something about everything
18: You're extremely diplomatic ()
19: You're sexy
20: Your inner strength that helps you keep calm in the midst of chaos
21: You're intentional with me
22: You make the kids and I feel completely safe
23: You know how to cheer me up (food)
24: You're a realist
25: You have passion for all that you do
26: Your courage to chase your dream
27: You're level headed
28: Your confidence
29: You are intelligent
30: You are disciplined
31: You have the most gorgeous smile
32: Your relationship with God
33: You keep to time( that's extremely important to me )
34: You are a man of your word
35: You're a hard worker
36: you accept and understand my moody personality
37: You are reliable
38:Your work ethic
39: Your humility
40: Your morals."
READ ALSO: Ebuka Obi-Uchendu Shares The One Argument He And His Wife Can't And Will Never Stop Having… See If You Can Relate
Below is a screenshot of her post…