Newly Wed Comedian, Funny Bone Speaks On How He Met His Better Half And Why It Took Him This Long To Get Married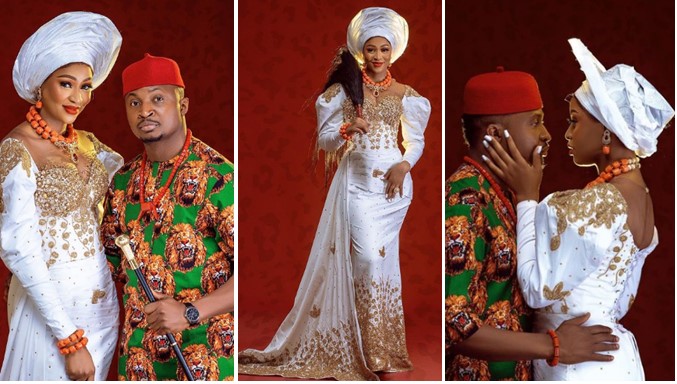 Nigerian Comedian, Stanley Chibunna, popularly known as Funny Bone has opened up on how he met his wife.
Last month, the sensational comic actor and his wife tied the knot in a very colourful ceremony in Anambra and Lagos respectively, few weeks after he proposed to her.
In an recent interview with PUNCH, the entertainer sheds more light on how he met his better half and why it took him this long to tie the knots.
According to the hilarious skit-maker, he married at the age 36 because that was the time he was ready to settle down with a woman.
In his words:
"First, I got married at the time I did because that was when I was ready. Second, that was when I found someone who understands me. Marriage takes a lot, and it is not for kids.

I met my wife through a mutual friend who introduced us. We (me and my wife) got talking and I realised that we shared similar values. We both have the fear of God, and we are nice to people. We got along well and today, we are married. When one is ready to get married, one will know."
The newly wed also spoke about his career, achievements, challenges and other issues.
READ ALSO: Comedian Funnybone Speaks On The Pain Of Losing His Mother & Why He May Remain Single
What inspired you to become an actor and comedian?
I had the gift in me. When I was young, everyone knew I wanted to become an actor, filmmaker and comedian. I went on to study Theatre Arts at the University of Jos, Plateau State. It has always been a dream for me to excel as a comedian and actor.
What are some of your notable achievements so far?
I do not really see awards as a yardstick to judge someone's success in a particular endeavour. I know some people that have worked really hard but they have not won any awards (yet). That does not mean they are not doing so well.

However, in 2020, I won the Best Actor in a Comedy Film (Smash) in Africa Magic Viewers Choice Awards. In 2007, I won Best New Comedian in Nigeria category of the Diamond Awards for Comedy.

So far, I have been staying true to my style and doing my thing to the best of my knowledge.
What were the challenges you faced in your rise to fame?
It had to do with getting people to accept me for who I am because I grew up in the northern part of the country— Plateau State. It was really a challenge for me. Relocating to Lagos from Jos was not easy.

My desire to stamp my feet in Lagos and let people know that I am here to stay was not easy. It took a lot of hard-work and consistency. That brought me the acceptance and value I have in the industry today.
What were the factors that brought you this far?
Humility, understanding, respect for my elders, profundity in understanding my craft, learning, observing, revolving and recreating brought me this far.
ALSO SEE: See If You Agree With Media Personality, Mallam Figo's Stance On Why Men Should Marry Early
You speak fondly about your late mum. What role did she play in your career, and were you her only child?
I am not my mother's only child but I was very close to her. I grew up with her. What we shared was more than just a mother and son relationship. We were friends and I could tell her anything. My mother had six children and I am the fourth.
Do you have any plans of immortalising her?
I am working on something but I don't want to let it out of the bag yet. It (the project) is about me and where I am coming from. I will also talk about her in that project.
You don't often talk about your dad. Why is that so?
My dad passed on a long time ago. My dad was like me; he was a funny man. He was fun.