Duke of Sussex, Prince Harry Recalls The Moment He Knew Meghan Markle Was His 'Soulmate'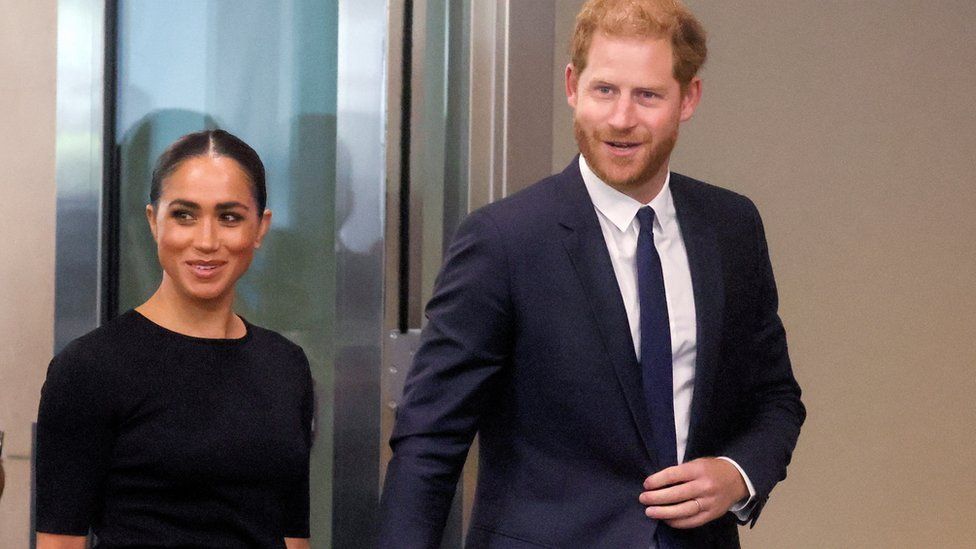 Prince Harry gave his wife, Meghan Markle a special shoutout during his United Nations speech.
The couple appeared in New York City on Monday, July 18, where Harry addressed the assembly as part of Nelson Mandela Day.
Delivering a keynote address in honor of Nelson Mandela International Day at the United Nations Headquarters in New York, the 37-year-old Duke of Sussex, spoke candidly about his emotional connection to Africa and revealed it is where he "knew he had found a soulmate in his wife".
During the speech, Prince Harry spoke about his own passion for Africa since his first visit at age 13 — including how it connected him to two important women in his life: his wife, Meghan, and his mother, Princess Diana.
The dad of two said;
"Since I first visited Africa at 13 years old, I've always found hope on the continent. In fact, for most of my life, it has been my lifeline, a place where I have found peace and healing time and time again.

It's where I've felt closest to my mother and sought solace after she died, and where I knew I had found a soulmate in my wife.

And it's why so much of my work is based there. Because, despite continued hardship, there are people across Africa who embody Mandela's spirit and ideals – building on the progress he helped make possible."
Meghan, 40, and Harry, 37, have traveled to Africa together several times, including a visit to Botswana early in their relationship in the summer of 2016 — after just two dates over two consecutive days in London.
"I managed to persuade her to come and join me in Botswana. We camped out with each other under the stars. She came and joined me for five days out there, which was absolutely fantastic,"
Harry said after their engagement.
"So then we were really by ourselves, which was crucial to me to make sure that we had a chance to know each other."
At one point during his speech, Harry looked back at a photograph of Diana meeting Mandela during her visit to Cape Town, South Africa in 1997, which occurred about five months before her death. He said;
"When I first looked at the photo, straight away what jumped out was the joy on my mother's face. The playfulness, cheekiness, even. The pure delight to be in communion with another soul so committed to serving humanity."
Shifting focus on Mandela in the photograph, he added that Mandela was also "beaming" despite all the hardships he endured. He continues:
"Here was a man with the weight of the world on his shoulders, asked to heal his country from the wreckage of its past and transform it for the future.

"A man who had endured the very worst of humanity, vicious racism and state-sponsored brutality. A man who had lost 27 years with his children and family that he would never get back. Twenty-seven years.

"Yet, in that photo and so many others, he is still beaming. Still able to see the goodness in humanity. Still buoyant with a beautiful spirit that lifted everyone around him. Not because he was blind to the ugliness, the injustices, of the world—no, he saw them clearly; he had lived them—but because he knew we could overcome them."
ALSO SEE: 10 Most Shocking Revelations From Meghan Markle & Prince Harry's Explosive Interview With Oprah Winfrey
Harry further noted the continued importance of Mandela's writings, sharing that he's turned to the late anti-apartheid leader's words during times of uncertainty to understand "how he could experience so much darkness and always manage to find the light."
The Duke of Sussex specifically highlighted a letter Mandela wrote from prison in 1970.
Reflecting on Mandela's words, Harry couldn't help but wonder "how many of us would have lost hope, and let our life belts slip away" then and "how many of us are in danger of losing those life belts right now?" Taking stock of what "has been a painful year in a painful decade."
Harry also spoke about the pandemic, climate change, the spread of misinformation, the war in Ukraine, and the "rolling back of constitutional rights here in the United States."