Top Actresses, Iyabo Ojo, Shan George, Queen Nwokoye, Georgina Onuoha, Others Break Silence Over Alleged Affair With Married Apostle Johnson Suleman
Reports circulating online by a faceless blogger, Gistlover threw many Nollywood actresses into fury as the blogger dragged them for having an escapade with the general overseer of Omega Fire Ministries, Apostle Johnson Suleman, who is married with children.
Gistlover went further to drop the names of some of the top Nigerian actresses and alleged they were all side chicks to the married pastor at some point.
Amid the allegations and the issues between actress, Halima Abubakar and Apostle Suleman (Read Here), Gist lover via its page dropped the names of some actresses who the blog claimed had slept with Apostle Suleman for money.
Names like Shan George, Lilian Bach, Iyabo Ojo, Ruth Kadiri, Mercy Johnson, Chinyere Winifred, Halima Abubakar,Daniella Okeke, Omotola Jalade Ekeinde, Larriet Omo Brish, Vivian Metchie, Georgina Onuoha, Ini Edo, Joy Ogbunu, Angela Okorie, Mary Uranta, Queen Nwokwoye, and many others were mentioned.
Defending herself, Queen Nwokoye who is married with children, noted how it has become a Nigerian thing to always assume that once you know someone, you are sleeping with the person.
The actress said she admits she has made mistakes in the past but one thing she has never done and will never do is sleep with a man of God.
Queen stated that she doesn't owe anyone an apology for meeting Suleman as she would meet more people in life.
Speaking highly of him, Queen described the Apostle as a good man. She affirmed that nothing will make her deny him and at such anyone who has a problem with him should tackle him themselves as stop dragging her into it. She wrote:
"It is a Nigerian thing to always assume that once you know someone, you are sleeping with the person but that one concern una. I have met a lot of people, I will still meet more and I do not owe anyone any apologies for people I have met and associated with. Pastor Suleman is a good man.

Nothing will make me deny knowing him. You choose the kind of relationship you want to have with someone and all friendships mustn't end in bed.

So if you have a problem with him, settle it with him. Don't recruit people into your mess. I will never allow myself to be used to make Pastor Suleman look bad Perioddddddd."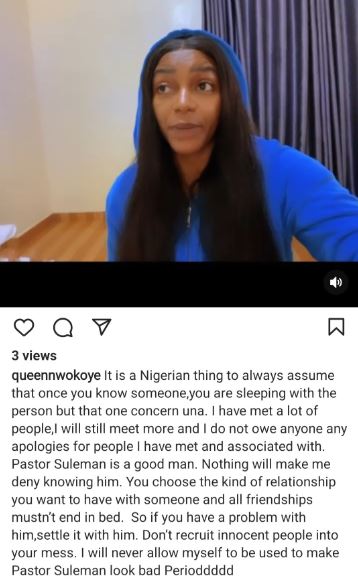 SEE ALSO: "We had sex in Italy, New York & Nigeria. Apostle Suleman, admit your sin publicly" – Stephanie Otobo Says in Another Press Conference
Also reacting to it, Iyabo Ojo shared a video of her in a joyous mood. The single mother of two avowed that she is unbreakable, unshakable, and immovable. She said:
"Omo logo 1 trillion….. unbreakable, unshakable, immovable….oya give dem….Iyabo you tooooo set for all thanks to @olivevine_hair your wigs make sense die."
After sharing the video, actress, Steph Nayah who had also had an affair with the controversial cleric took to her social media page to drop a bombshell on Iyabo Ojo's affair with the Apostle.
In a lengthy post, Steph noted how she had been silent on his issue because she wanted to see how far he was willing to take this lie.
Nayah revealed how she met him in Mombasa, Kenya and he took her contact, after which they had several intimate moments.
She claimed that Apostle flew her back to Nigeria to lodge at his girlfriend's place which happened to be Iyabo Ojo's house.
ALSO SEE: Apostle Suleman Scandal Update: Stephanie Otobo Writes Petition Against him for "Illegal Procurement of Abortion, Threat to Life and Attempted Murder"
She disclosed that Iyabo made her comfortable and didn't display any mean character to her as she was comfortable with the Apostle having multiple affairs as long as her income was coming in.
Also defending herself, former actress and mom-of-two, Georgina Onuoha stated that she defended the Apostle in 2017 when he was been accused because she has been a recipient of his generosity.
Georgina attested that the clergyman has been of help to several celebrities from comedians, to musicians, and actors.
Onuoha admitted that she benefitted from his generosity and as such, can never deny his help towards her or anyone.
Her lengthy post reads,
"This article was from 2017. In 2017, I Georgina Onuoha defended Apostle Suleman. When he was being accused. Not because I know the dealings of his private life, nope, because I know many of us in the movie industry are recipient of his generosity. Men, women, old and young alike.

From comedians to musicians, actors and everything in between. Me Georgina included. I will not deny his help towards me or anyone who has been of help to me because some faceless cowards hiding behind keyboards are spewing bullshit.

I wrote about it in 2017 myself on this page and wall. So Abeg what is the breaking news again? If you have issues with Apostle Suleman, please go and address it with him. Don't drag people into your mess. Till date I am still thankful to him and I will never throw stone at him for whatever kind of relationship you chose to foster with him as an individual.

For me, I will say thank you Pastor Suleman for the help you gave me and the people you sent to help me navigate issues I needed to sought out in life. God bless you. If what I just wrote vexes you, please go and hug a transformer or use third mainland bridge. I do not owe you an apology for the people I know or have associated with in life.

If they wronged you hold them accountable, don't do that by dragging others down. It has taken a community of good people men and women to build this woman up after she was broken down. Not every man or woman who comes into your life wants to bed you.

So dear you are not breaking any news here. When people throw names out to you to write ask questions. You know people can benefit if they can place a face to you and truly appreciate whatever crusade you are indulging in. How do serious-minded people take a faceless person seriously?

I like bold people who can take ownership of what they write. It shows authenticity, genuineness, and bravery. You keep hiding behind keyboards forming a warrior. You can do better darling. I love bold faces and people who take accountability for what they write about others."
ALSO READ: 'Spent Over N30m Looking For Help' -Halima Abubakar Spills On Battling Unknown Ailment After Her Deadly Affair With Apostle Johnson Suleman, Threatens To Release Evidence
Reacting also to the allegation is actress and mom, Shan George who via her Instagram page stated that she is innocent of every allegations levelled against her.
She went further to reveal that Apostle Suleman is one of the kindest and straightforward persons she knows.
"One of the kindest and straight forward persons I know is Apostle Johnson Suleiman. Just like in his numerous sermons, he says it blunt as it is, and that's something I respect in pple. Not everything is about intimacy.

As for Gistlover, he's one person I've never met but hv a lot of respect for as well. Bcos hr speaks for d downtrodden and don't care if bullet hits him. Me I no fit deny my pple wey I respect. But I never at anytime dated  the Apostle. I be water, I no get enemy. #positivevibesonly#onelove,"
she wrote.
On her part, Halima Abubakar took to Shan's comment section to express her disappointment at her senior colleague for denying her involvement with the Apostle.
Halima who is currently battling an unknown ailments after her deadly affair with same man wrote,
"Lol. Shan Shan. You forget wetin you tell me right? OmG. No look for my trouble oh Shan. I hail you.
She further stated,
"Blood Gossip. I drove you for 12 hours. What was your topic? A word I didn't utter. You fall my hand. Respect yourself Shan."