Tuface Idibia Tenders Unreserved Apologies For Being A 'Shitty Father, Husband And…' | Wife, Annie Idibia Responds
Famous music star, Tuface Idibia took to social media to tender a public apology to his wife, Annie Idibia, for hurting her for the umpteenth time, and also to his entire family, including the other women he has kids with.
The dad-of-seven shared two apology posts. The first post reads:
"This is no stunt. I'm sorry for all the embarrassment I've caused my wife, my kids, my mother and all our families and my management team.

I'm not looking for no sympathy. I'm not trying to make myself look good. This is no reverse psychology bullshit.

I simply just don't want to be the one that always apologise. I've been a shitty father and a shitty husband and shitty baby daddy. I have no excuses.

I just want to do right by my wife, and my kids and their moms and my mom and all families and my manager and friends.

I beg y'all to pls just face me and cancel me anyhow. I've been a star for so long that my bulletproof vest is worn-out.

I'm not quitting or suicidal or giving up. I just want to go back to my default settings and denounce my role model status and make up lost time with my kids and give y'all music that will make u remember and understand why they call me 2BABA."
In the second post, he shared a video of his wife in bed and wrote:
"Forever Grateful go u @annieidibia1. Love u till I die. U kind is rare. #GRATEFUL to u forever. Sorry I messed it all up."
SEE ALSO: Trouble In Paradise: Annie Idibia Calls Out Husband, Tuface Idibia, His Family Members And Baby Mamas In Social Media Outburst
Although Annie Idibia has acknowledge the apologies, assuring him everything would be okay and promised to be home soon, many have insinuated that the singer has probably hurt her again by cheating on her or emotionally abusing her.
One Gilbay wrote: "How can you love someone and keep hurting them? Is it love then?"
One Charity added: "Are u sure he has not impregnated another lady?"
Another, Amina wrote: "I hope he didn't cheat again oh, all the best, this marriage thing is very hard"
One Ekundayo commented: "Even if Baba has impregnated someone, They'll be fine.. he messed up and he's owning up even though it's tiring doing it every time but nobody perfect.. God will strengthen them both"
Uti wrote: "Omo he's always apologizing and he doesn't change…. Apology no dey tired am? Make himself try change na, Annie dey try abeg"
Tara also wrote: "There's no point leaving the marriage, I'm sure she already knew the guy likes anything under skirt hmmm stay and care good care of your kids my sister…the devil you know is better than the one you don't know"
Earlier this year, 2Baba disclosed that his wife is crazily in love with him, so much so that she can burn herself to keep him warm and it scares him.
See Also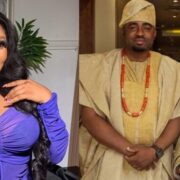 The well celebrated and loved singer who has two baby mamas, disclosed this during a conversation with South African media personality, Khanyi Mbau in the trending reality show, Young, famous and African.
Khanyi Mbau who was bothered about how emotionally broken Annie is in her marriage, called 2face Idibia asides to talk to him just before they renewed their marital vows.
ALSO SEE: Marital/Family Crisis: Singer TuFace Idibia Breaks Silence
"I have grown to love your wife so much and she is crazy but as time went on, I got to understand her….do you know how much she loves you? She will burn herself to keep you warm…"
Affirming her statement, 2face nodded and responded saying "Yes it is scary… I feel it, she shows it even more than I do…it is scary sometimes."
And Khanyi cut in saying "like the pyscho it is crazy."
Speaking on, 2face Idibia said:
"She has always shown me how much she loves me, she shows it more than I do…..I recognize where i have done wrong, where I should step up my game, sometimes I still slack but I recognise it all.

The truth is, there are some things that I can't fix, the ultimate level of happiness as an adult should depend on you and not on anyone else but on you."