A Year After Separation From Ex-Husband, Actress Xandy Kamel Laments Her Regrets Marrying A Man Who Was Not Financially Stable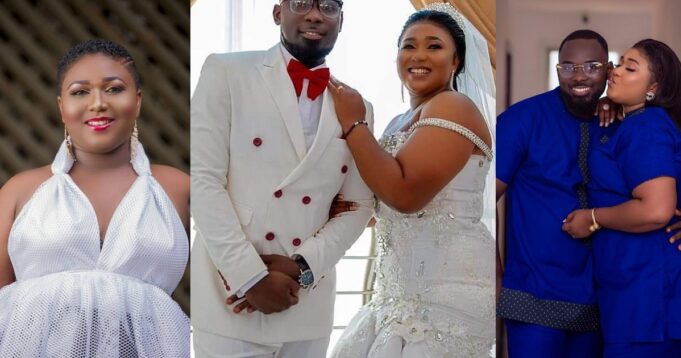 Ghanaian actress, Xandy Kamel has said she regrets she was ever married to her ex-husband and sports presenter Kaninja who she describes as a broke man.
The actress tied the knot with King Kaninja in May 2020 but their marriage ended in the middle of 2021.
In an interview with Multimedia's Akosua Amankwaa Tamakloe, Xandy Kamel said she has regrets marrying a man who was not financially stable.
According to her, she learnt a lot from her failed marriage because "temporary people leave behind permanent lessons. The entertainer also disclosed that she has vowed never to settle for a broke man because most of them are "ungrateful and very wicked".
Xandy further stated that henceforth, she will run background checks so as to ensure that the next man she will marry is rich because she's done with struggling men.
READ ALSO: Nigerian Tourism Blogger, Chiamaka Obuekwe Reflects On Life After Her Short-lived Marriage: 'Sometimes I Regret Getting Married'
After she was asked to respond to the rumor of her sponsoring her wedding, she said she financially helped with her savings because she assumed Kaninja would be a good husband and a great man in the future not knowing she was only dreaming.
The actress also warned broke men who enter her DMs to propose love to her to stay away because once bitten, twice shy.
The marriage ceremony between Xandy and Kaninja hit the rocks a year down the line. Afterwards, Xandy disclosed that her marriage collapsed after Kaninja returned to ask his ex-girlfriend to have extramarital affairs.
In an extensive Facebook Live video at the time, Xandy sobs sharply as she discloses conditions that led to the breakdown of her marriage.
As indicated by Xandy, she knew about Kaninja's relationship with a presenter at TV Africa, Annabel Boatema, in 2019 yet he denied it and beseeched her to experience passionate feelings for him.
Xandy got down on her better half for absurdly returning to his ex notwithstanding being hitched. She went on to request that he should be man enough to come and have their marriage separated rather than openly shaming her.
Coming down affronts on Kaninja and his sidechick, she pledged to make their life hellfire.
Also speaking about the hell she went through in her marriage earlier this year, Xandy says her husband was also sex starving her.
According to her, anytime she boldly requested sex or made the first move, King Kaninja will turn her down. Detailing her experience to Kwaku Manu on the 'Aggressive Interview' show, she said they lived like strangers.
"Is it up to 20?" Kwaku Manu asked and she replied "I'd be glad if it was".
Asked what kept her going despite all the challenges she faced in her marriage, Xandy said "I saw these red flags and I ignored them".
She added that:
"I kept consoling myself that things will get better but they never were. My parents also kept encouraging me and I blindly stayed throughout that toxic marriage."