Is It True That Marriage Would Be Boring Without Misunderstandings? Find Out As The Ndolos Share Experiences In Their 40 Years Marital Journey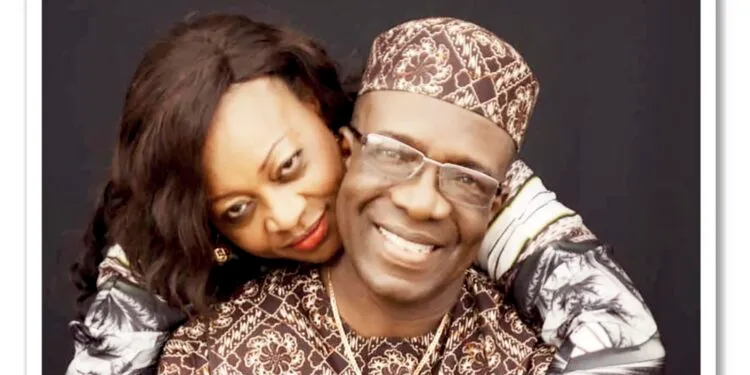 Ikechukwu S. Ndolo, Professor of Communication and Media Studies, and former Director, Enugu State University of Science and Technology (ESUT) has been married to Maureen N. Ndolo, a nursing supervisor based in the University District of Columbia, USA, for 40 years.
The couple, who, celebrated their 40th wedding anniversary recently in the USA are blessed with three kids – two sons, one daughter and one grandson.
In this chat with Daily Sun, the Ndolos not only shared the story of how they met and married but also left some pieces of advice for both intending and married couples.
While we thank God for the miraculous thing He has done for you and your wife, could you tell us how you met before two of you got married?
Prof Ikechukwu: I came to Nigeria on the Christmas holidays from the USA. And my sister, Phina, brought her friends to come and say hello. And when I saw her I decided she was the one.
Was it the same story with you? Or are there details you would like to add?
Mrs Maureen: That's the way it happened. 
Was there any opposition from anywhere – relatives, friends – concerning your marriage?
Prof Ikechukwu: Yes ooo.  My father was livid with anger and said no. 
Why?
Prof Ikechukwu: Six months earlier, I had completed the traditional wedding rights, awaiting the wedding when I broke up the relationship owing to an irreconcilable difference.
My Father said he wasn't ready to face another socio-cultural ridicule. I, however, blackmailed them with several intimate pictures of my white American girlfriend. I asked them to choose between that lady and this one. That did the trick.
How about you, Madam? Was there any opposition?
Mrs Maureen: Yes, from my mother. She said no. She said that her sister-in-law was married to his uncle and, according to her, it was not a good experience. But my father was all for it.
What made you decide to go for your wife?
Prof Ikechukwu: I had in my head the picture of a potential wife – tall, elegant and noticeably endowed both in the front and at the back. She fitted that picture. My sister confirmed her good parental background and I said, God willing, this is my final bus stop.
What qualities made you choose him above other eligible bachelors or suitors?
Mrs Maureen: I was ready for marriage. When he came with his American swagger, eloquence and accent, I fell for him.
How did you propose to her? What exactly did you say to her as to make her accept to marry you?
Prof Ikechukwu: I told Sister Phina my intention and pleaded with her to bring her again. She did. I told her point blank that I broke up a relationship recently.
I had just finished my Master's degree at Texas Southern University in Houston. I work for a radio station in Houston, Texas as a volunteer, driving a cab on weekends. I have no money but I will love you to be my wife. That was my proposal. 
What did you say when he proposed? What exactly did he say and what was your reply?
Mrs Maureen: His foregoing answer is what he said to me. I said, Yes.
SEE ALSO: Marriage Coach, Ohis 'The Winlos' Ojeikere Tells Us How He Handles Challenging Times In His 9-Year Marriage With Wife, Anwinli
What do you remember most about your wedding?
Prof Ikechukwu: Our wedding was at the Holy Ghost Cathedral Enugu, with Rev. Fr. Ozoagu as the officiating priest. The reception was at the Enugu Town Hall. I returned from the US with my best man, Johnny Chukwu and groomsmen, Ukwu Okoroji, Okey Nweke, Linus Okafor and Moses Anidiobi.
It was a momentous occasion – Family, in-laws, friends, relatives came from far and near. Chief John Edozie was the Chairman, Late Chief Simon Ogbor (Osagie) was the master of ceremonies and Late Innocent Ndolo proposed the toast. The gifts we got could have opened a compact supermarket.
Mrs Maureen: My husband brought the American-type flair to a Nigerian wedding. My Chief Bridesmaid, Ogochukwu Onwubalili, and my bridesmaids, now Mrs Angela Alamah, Chief Mrs. Beatrice Nwankwu, Mrs Esther Ajaero, Chief Mrs Loretta Nkwonta, and Chief Blessing Chukwu gave me their full support and loving care.
Could you remember your first misunderstanding in marriage and how you handled it? 
Prof Ikechukwu: I was quite popular in Houston, Texas due to my media and entertainment engagements. My wife couldn't handle how young females appreciated me in public. I explained to her that all that was showbiz, and that it did not affect my love for her. 
Mrs Maureen: Because he was a radio personality and a known DJ and compere in Houston, a lot of American girls were always after him in public even in my presence.
As I just relocated to the US, I couldn't deal with such brazen amorous expressions. But my white American neighbour who was much older advised and convinced me that those things come with popularity and that as long as they do not interfere with marital vows and obligations, I should learn to live with it. I did.
What's your wife's favourite food?
Prof Ikechukwu: Peppered beef, jollof rice and salad.
What's your husband's favourite food?
Mrs Maureen: Porridge beans with air-fried plantains and catfish…Oat fufu with bitter leaf soup.
What do you like about her?
Prof Ikechukwu: She is my friend…a woman for all seasons and a mother to all peoples – a Florence Nightingale archetype
And you?
Mrs Maureen: He is my friend – a family man, an African Original, a fashionista, an erudite scholar.
ALSO SEE: Author And Mum-Of-4, Chioma Momah Shares Lessons She Learned From Her 20 Years Of Marriage
What areas would you like to see her improve?
Prof Ikechukwu: My wife has no limits to her magnanimity. She wants to take on everyone's problem. It gives her joy. I would want her to scale back a little and have a little time for herself. Sounds a bit selfish, but that's the way I feel.
And you, Madam, what areas would you like to see him improve?
Mrs Maureen: He wants and demands perfection from everyone and in everything. He must realise it's never going to happen. He should therefore relax/chill.
What advice do you have for a young bachelor who intends to marry?
Prof Ikechukwu: Marry with both your head and your heart. Don't go for money, don't wait till you 'hammer or blow' to marry. Marry young so you can withstand the trials, tribulations and joys of marriage. Always investigate the family history of your intending wife. Pray and pray and pray for God to give you a wife, not a knife.
What advice do you have for a spinster who intends to marry?
Mrs Maureen: Money is not the answer to marital bliss. Don't be pretentious. Show your true self to your potential husband. Know the family you will marry into. Equip yourself occupationally so you're not a dependent housewife. Be prayerful to ask God for a good husband, not a good demon.
In the light of rampant divorce cases these days, from your own personal experiences, what pieces of advice would you want to give newly married couples on how to make their marriage last as long as yours has lasted?
Prof Ikechukwu: Marriage is not a bed of roses. Even roses have thorns. We agree with an anonymous person who described marriage as the Catholic Holy Rosary mysteries of joyful, sorrowful, glorious and luminous. 'E no easy ooooo' is the lyrics of a song that says it all. 
It entails friendship, trust, positive self-concept, partnership, cleanliness, avoiding gossip, avoiding socio-economic comparisons, keeping in-laws away from your misunderstandings. And above all, you must encrust your marriage in God.
Mrs Maureen: We are in our luminous years and it's not been easy. Even now, we still have misunderstandings. Marriage would be boring without them. To God be the glory.