Here's Why This Bride-To-Be Bars Her Biological Father From Attending Her Wedding Ceremony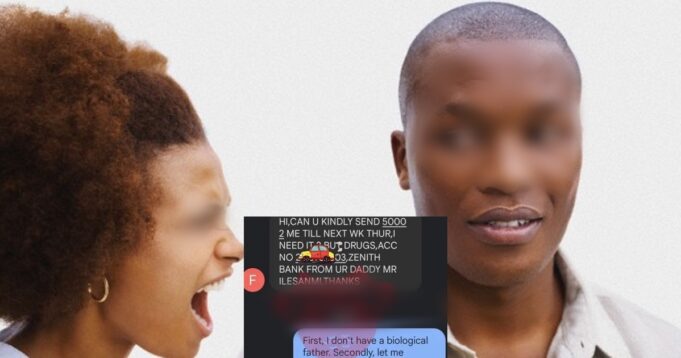 A 27-year-old woman, identified as Mabel Oluwaninsewealth, has barred her biological father from attending her wedding ceremony.
The lady who's set to tie the knot with her heartthrob warned that her father shouldn't show up at the wedding as she does not considers him a dad.
She claimed that the father, identified as Mr. Ilesanmi, is a deadbeat and has been absent throughout her 27 years on earth.
Taking to social media, Mabel who recently did her introduction explained that her father got to know about it and then messaged her to find out why she did not inform him.
Mabel, who shared screenshots of her chat with her father on her Facebook page, said that when she fixed the wedding date, her father called to express his desire to be present at the event as the father of the bride -this made her almost lose her cool and would have fled in wrath had it not been for her fiancé.
In the chat, the aggrieved daughter warned him that he must not attend her wedding ceremony.
Mabel said that he called her later to ask how the wedding plans are going and after some small talk, he hinted that there was an issue though he told her to forget about it only for him to send her a message asking for N5,000 that he wants to buy drugs.
In her response, Mabel said she does not have a biological father and she noted that she was disappointed at the parasitic approach he wanted to use to get back into her life.
SEE ALSO: Twitter User, Pearl Shares Her Deadbeat Mom's Response When She Reached Out To Her 30 Years After She Abandoned Her: 'I didn't believe it'
Sharing a snapshot of the chat on Facebook, she wrote,
"Deadbeat dads can sha feel themselves! This particular one has been deadbeat my whole life. Baba somehow learnt of my intro, he called to say I didn't even tell him set at least God bless you na prayer.

I told him not to come and he simply said okay. We fixed wedding date, he heard. He called again, but this time said something in the line of wanting to be present. I wanted to para, but babe was like maa ni suru. I didn't hear from him again till today.

He flashed and I called back. He started with how his phone has been bad and he just got it back from the engineer's shop. He then proceeded to ask how my plan was, I said "oh..it's moving. How are yours?"

Baba sha said I should not worry. I was like don't tell me what is not…what are your plans? He said I'll call you back. E nor reach 30 mins he sent the message below."
ALSO SEE: Abandoned By His Dad at the Age of 5, Kamohelo Mokoena's Emotional Story Will Inspire Fathers to Become More Responsible