State Domestic And Sexual Violence Agency Gives Update On Famous Medical Expert, Dr. Femi Olaleye Who Was Accused Of Defiling His Wife's 15-Year-Old Niece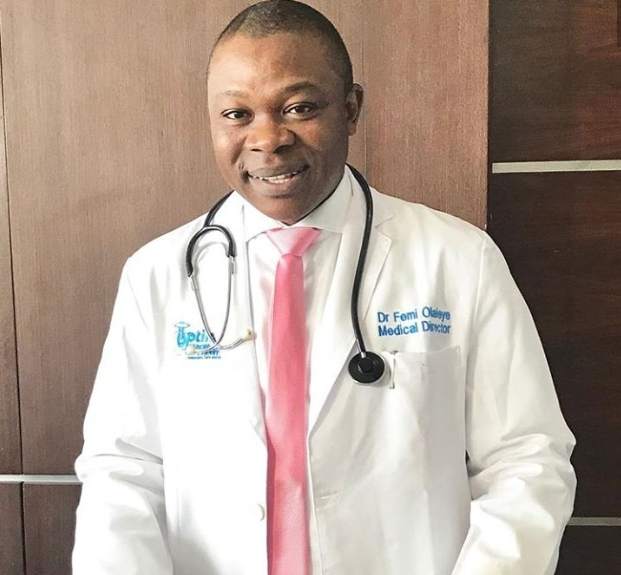 The Lagos State Domestic and Sexual Violence Agency has given an update on Dr. Femi Olaleye who was accused of raping his wife's 15-year-old niece
A few days ago, actress, Kate Henshaw had raised the alarm online and alleged that Dr. Femi admitted the incident to her but didn't let her know the girl was a minor, until she spoke to the doctor's wife (Read Here).
The fitness expert and mother-of-one disclosed that she recently attended one of the advocacy events where women were to get free screening and she asked Dr. Femi about his wife, who was absent.
She added that Dr. Femi told her that they are separated. She said at first, Dr Femi had confided in her that he was no longer with his wife and when she asked what went wrong, he tried to demonise his wife.
Kate alleged that Dr. Femi said his wife set him up, by bringing a woman into their home, despite knowing his weakness, and he had sexual relations with the 'woman'. The doctor said he made a mistake, and was subsequently thrown out of the house.
Kate explained that she had no idea that the "woman" he cheated with was actually a 15-year-old girl, who is the wife's niece.
Also, comedienne Princess appeared on TVC recently where she said she has it on "good authority" that the doctor has a hidden camera that secretly films exposed women during consultation at his office.
Dr Femi, founder of Optimal Cancer Care Foundation has not made any public statement since the allegations were made.
Updating Nigerians on the incident, the Lagos State Domestic Violence Agency said it received a complaint of sexual assault by penetration and indecent treatment of a child allegedly perpetrated by Dr. Femi.
Titilola Vivour-Adeniyi, the executive secretary of the agency made this known on the agency's Twitter handle on Thursday.
She said that the agency received a complaint of a child defilement on March 19, 2022 through its toll free line, adding that the child has already received medical support and is in the process of getting psychosocial support.
The agency reiterated the state Government's zero tolerance for all forms of Sexual and Gender Based Violence and assured that "no case of sexual abuse allegation will be swept under the carpet".
SEE ALSO: "Baba Ijesha Molested My Daughter"- Comedian Princess Throws More Light On Alleged Molestation Of A Minor In New Video
The agency wrote:
"We received a complaint bordering on an allegation of sexual assault by penetration, indecent treatment of a child and defilement allegedly perpetrated by Dr Olaleye.

As is customary, the case was immediately referred to the designated police station in this instance being  the Gender Desk Department of the Police Command in Lagos State.

The child had already received medical support and was in the process of receiving psychosocial support."
The agency also appealed to the police to send the duplicate file of the suspect's case to the Directorate of Public Prosecutions (DPPs) for legal advice. The agency added:
"DSVA has requested the police to forward the duplicate case file to the DPP so that legal advice can be issued.

Furthermore, we have also shared with the police, additional information, which we believe will assist them in their investigation.

We use this medium to reiterate the state government's zero tolerance for all forms of Sexual and Gender Based Violence.

We reassure the public  that no case of sexual abuse allegation will be swept under the carpet. DSVA encourages anyone that has any additional information or facts about this case to please reach out to us via our toll-free line: 08000 333 333 or on our social media handles- @lagosdsva."
ALSO SEE: Kaffy Speaks To Women, Mothers On Ways To Guard Against Rising Cases Of Child Molestation In Our Society: 'I was a victim'
See the full thread below…