Francis Van-Lare Who Was Advised To Marry An Older Single Mom After The Crash Of His Former Marriage Shares His Shocking Experience In The Union In Advice To The Singles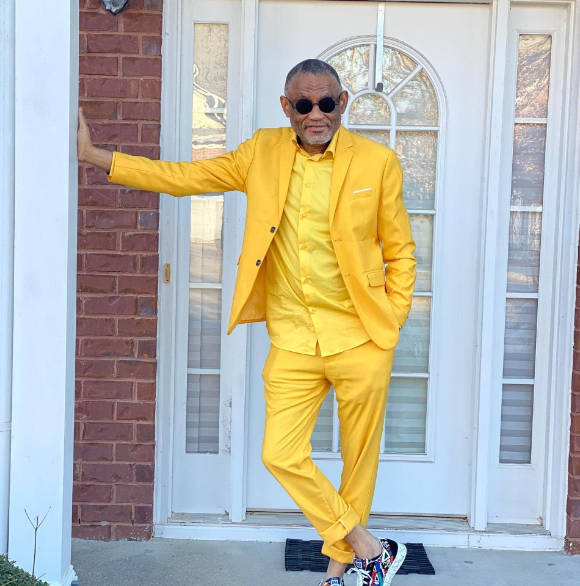 US-based Nigerian businessman, Francis Van-Lare has detailed what he went through in his second marriage.
The socialite shared his story to caution those who take advice from people when choosing a life partner.
In a lengthy post shared on Facebook, Francis narrated how he was in love with a young, single undergraduate but everyone advised him to marry a single mother in her 40s because younger women may not be the best choice.
According to Mr Francis, the advisers told him an older single mother and her children will be there for him in old age after he helps her raise her kids.
He went on to reveal that the young woman he was in love with was also advised to marry a younger man she can grow old with. He said that he took the advice of people and married a single mother with four children.
Explaining further, he said that problems started immediately after the wedding when his new wife went against their agreement and began spreading news of their marriage online, despite promising not to until a few issues had been resolved.
Francis went on to disclose that two years after their wedding, the single mother and her children, ended up beating him up to "near death". He added that they had an "award winning divorce."
The young woman who was advised to marry a younger man also married after graduating from law school but her marriage ended in divorce.
Francis said he is sharing his story to let people know that "who you marry is not by age but by understanding and commitment."
Though he did not mention the name of his ex-wife, the time frame he gave in his story correlates with the period he married and divorced relationship expert, Amara Blessing Nwosu.
Francis and Amara got married in 2014 and separated in 2017, after being married for two years and some months.
Read the full story below…
"In 2013 or thereabouts, I met this 22 year old well sought after girl on Facebook with thousands of followers. I first noticed her as she kept telling me that I should behave like my age on practically every post that I made.

She later on started attacking females who paid me compliments on my posts as if we were dating.

It got to a point that I contemplated blocking her and on the other hand I enjoyed seeing her comments on my post and her pretty face plus her wide hips, yansh and firm legs.
That babe is hot!

Finally I went inbox to chat her up and was surprised how sweet this person I thought was a 'Tiger' was.

We spoke for a long while that first time and after that every day after she returned from her university classes. Eventually we fell in love and became inseparable.
In 2014 , I started considering marrying her and by 2015 I was mentally ready for her.

Every one I asked for their opinion were like 'she is too young , marry someone about 40 years old and if possible a single mother this way you will not be changing diapers at an old age , you help her raise her kids and she will be there for you at an old age so will her children'.

In her case 'Marry a younger man that you will both grow together not this old man that you will soon be baby sitting!.

All of a sudden a curvy single mother with four children popped into my life and I started thinking maybe this is the babe the ndi marriage partner advisers were talking about and before I can say 'Jack Robison ' I gave up someone I have known for two years or more and married someone I met within two months.
SEE ALSO: After Two Failed Back To Back Marriages, Here's Why Francis Van-Lare Is Cautioning Nigerians Based Abroad Against "Importing" Wives, Husbands From Nigeria
One of the conditions I gave this single mother before we got married was that the marriage be kept secret to allow me inform my brothers, children and this young babe first and not that they suddenly find out.

The single mother did not keep her word. One of my brother's wife called me the next day after the wedding to ask why she and my brother were not invited to the wedding?

I was like what wedding? She said it was on Linda Ikeji blog with photos and even Naira land and Guardian Newspapers. That was the first time ever I heard of Linda Ikeji blog .

I asked the single mother why she did not keep to our deal? She said it was to let all my girl friends know that I got married.

Next thing I know I was getting clips from Guardian Newspapers from friends about her changing her maiden name to my last name and all 'former documents remain valid'.

This young babe found out and it was not a pleasant separation that I ended up blocking her everywhere social media and WhatsApp not to deteriorate our relationship further by what we say to ourselves in anger.

Two years after marrying the 'marry an older woman and If possible with children that you will help her train, this way she will be there for you in your old age' we had an award winning divorce .

Herself and the children that were supposed to be there for me in my old age beat me up to near death before they moved out of my house.

I went back to unblock my young babe to peep into her wall to see what she has been up to.

I just saw her graduation from law school and I blocked her back but unblocked her on WhatsApp and direct calls.

She must have noticed I unblocked her on WhatsApp as not long after she sent her law school graduation photos with a message thanking me for being supportive and being there during her education and she had wished that I would have been at her graduation and be proud of her .

Yes! With her graduation photos I was proud of her. Since I was emotionally damaged from divorce I did not want to go back to her to repair me .

I felt that she must have gone through her own disconnect from me so let me let her be and I did not even respond to her message thanking me as any communication may bring us back and I wanted her to meet someone new.

A year after my divorce she got married and sent me Whatsap photos of her wedding and I went and unblocked her again to see the full wedding events on her wall then re blocked her though I responded to her by congratulating her and only kept WhatsApp chat with her to birthday messages once a year.

Suddenly late last year she started communication with me on video this time looking more matured and even more beautiful than when we were together.

Eventually after a few video calls I had to ask where her husband was as she was being free talking in the house ! That is when she said she has moved out of her matrimonial home separated and waiting for final divorce decree to be free of him.

She said she was never herself in her marriage and not as free as when we were together. As my friend I kept the calls to give her emotional support.

Thank GOD she has her own money as a lawyer as I asked if she needed financial help being that she has children with her and she said no, just emotional support.

What is all this grammar about ? I just met a young lady and the same 'marry an older woman bla bla bla ' have come again to advise me!
ALSO SEE: Socialiate, Francis Van-Lare Explains He Has Finally Figured Out Why He Failed At His Five Previous Marriages
I married an older woman with children 'bla bla bla' before it did not work .

My young babe married a younger man that they were supposed to 'grow old together' but that marriage lasted about four years not a life time.

Bottom line who you marry is not by age but by understanding and commitment because if I had married my young babe we will still be together being deep friends.

I know, I know, I know that question: 'Why don't you marry her now since it seems like you both love each other'? I will give that reason in my book."