Learn As The Adelasoyes Share Their Experiences On What It Takes To Stay In Marriage For 43 Years And Counting!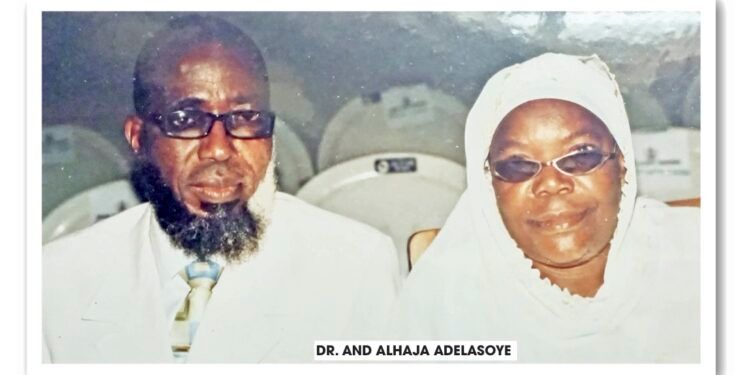 Dr. Misbaudeen Oladepo Adelasoye, a medical doctor and retired permanent secretary in the Osun State civil service, has been married to Alhaja Silifat, a banker for 43 years.
In a chat with DailySun, in Osogbo, the couple share their marital journey and what it takes to stay in a marriage that long.
They also shared tips with newly married couples, bachelors and spinsters intending to go into marriage on what it takes to keep a home.
What do you think of marriage?
Dr Misbaudeen:  Marriage is a university you cannot graduate from. But if you base it on a good foundation, with trust and endurance, you will enjoy it.
Alhaja Silifat: Ladies must be mature before getting married. They should have a very good job and be patient with their husband and their relatives. They must be prayerful. They must not allow a third party to come into their home.
How did the journey into your own marriage start? 
Dr Misbaudeen: It started in 1968. I had been eyeing her from a distance. So, I told one of my sisters who is her friend to find a way of connecting us. She invited her to the birthday of my elder sister.
During the birthday party held in an uncompleted building owned by my brother, I excused her outside after my sister had informed her that I wanted to see her. I proposed to her. But she didn't give me an answer.
Doctor said you didn't give him any answer. Why?
Alhaja Silifat: That time, my mind was in school. I didn't have time for boys. I wanted to go to school. I just said later. 
What eventually attracted you to accept his proposal?
Alhaja Silifat: When you see a serious man, and you study his way of living, his character and other good qualities, you will consider him. 
What attracted you to choose her?
Dr Misbaudeen: I was in my final year in secondary school then. Each time I passed by their house to board the vehicle to my school, I used to see her. Whenever I visited my sister during festivals, I always saw her. I said this is a fair-in-complexion lady, soft-talking, easy-going and gentle. Very attractive! That is what attracted me.
Did anyone oppose the marriage from your family?
Dr Misbaudeen: The problem I would have had was her father. He didn't want anybody around his children. But when my sister told me to be bold and go to their house, immediately I asked for Silifat, and he said: 'you are so bold, where did you come from?' I said: 'I'm from Ami's compound in Iwo.' That settled the matter because I came from a very well-known family house. Most people who wanted to study Islamic knowledge passed through Ami's compound in Iwo. 
Did anyone oppose the marriage?
Alhaja Silifat: Nobody. They studied him. There was an elderly person in their house who was a friend to my father. My father knew their family very well. 
How have you sustained the marriage for 43 years no and counting?
Dr Misbaudeen: Marriage is a learning institution, a university you can't graduate from. It has various stages and we're still learning. If you follow what the Quran says, men are the masters of the home. Being a master requires a lot of knowledge, resources and time to cope with the woman.
There's an important philosophy that I came to realise: 'don't expect anything perfectly from a woman. Even if they do something good, regard it as a mistake and that takes patience.' There was a time my wife packed out of the house because of a little problem and I started looking for her.
She later came back herself. There was a lady she suspected then, not knowing that nothing happened between us. If we did not have patience in the marriage we would've separated. Patience cannot be over-emphasised, particularly as a man.
How did you sustain the marriage?
Alhaja Silifat: It is God and patience. God has been good to me. Also, I have patience because my parents will not allow me to come back to their house.
How do you react when you see ladies with him?
Alhaja Silifat: He's a medical doctor and at that time, he wanted to specialise in women's lines. He had already told me then that I would see women. I understand his job. I have an uncle like my father. He was a lawyer who deals with women a lot. So when we got married, women, particularly nurses, would always come and bombard our house. I coped. There was no problem during that period. 
Do you remember fighting any of the nurses?
Alhaja Silifat: No, we were friends. But that of Ilesa, when he was working at Wesley Guild Hospital was very tough. I liked my uncle then. He advised me. I wanted to go back to school to do my HND. He said: 'no, HND at this age? You should be married.'
ALSO SEE: Barack Obama Shares Relationship Tips on 'How to Know You've Found 'The One''
Has there been any time the marriage wanted to crash?
Dr Misbaudeen: I like women, and nurses usually bombarded my house because I treated them well. They told me secrets they'd never reveal to anybody and they trusted me when they were jilted and more so when they knew her. They slept on my bed. They just trusted me. That would've caused a problem for us but the understanding that she had.
There was a particular woman that took advantage of the little time where we had some distance because she wanted to face her studies and she didn't want disturbance. In that process, one nurse got hold of me and tried to do some things. But I told her that we cannot get married.
That time, there was a small issue between us, maybe because she wasn't replying to my letters and I wanted to do something to get her attention back. That lady would've been a problem for us. They even bore the same name. Luckily my brother came to the rescue and advised me.
Why do you think that marriages crash nowadays?
Alhaja Silifat: It's because the couples are not patient. And they don't put God first in whatever they do. They are not prayerful and some of them bring in third parties to their home, most especially young girls, aged about 20.
They are not mature enough to get married. One should be mature to get married. You see a girl of 16 to18 years getting pregnant, without any work. A girl should have good work before going into marriage.
How old were you when you got married?
Alhaja Silifat: I was about to be 30 years 
When did you marry?
Dr Misbaudeen: I married immediately after I returned from NYSC. My uncle had made the arrangements before I returned. The problem that I had at that time was a family problem. We faced the challenge of poverty, a serious financial problem when we got married.
It nearly collapsed our family. But because of our understanding, prayers, the love that we both shared, our belief in Almighty Allah, we scaled through. But it was a very tough time. We started having some relief when our children started being on their own. You can imagine a lady struggling with her husband for almost 20 years of marriage. 
How do you manage him whenever he's angry?
Alhaja Silifat: I would continue with my duty. But if I know he's very angry, I would go inside and talk to him and that's all. I cook no matter the disagreement. 
How do you manage disagreement?
Dr Misbaudeen: Nobody ever sat us together to settle quarrels for us, if not I would have divorced her if I listen to people's advice. She was a banker. She was managing her salary and she later quit her job because I joined the family at Ilesa.
How would you say that God has helped this family?
Dr Misbaudeen: God has helped us. I believe that God hears prayers. For many years, we were still battling with extended family on both sides. So we had no savings. We used our first car for almost 20 years. I believe the Word of God that if a woman prays for you sincerely it would surely come to pass. That's how things have been going on well and since then God has been helping us.
What are the blessings of God you have noticed in this marriage?
Alhaja Silifat: I thank God for everything. Our children are doing well. Though people were really worried when I didn't get married on time, they were surprised when I delivered my first baby and didn't have any problems. Even when I had twins, people were surprised. I give glory to God. 
SEE ALSO: Is It True That Marriage Would Be Boring Without Misunderstandings? Find Out As The Ndolos Share Experiences In Their 40 Years Marital Journey
What is your advice to bachelors and couples?
Dr Misbaudeen: Marriage is like team-building. It is not an easy thing. The first stage of building a team in marriage is the formation of the team when you start to get to know more about each other. That stage can be very sweet. But the important thing at that level is to base that thing on the trust of God.
Prayers, tolerance, mutual understanding, mutual respect, love, faithfulness and trust are required to sustain a marriage. Before you build trust in a marriage, it takes time. But, with prayers, tolerance and steadfastness, you will surely arrive at it.
The second stage is the storming stage which can last for years and that's when you're able to understand each other. It takes the grace of God. The important thing is to be tolerant, patient and prayerful. It is a terrible stage in marriage.
The next one is the performing stage. That can be after 40 years of marriage because marriage is a university you cannot graduate from. If you base it on a good foundation, with trust and endurance, you will enjoy it.
What is your advice for couples, particularly young ladies? 
Alhaja Silifat: My advice for them is that they must be mature before getting married, get a very good job, and be patient with their husband and their relatives. They must be prayerful. They must not allow a third party to come into their home.