Young Widow And Mum-of-two Documents How She Was Poorly Treated Losing Her Husband | Watch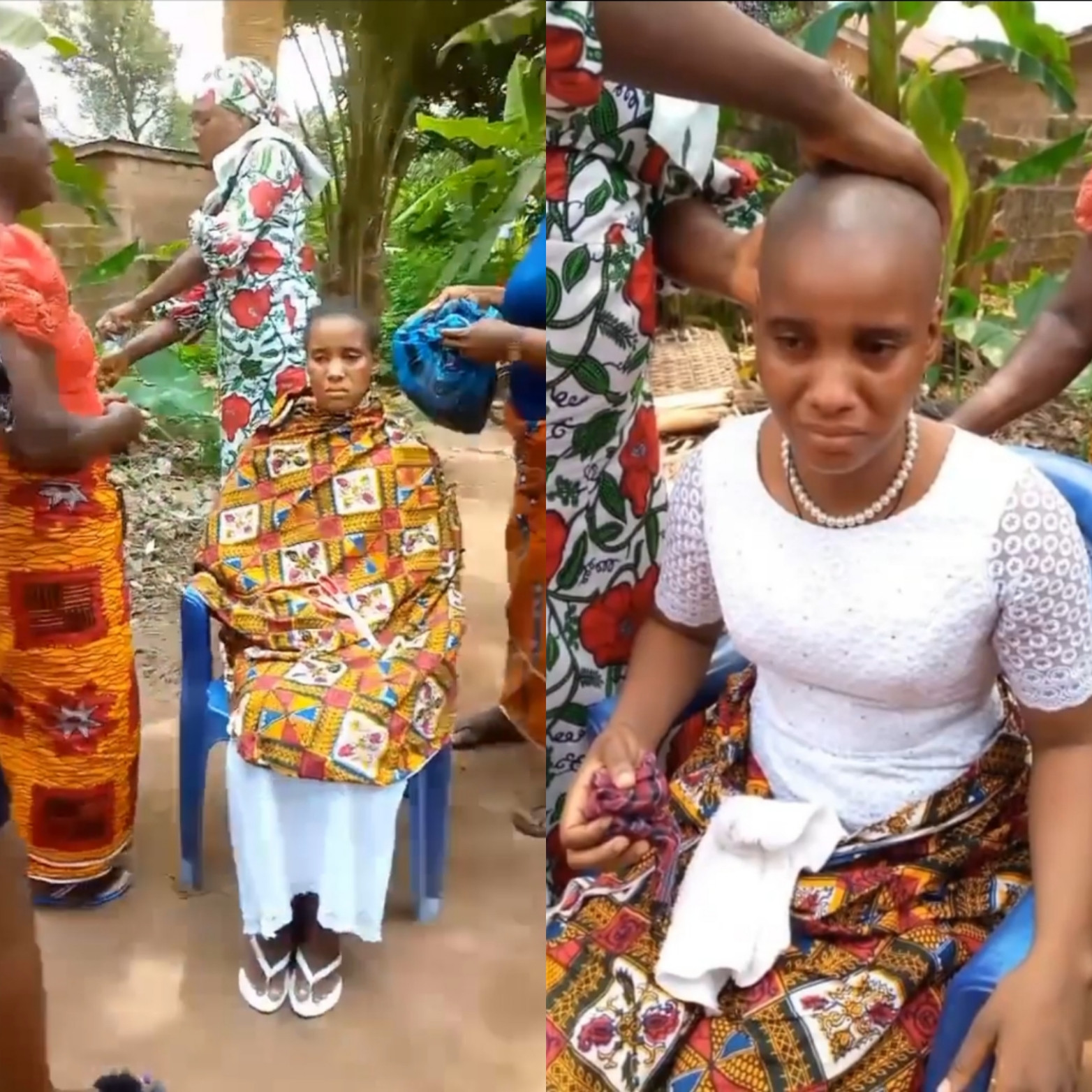 A widow who lost her husband at the age of 23 has shared a video showing what she was subjected to by her husband's kinsmen.
The video shared by the mother-of-two – a boy and a girl – shows women in the community shaving her head with a blade after her husband's death.
She went on to reveal in the caption that her husband's family took everything from her, leaving her to care for the young children alone.
She wrote:
"I married at 19, had my first child at 20, second child at 21, became a widow at 23. They collected everything from me. The worst part is they don't ask of the kids."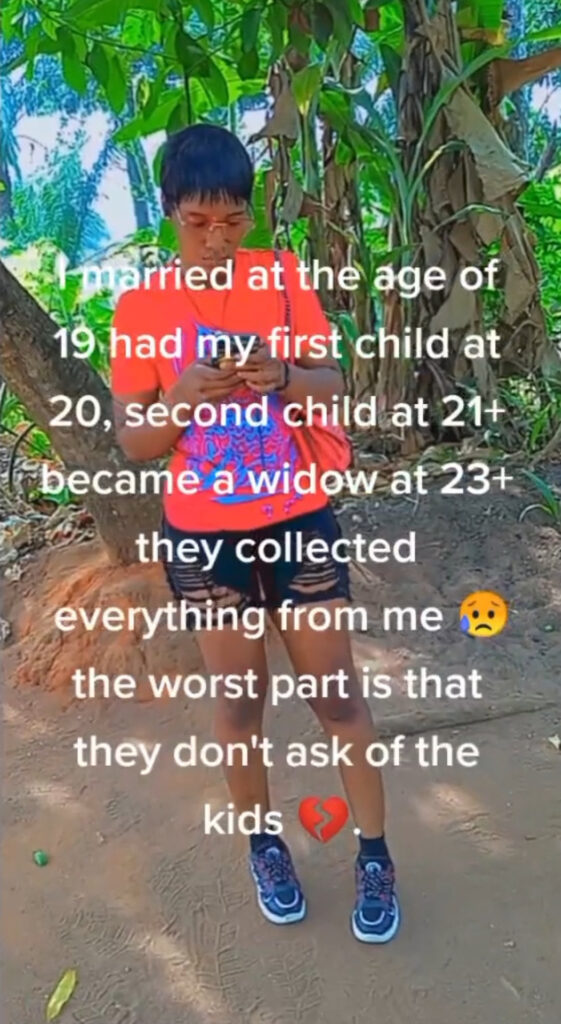 READ ALSO: Young Widow And Mum Shares Harrowing Experience With Late Husband's Family After His Passing 
See reactions below…
@ugezujugezu: Family wickedness. This has nothing to do with tradition like many will erroneously conclude. It is pure wickedness and this widow can make a move and set all these wicked people on the run. She can get justice.
@katakara_nigeria: ANOTHER LESSON. Not every home you jump to…. to marry. The culture they practice matters.
@Alex: The shaving tradition shows mourning, it's not bad. What is bad is taking all the late husband's stuff and leaving her with nothing. That is crass evil! Then why shave her head if she isn't recognised as the heir apparent!? Her kids should be under who's mercy? Now we need a law to prevent such.
I think the law (Constitution) is based or should be based on equity and fairness. Human right activist should be able to uphold these at the expense of tradition. In short fuck irrational evil tradition.
ALSO SEE: Widowed Mom, Chinwe Oforduru Pens Heartbreaking Open Note To Late Husband, Narrating Her Horrible Experience With His Family Since His Death
@Anonymous: This is not about Igboland. This doesn't happen in my place. Plus take for instance, if she had big brothers such can't happen to her. Plus imagine if she has a rich family.
My mom single-handedly chased my Dad's family out of our house in the villages. My mom did this because she has a very strong family backing in the family. Her cousins and uncles are ready to draw bloods for her.
@Word: And this is happening in the 21st century. Why are women especially cruel to one another. The girl that Peter Okoye was kissing on stage knew he's a father and husband but that didn't stop her. I wouldn't be surprised if he fucked her after the concert. A young widow in mourning with two kids is surrounded by the same gender who superintended her humiliation as if she killed her husband.
Few weeks ago, another woman was tied like Ileya ram for a whole day. Why? Well, her fellow woman falsely accused her of being a witch and every male in the family exercised their cavemen rights to beat her silly. This archaic culture is everywhere in the Third world countries and not restricted to the Igbo only though, the narratives are slanted toward the tribe coz they rush to put them on the social media.
Many horrendous things are happening in all tribes that are not even within the purview of the internet. Not quite too long ago, a Kogi woman was driven away from her home with her kids by her in-laws after her husband died of a protracted illness and didn't allow her to take anything. Not even her clothes coz they blamed her for killing her husband.
Meanwhile, she built the house from her sweat as a senior civil servant of many years but out of love saved the blushes of her husband by making people to believe he did. Some of our traditions and cultures are barbaric to say the least. It's time women realized that, this is very wrong.
They'd need to support themselves in moments of excruciating sadness and losses. Taking over the properties of your kinsmen and ruining their wives and kids should be a punishable crime that should attract severe penalties. Enough is enough.