Nigerian Mothers Speak On The Challenges Of Caring For Their Kids With Cerebral Palsy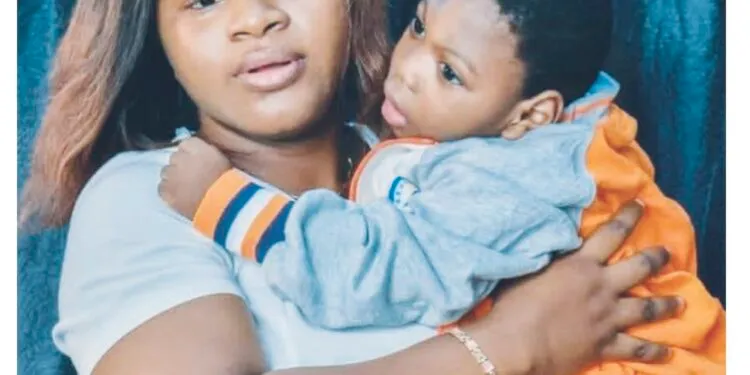 Cerebral palsy is a neurological disorder that affects muscle tone, movement and motor skills. It is usually caused by brain damage that happens before or during a baby's birth, or during the first three to five years of a child's life.
Daily Sun spoke to some mothers whose children are living with this condition and they shed light on some of the challenges they face caring for their children as well as the financial constraints they experience paying for their children's drugs and therapy.
Our struggles as parents
Lamidi Muminat Opeyemi said that in 2015 when her son was five months old, he was diagnosed with meningitis and no communicating hydrocephalus. She stated that he was treated at Lagos University Teaching Hospital (LUTH) for seven weeks and discharged after his treatment.
She however added that her son's treatment came at a cost. Opeyemi revealed that the doctor told her that her son's issue had been complicated and some part of his brain damaged, according to the brain CT scan result. She added that the result showed that he has cerebral palsy and seizure disorder.
According to Opeyemi, when she heard that, she became frustrated and broken. She said that she was in denial for months and started going from one worship centre to another, looking for healing for her son. She added that she put her son through a lot while looking for solutions, even as she also became a shadow of herself. She said:
"I was a 23-year-old lady who suddenly found herself living a life she didn't envisage. I questioned God. I asked Him, why me? But after accepting my son's diagnosis, I started asking God 'what next?"
She revealed that at a point, she finally realised that the only available healing is her love and acceptance that her child is living with a medical condition called cerebral palsy.
He will be depending on her to do almost everything physically. She said she accepted him the way he was and is learning how to help him live a fulfilling life, regardless of his disability.
Opeyemi, who hails from Osun State, confessed that sometimes, her emotions prevail and when she gets overwhelmed taking care of her son, she starts to think negative things. She said:
"I think about giving up sometimes because of the challenges I face caring for my son. You can imagine doing physiotherapy when a child was six months old and now at seven years, he can't sit or walk.

Financially, we are not okay, but I keep encouraging myself that he did not choose to be like that and I shouldn't make life more difficult for him."
Opeyemi stated that one of the challenges she faces as a mother of a cerebral palsy child is lack of finances. She said that during her son's treatment at LUTH then, her husband lost almost everything because he had to stay with them at the hospital.
She added that even after her son was discharged, she couldn't start her business because she and her husband spent all they had paying for their son's treatment. She noted that her son is on drugs that cost over N20, 000 monthly.
She went on:
"Another challenge I face caring for my son is getting proper treatment for him. He is living with spastic quadriplegic cerebral palsy and needs a lot of physiotherapy and occupational therapy. There are few public hospitals with these services in Lagos."
Opeyemi noted that another challenge she faces in raising her son is giving him a good education. She stated that getting proper education for him is tough because he is non-verbal, and he can't sit or walk so people think he cannot go to school.
She added that even some school owners said he can't learn but she believes that her child is very receptive and mentally fit to study. She added:
"My husband and I found a school for him over three years ago. He is unable to sit or talk but he is learning. He has a unique way to communicate that he is learning.

Our education structure hasn't been personalised with an inclusive structure to accommodate special needs children. In Nigeria today, 80 per cent of our schools will not accept a child with cerebral palsy not to talk of making any plan for them."
She shed light on how some people treat her son because he's different. She said it makes her sad when some people discriminate against people living with disability.
Opeyemi said that these people see disability as a plague or disease that can be contracted, so they avoid children with disability as if they are not human beings. She stated:
"People call children with cerebral palsy many names. Some are called imbeciles and snakes but they are none of the above. They are living with a medical condition that is not contagious. This doesn't mean they are not smart, their muscles might be weak, but their brains work well." 
The lady said she is thankful that she has a supportive husband who has been by her side from day one. She said that his family members and hers are very supportive when it comes to caring for their special needs child.
Bunmi Abiodun Alli, a graduate of Mass Communication from Olabisi Onabanjo University, Ago Iwoye, Ogun State revealed that her mind went blank when she was told that her son had cerebral palsy.
Going down memory lane, Alli said that when her son was two months old, he started jerking his right hand and was taken to a popular hospital where they met with a doctor.
She said that the doctor was the one who told her that he has cerebral palsy and being a general practice doctor; she added that the doctor immediately arranged for her son to see a paediatric neurologist and the journey started from there.
She stated that some of the challenges she faces as a mother of a child living with cerebral palsy include psychological challenges, financial challenges, and negative attitude of some family members, neighbours and some health care professionals.
She added that because she accepted her child's condition early and showed him love; it was easier for people to love and accept him too.
Bunmi confessed that sometimes, she feels like giving up on her 11-year-old son because caring for a child with cerebral palsy is not easy. She quickly added that she has a supportive husband who loves their son and doesn't like her raising her voice at him. She said:
"We have family and friends that support us in caring for him. For family or friends that don't like him, we let them know it is better they stay away from us because we can't trade our son for anything."
The Ogun State indigene wants Nigerians to know that cerebral palsy is a medical condition and not a disease that is contagious. She said people should stop seeing children living with cerebral palsy like demons, evil children or children with bad luck or children given birth to as a result of their parents' bad deeds.
"Nigerians should stop discriminating against these children and their parents. They should show them love and empathy because this will go a long way in making the children and their parents feel better."
Ololade Oke who resides in Lagos recalled that when a doctor told her of her son's condition, she cried and questioned God. She said:
"I remember I went to a corner, placed him on my hands and sobbed terribly. I called my husband to inform him but he went silent. I lived in denial for some time, hoping for a miracle.

I visited churches and herb sellers until it dawned on me that the solution lies within my love and acceptance for him. And from then on, I have grown to love him just the way he is."       
Ololade, from Osun State, said that her son is three years old. She revealed that she discovered her son had cerebral palsy when he was three months old. She said that she expected him to have been doing some things as a three-month-old baby but he wasn't.
She added that this was after he was diagnosed with birth asphyxia at birth. She, however noted that the doctors didn't give them full details of what to expect afterwards.
A graduate of English, Ololade said that one of the challenges she faces is carrying him all the time because he can't walk. She added that sometimes, she had to lock him indoors just to get something down the road.
"His drugs and therapy cost a fortune. Sometimes, we cannot afford them. Also, his school fees cost a lot because his needs are special. I don't want to talk about the way people stare and have side talks when they see me with my child."
She wants Nigerians to know that children living with cerebral palsy are not cursed, nor are they from marine spirits.
She added:
"It is a medical condition and they should be accepted by the society. School owners should not reject them. Government should try and make their drugs readily available in government-owned hospitals because these drugs are expensive and scarce, and most of them live on drugs for the rest of their lives. We should create an inclusive society for these children to make life easier."
Another mother, Oluwakemi Oluwakayode said she and her husband were not told on time that their daughter had cerebral palsy. According to her, after her daughter was born, she had jaundice and was admitted at the hospital. Oluwakemi added that her daughter had a blood transfusion twice and was placed under phototherapy for two weeks.
"When she was five weeks old, we went for immunization and afterwards, she started running temperature for days which was accompanied by a high pitch cry at night, so we took her back to the hospital. She went into a coma and had a blood transfusion due to her low blood level. She was placed on oxygen. A CT scan was carried out which revealed massive blood in her brain (subdural hematoma)."
The lady revealed that her daughter was on admission for over a month. She stated that after they were discharged, they were asked to come for check-ups twice a month for seven months.
She said that when her daughter was seven months, she started having seizures continuously. She said they went back to the hospital and a neurologist prescribed an anticonvulsant for her. She added:
"When she was 14 months, we went for a check-up one day and the neurologist asked if I have been told my child has brain stroke and I said no. He said she needs to start therapy immediately. We registered and started taking her for therapy. Up till now, we still take her for therapy. She is five years old."
A graduate of Biochemistry from Adekunle Ajasin University, Oluwakemi said that her first reaction when she was told her daughter had cerebral palsy was shock and denial. She said she asked herself how a baby can develop a brain stroke and started wondering what would have caused her daughter's health condition.
According to her, her daughter started showing symptoms of stiff muscles (spasticity), wasn't responding to her name and had no eye coordination. She added that her therapist told her that she has spastic cerebral palsy.
She said she thought it was something treatable whereby doctors will just prescribe drugs to heal her but she was wrong and she questioned God for years about her daughter's condition.
Even though the native of Owo, Ondo State, feels like giving up on her child, she changes her mind whenever she sees her daughter's smiling face and calls herself the mother of a superhero.
"Even though I face stigmatization, discrimination from the society, high cost of drugs and therapies, mainstream school not accepting my daughter, transportation challenges when taking her for appointments because I am not mobile, I want to give up but if I do, who will take care of my child?"
She said:
"Now that she's has grown older and has gained more weight, it gives me great concern. I pray that she starts walking so that she will start doing things independently. Taking care of special needs kids can be draining physically, spiritually, mentally, financially and emotionally."