After 32 Years And Counting, The Imasuens Counsel Couples On How To Handle A Troubled Marriage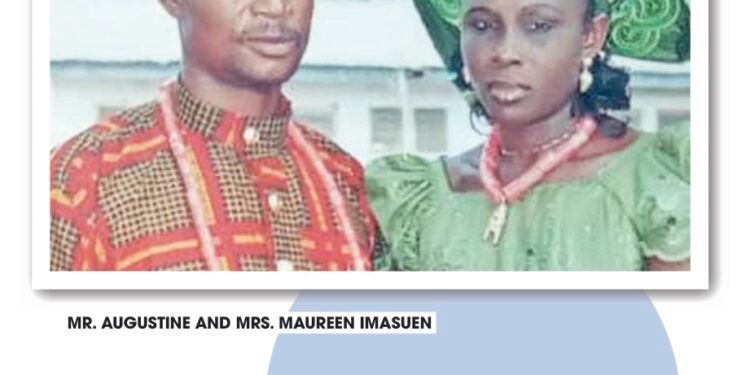 Mr. Augustine and Mrs. Maureen Imasuen have been able to sustain their marital vows for 32 years. They did this despite some odds and challenges that came their way after they tied the nuptial knots in November 1990.
The couple, in a chat with DailySun revealed how the poor state of their finances nearly ruined their marriage but how Madam Maureen rose to the challenge and decided to shoulder the responsibilities of both couples stands as a sterling lesson to all couples.
They also talk about what it will take for couples, old and new, to make their marriage a successful one, despite challenges.
Could you tell us a little about yourselves?
Madam Maureen: I am from Eko-Abetu community in Ovia North-East of Edo State. I practically grew up in the village. In fact, I had my primary and secondary school education in the village. I went to Ezemo College. After my secondary school education, I learnt a skill. But I equally engaged in farming ventures.
Mr. Augustine:  I am from Obazuwa, a community in Ovia North-East of Edo State. I attended my secondary school, Ezemo College, in a neighbouring village, Ezemo. After I completed my secondary school education, I went to a teacher's training college, and later joined the army.
How did you meet each other?
Madam Maureen: My husband and I were in the same secondary school and there was a bit of closeness between us. But he was my senior.
Mr. Augustine: We met in the school.  She and I were in the same school. I was quite familiar with her. But there was no affair between us because I was ahead of her in school. We don't hang around. You should know the phobia junior students had for their seniors at that time. She used to greet me whenever we met. It was either on her way from the farm or I was going to the farm. She is industrious.
How did he propose?
Madam Maureen: When he was ready for marriage, he came back to my village and located me. He informed me about his intentions. I told him to meet my parent. The rest is history.
Mr. Augustine: She is correct. When I was ready for marriage, I returned home from where I was serving with the intention of picking a wife. Then I remembered her. She was an industrious lady. So I decided to visit her. I spoke with her and made my intention known to her. But she asked me to inform her parents. I did. Shortly after that, we had the traditional rites and wedded in 1990. 
What was your experience like at the initial stage of the marriage?
Madam Maureen: Finance was a challenge at the earliest stage of our marriage. My husband was at Kwara State University. What he was earning at that time was just N300. It was not easy managing the home. But I had to support the home front.
I already learnt a skill so the proceeds from it I had to use to take care of the home. I never fought him because of money. And whenever there was a misunderstanding, it was resolved without raising voices. 
Mr. Augustine: My spouse is a very lovely woman. She is a woman with virtue. I am a soldier. She didn't do a honeymoon like other women. Yet she gave me the necessary support that I needed at that time, even to date. I was a student at Kwara State University, though a soldier.
What I earned then was not enough for my education and the home. So my wife sacrificed her comfort for my well-being. This gave me great joy. I am extremely grateful to date for the kind of support she gave me. The things she met in an ugly state she made nice and the nice ones became nicer.
What's your perception of marriage?
Madam Maureen: Marriage was designed by God to be a missionary. It is about the purpose of God. In my generation, with my husband, it is a partnership.
Mr. Augustine: My wife and I are not two individual people who are just successfully going our own way. We are two people who work at merging our life's purpose and mission together so that we can increasingly share it as we move toward the finishing line.
SEE ALSO: Every Young And Intending Couple Should Take Notes From How The Okerekes Have Been Able To Sustain Their Marriage For 43 Years And Counting…
What were the things that you were involved in that kept your marriage?
Madam Maureen: Marriage requires a lot of patience. Apart from patience, you must be tolerant. You need to understand the needs of your spouse and know how you can assist in ensuring that the needs are solved.
Mr. Augustine: When you attend any institution, you are given a certificate after your course of study is completed. But in marriage, immediately after you tie the knot, the certificate is given to you. 
You have to learn to live with your spouse; you don't need to be domineering. It must involve mutual understanding. My wife does not nag; she presents her need and we support each other. This is something couples should imbibe in marriage. Spouses should know how to relate to each other.
Madam Maureen: The respect, compassion and consideration with which we have maintained our relationship were very important; we never argued or fought. There were moments of disagreement. But they were not noticeable to any of our children who also deserved respect and love.
There has been so much violence in marriages recently. What do you think the younger generation needs to learn from the older couple?
Madam Maureen: The challenge with most marriages this day is covetousness. When one is not satisfied with what one has, one begins to put their hands in things bigger than them. When my husband married me, I lived in the barracks. There I noticed that there was some deception in some women's attitudes.
This is because they tried to blow things out of proportion. I stayed where my husband kept me. I related but there was a limit. I didn't allow the women to influence me. What we needed is only what we can afford. Anything more than the things at home was not my business.
I was satisfied with whatever was prepared. If you have N100 and cook soup and another has N100, it depends on how you prepare it. If you prepare food with love it comes out better. A man cannot satisfy the house alone. Both parties should be involved. You don't have to spend more than what you earn. There is no friend in marriage 
Recently, we heard about a young lady who burnt herself because of a marital crisis. Why do people stay in a troubled marriage? 
Madam Maureen: Many people stay in troubled marriages because they believe they have no other choice. They think that they are stuck. They blame this sensation of being stuck on their spouse. But if you are stuck, it's your fault and not your spouse's.
It's sad that a promising young lady would end her life that way, leaving her five kids. Patience is a virtue; women should learn to tolerate their spouses. Whatever is the cause, committing suicide was never the best. She has left her innocent children without the love of a mother. Women should not hurt themselves.
Mr. Augustine: The surest path to happiness is to know that as humans, we are not helpless. But as humans, we should have certain control over our temper. You need to maintain the happy and loving connection that made you say "I do" in the first place.
ALSO SEE: Nigerians Share Interesting Lessons They Learnt In Their First Five Years Of Marriage
There are times when your partner could do something that hurt you, and never apologised for it. How should a spouse manage such situations? 
Madam Maureen: Any person in a marriage that does not know how to apologise is creating friction. If you offend your spouse, don't behave as if nothing happened. In situations like that, if your spouse continues to do it, after you had expressed your hurt by letting him or her know that it bothers you, if they don't change, this can cause you to develop bitterness towards him or her.
When you observe your partner through a critical lens because of an offence, it can cause a rift between you. My advice therefore is, you don't need to dwell on your partner's mistakes, cataloguing their flaws, and building a case to use at a later date.
Mr. Augustine: Treat your spouse with kindness. Instead of being critical, try kindness. It's the key to keeping your love alive. In any interaction with your partner, whether it's personal or practical, try to be kind in how you express yourself. This softens your partner, even at heated moments.
Continuing to be loving and generous have a huge payoff as it not only keeps love alive, it fosters a deeper level of intimacy.