'At This Point…' -Korra Obidi Fumes As Ex-Husband, Justin Calls Police On Her | Watch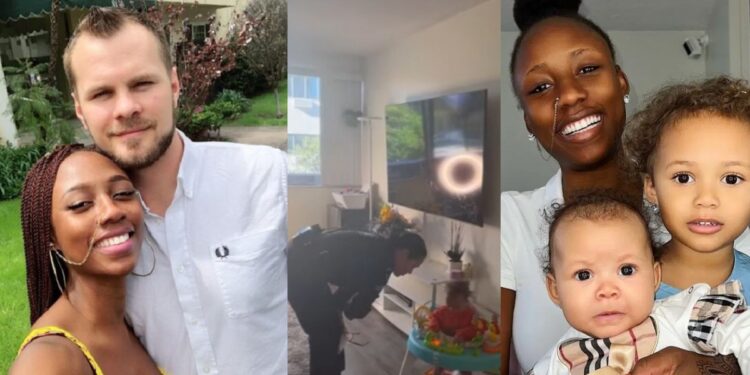 Popular Nigerian dancer and singer, Korra Obidi, has accused her estranged husband, Justin Dean of stalking her.
Since their divorce, Korra and her ex husband have been embroiled in social media battles and messy custody battle.
In a new development, Korra raised alarm over Dean's continuous harassment in a bid to get full custody of their two daughters.
Korra revealed that Justin sent a cop to her residence to conduct an inspection on her second child, Athena Dean, while stating that she got information about the toddler falling from a chair.
The mom-of-two, who shared the video of the cop visiting her home, claimed her ex-husband was behind the police visit.
In the video, as the officer inspects Athena for any injuries, Korra tells her that Justin lied about Athena falling down.
She claimed to have given Athena to Justin in perfect condition. Captioning the video, Korra stated that her ex is stalking her.
"At this point, this is stalking."
Before now, Korra updated the public on her ongoing divorce. She revealed that her Justin was demanding spousal support, as well as custody of the kids.
She took to her Facebook page where she broke down in tears over the unending drama. Korra stated that she tried believing in peaceful co-parenting, but her mindset has been changed.
According to her, her lawyer reached out to her, to alert her of his move. Korra lamented over how she has been taking care of the kids, paying for school fees and health insurance without a contribution from her ex.
The dancer added that Justin had asked for full custody of the kids but was denied.
It is good to know that the dancer has her family to lean back on during this trying times.
Some days back, Korra's family threw support for her as they took a swipe at Justin. Korra's sister had gone on Instagram live with her fans where she talked about Korra's future love life.
Some trolls had stated that it would be hard for Korra to find love again. Laughing the comments off, she called on their dad to respond to the trolls.
Using himself as an example, Korra's father stated that she would find true love.
Despite being a divorcee and a widower, he was able to find true love, as such, he believes his daughter would too.
Taking a swipe at her ex-husband, the father avowed that his daughter would defeat her ex. In his words:
"You have no idea what you are saying. Korra will be fine by the Grace of God. I am happy, I found true love despite being a divorcee and a widower.

Korra will be fine, she will absolutely be fine. By the power of God, she will defeat that idiot."
In addition, her family also stated that they were solidly behind her.