PHC Pastor, Gospel Agochukwu Causes Quite A Stir Online After Revealing His Mum Kneels To Welcome Him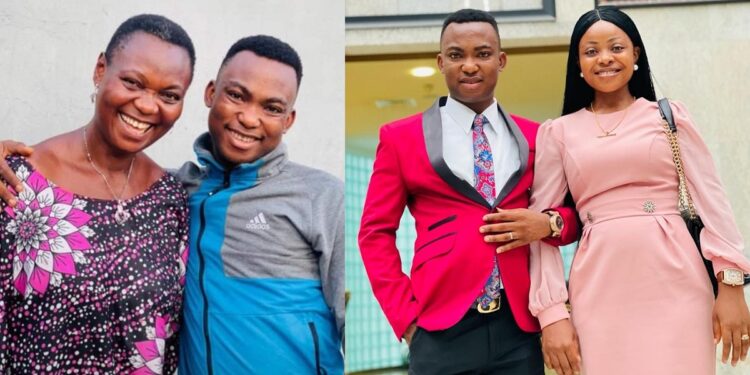 Nigerian clergyman, Gospel Agochukwu, has taken to Facebook to advise Christians on how to treat their pastors with honor and respect.
Citing an example, the founder of Shekinah Arena Gospel Ministries, Port Harcourt, explained that his wife knows when to switch from calling him 'baby' to her 'father', and his mother once knelt down to welcome him to the shock of many.
He disclosed that when her colleagues told her she shouldn't be the one kneeling for him, she told them that she might be his mother physically but spiritually he is her father.
He went on to say that what men of God wear is not just clothes but a "mantle" and people who want to benefit from the anointing of prophets have to receive them well.
According to the young evangelist, some people don't partake of the grace on their pastor's life because they don't treat their pastors with respect.
He added that people should not make the mistake of being too familiar with their pastors because there's a thin line between familiarity and functionality.
His post is already going viral, with many Facebook users giving their opinion, especially about the part where he felt comfortable letting his mother kneel for him.
SEE ALSO: 'I Was A Pastor's Wife Living In Hell' -Nigerian Women Share Really Private Details About The Weird Things They Do To Keep Their Marriages And It Is DEEP!
Read his full post below,
"MY WIFE KNOWS WHEN TO SWITCH FROM CALLING ME MY BABY TO MY FATHER.
FROM MY HUSBAND TO MY MAN OF GOD.
TO THOSE WHO ARE FAMILIAR WITH US WHAT WE WEAR IS CLOTHE, BUT TO SOMEONE ELSE IT IS CALLED MANTLE.
THERE WAS A DAY MY MUM KNELT DOWN TO WELCOME ME TO HER OFFICE AND HER COLLEAGUES ASKED HER NOT TO DO THAT AGAIN BUT SHE SAID I AM HIS MOTHER PHYSICALLY BUT HE IS MY SPIRITUAL FATHER.
SHE TOLD THEM HOW SHE GAVE BIRTH TO ME IN A CRUSADE GROUND AND HOW A DOVE ENTERED THE CHURCH ON MY CHILD DEDICATION DAY.
FROM THAT DAY HER COLLEAGUES BECAME CONVERTS TO PARTAKE IN MY ANOINTING. THEY BEGAN TO TESTIFY FROM MY PRAYERS.
Mathew 10: 41 " He that Receives a prophet in the name of a prophet receives the prophets reward".
The mode you receive your prophet is to the extent you are made.
When you receive a prophet in the name of your brother you receive a brothers reward.
If you receive him in the name of colleague you receive a colleagues reward.
If you receive him in the name of your husband it is husbands reward you must get.
This is why it seems as if oils of Men of God don't Have expression on the lives of certain people it is because of the mode and methods they received it.
There is a thin line between familiarity and Functionality.
You don't speak about encounter you manifest encounter.
Any encounter you have energy to explain did not penetrate you.
Don't make the mistake of See Finish so you will not be soon Finished.

Once God gives a man an office don't relate with him on the physical pedestal..
He is your classmate, friend, colleague but God has distinguished the individual to be a spiritual blessing to you.

You know him too well doesn't mean you shouldn't celebrate him; sow to him or pray for him."
ALSO SEE: 'The Worst People To Take Marriage Advice From Are Pastors' -Filmmaker, Niyi Akinmolayan Explains