Planning To Relocate Abroad? Rev. Mother Esther Ajayi's Advice Will Help Prepare You And Your Marriage | A Must Read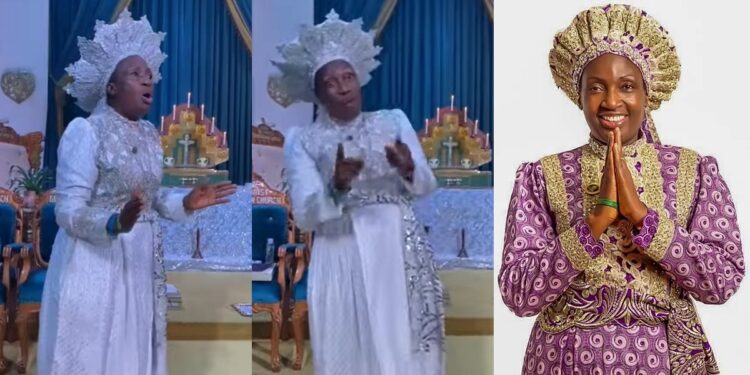 Nigerian clergywoman based in the United Kingdom, Reverend Esther Ajayi, has addressed married Nigerian couples planning to relocate abroad.
In a recent preaching in her church, the General Overseer of the Love of Christ Generation (C & S) Church, London, spoke about the current rave among Nigerians to 'japa'. She also dived into the struggles faced by many Nigerian couples after moving abroad.
According to the clergywoman who has been married for over 40 years, she was once faced with shock as an 'old school' woman when she relocated abroad and witnessed the cultural differences.
The philanthropist questioned if married couples are ready to face the reality of living in a foreign clime, and if their marriage can stand the test of time abroad.
She added that there is a wide difference between the way things work in Nigeria and abroad, so they should think properly before making the decision.
She further stated that some people live better lives in Nigeria but because of the obsession to 'japa', they leave Nigeria and end up living average lives abroad.
She went on to advised them to reconsider moving abroad if God is not leading them to migrate from Nigeria.
'Iya Adura' as she's fondly called captioned the video shared on the church platform:
"Before You #JAPA A wellness conversation advice to prepare you & your Marriage from "Old School" IyaAdura.

Can your marriage manage culture shock and keep you emotionally grounded as you make the necessary adjustments to thrive abroad?

For the rest of us Nigerians living in Nigeria, I am sending you lots of love", we are going through a lot, and it can take a toll on a person's mental and emotional well-being. But God is on the throne!"
READ ALSO: Divorced Woman In Her 30s Airs Her Opinion In Reaction To Tweet Advising Women Planning To Travel Abroad To Get Married Before Leaving…
Watch her speak below,