Singer, Kcee Limpopo And His Brother, E-Money Are Definition Of Real Brotherhood, Find Out How They've Been Able To Achieve This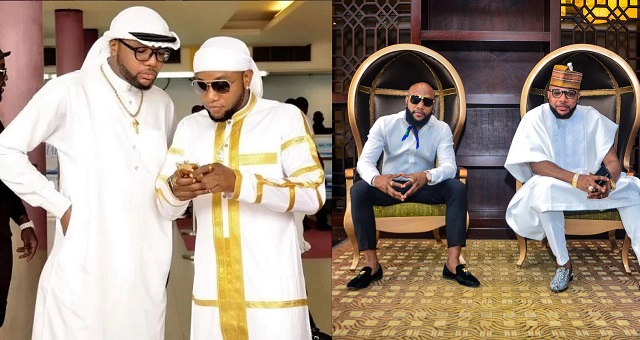 Kingsley Okonkwo, who is well known as Kcee, has spoken on the special bond he shares with his brother.
Kcee is known to have a close relationship with his younger brother and business partner, Emeka, popularly known as E-Money. Kcee is so close to him that he practically mentions his name in all his songs. The duo jointly own Five Star Music.
They are both married with kids, despite that, their bond grow stronger and women or money couldn't tear them apart.
However, their close relationship has led some to think that E-Money is the elder brother; whereas the opposite is the case.
In a recent interview PUNCH, the veteran Nigerian singer opened up on his relationship with his brother. He noted that they were usually careful about how they related with each other.
Commenting on the bond between him and his brother, the singer disclosed that he and E-Money support each other.
Asides from also revealing that they've never fought, Kcee also disclosed that women would have added a strain on his relationship with E-Money if they were loose.
SEE ALSO: Singer, Kingsley Okonkwo, Kcee, Shares Tips On How To Earn A Woman's Consent For Sex But Many People Think He Goofed
He said,
"We have never had a fight. As a matter of fact, we are even worried (that we have never fought). We know our boundaries, and have never crossed them.

When we were younger, if my brother wooed any girl; I would steer clear of such a girl. I won't even be the person's friend. If we were loose, perhaps, women could have come between us.

By the time we got married, our wives were aware of the bond we shared. We are so close; it's divine. I can boldly say we are the definition of real brotherhood.

We have never fought, and it gives me pride to say that. I don't know what will happen in the future, but we pray every day that we don't experience anything that would make us fight."

The 'Limpopo' singer also stated that his background in the low income neighbourhood of Ajegunle, Lagos State, helped him to become a successful man. He said,
ALSO SEE: "My family was thrown out of a house in Ajegunle" – Singer Kcee Limpopo Reflects on Poor Background
"I think a major part of my success has to do with the training I got from Ajegunle. The fire I had in me is still the same now. When one is around lack and struggling for one's life, one will make sure that one escapes such situation."