Yvonne Jegede Spills On Challenges Of Being A Single Mum, Calls Out Ex-husband, Kunle Fawole In Bombshell Interview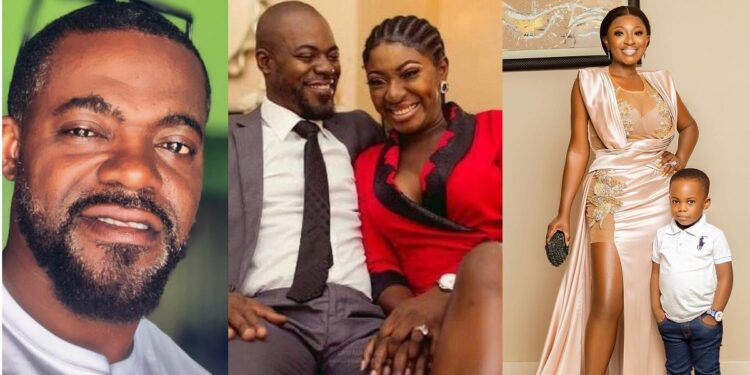 Popular Nigerian actress, Yvonne Jegede has called out her ex-husband, Kunle Fawole popularly known as Abounce, for being a deadbeat father.
Yvonne accused Fawole (late Bukky Ajayi's son) of neglecting their son, Xavier, as he has never made an effort to see his child or speak to him since his birth four years ago.
Recall that Yvonne and Abounce who is also an actor and a singer, got married in February 2017 and welcomed Xavier in November of the same year. They however went their separate ways two years after their union.
Speaking in a recent interview with actress, Mercy Johnson-Okojie, Yvonne spoke about the crash of their marriage. She said what led to the break up of their marriage wasn't really worth it. She said they were best friends before they eventually tied the knot but that they were not just on the same page.
She said if she had stayed back in the marriage just because of what people would say, she would have been unhappy. She added that right now, they are not on talking terms. She shared:
"First I was scared, the marriage of not up to two years crashed, but I'm glad I left because if I had stayed back for what people will say, I will not be happy today.
We don't talk. He doesn't come around, he doesn't call, he doesn't do nothing. I don't know what it is that could cause a friendship… because apart from the marriage, we had a good, very solid friendship.

I think I still look at that friendship and believe this thing wey we dey experience now, we no suppose to, at least that friendship wey we get supposed to cover up for somethings. He no dey call."
SEE ALSO: Screen Diva & Mom, Yvonne Jegede Explains Why She Enjoys Her Single Status
With regard to their son, Yvonne revealed that while she was pregnant, Abounce never bothered to be part of that journey.
In addition, she stated that Abounce only came around to acknowledge their son when she threatened that she would remove his surname from Xavier's name if he doesn't show up before their son turns five.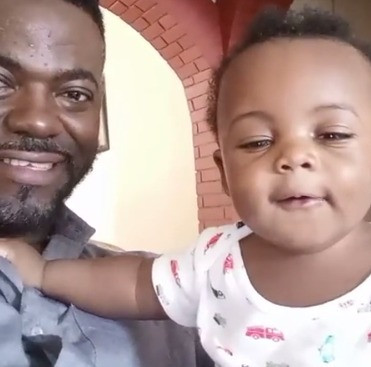 She said she had to insist that their son bears hers and his father's surname, Jegede-Fawole, because she was the one who suffered so much, cleared her account to go to America to birth him.
"The first time he publicly accepted the son when he was 5 months old was when I gave him an ultimatum that I will remove his surname once the boy turns 5.

Thankfully, I had given him a compound name, Xavier Jegede Fawole, and I threatened that I will remove the Fawole and leave just the Jegede since I am solely raising him up.

That was what made him come then to carry the son when he was 5 months old, took photos and posted them on social media and since then no show."
The talented movie star further said after Kunle's public acknowledgment in April 2019, he has not bothered about their son. Yvonne said:
"Since that they, he has never come to the house, he has never called. His son turned one, no call, no text message to say Happy birthday."
She further stated that the day she dreaded the most came, which was Xavier asking about his father. She said she sent a message to Kunle's older brother to inform him that Xavier was asking for his father and that he should help get Kunle to please come around to see his son. She said:
"The response I got after two days was not encouraging. Your gift is in my hand yet you don't care. You see, one moment I dreaded the most is for my child to wake up one day and ask where is my father and it has started happening.

One day when he asked, I had to send messages to his siblings to ask him to come and check up on him but it yielded no result."
ALSO SEE: First Time Mom, Yvonne Jegede Reveals How She's Coping As A Single Mom After The Crash Of Her Marriage
Yvonne added that Kunle doesn't want to come around. She said she tells anyone who cares to listen that he will have access to his son whenever he wants to, but he has since kept his distance.
"It was so bad that my father had to represent my son at school for a father's day event they recently had. It was embarrassing for me but I'm waiting to see when he will show up or if he wouldn't till the boy turns 18."
She also addressed the saying that Xavier will go looking for his dad when he turns 18 after many years of neglect. She stated:
"My pikin nor be foolish pikin."