Comedian Julius Agwu Confirms Split From Wife As He Opens Up On His Health Challenges (Video)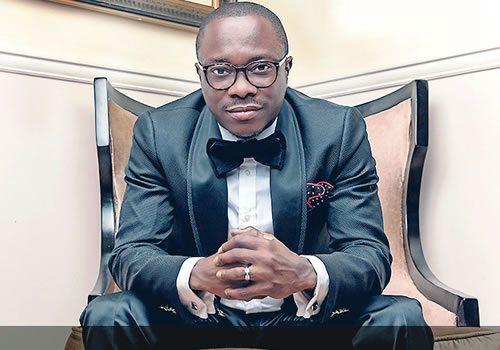 Stand-up comedian, Julius Agwu, has confirmed that his marriage to Ibiere (nee Maclayton) has ended.
The couple were married for over 15 years before their split, which many believed was due to Julius' health challenges.
Earlier in the year, there had been reports that their marriage had hit the rocks. However, in a recent interview with a media personality, Ifedayo Olarinde, aka Daddy Freeze, Agwu confirmed that his marriage had hit the rocks.
He revealed that his wife left him because she was tired of being married to him. In his words:
"My wife said she was not marrying me again. She said she was tired of the marriage."
Despite his crashed marriage, Julius, who shares two kids with Ebiere, said he is grateful to be alive. He added,
"That's why I thank God I am alive. That's why I said 'Satan works in mysterious ways but God works in miraculous ways'."
Asked about his children, the comedian said,
"My kids are in the United States of America. They are fine."
Reliving his experience when battling with brain tumours, Julius admitted that the rumours about his health failure are true.
READ ALSO: Father-of-2, Julius Agwu, Recounts How he Died and Woke up on His Way to the Mortuary
He disclosed that in 2016, he was admitted at a London teaching hospital, where he was in Coma for three months.
"There were no rumours about my health. It's true. I wanted to cool down for a while. I had a surgery in 2015 to remove some tumours from my brain.

I came back to Nigeria and did a thanksgiving service. After that, I travelled to London, United Kingdom, in 2016 for a show. But, just two days to my show in London, I was rushed to the hospital. I was in coma for three months; and I can only thank God that I am alive."
It was alleged in March that Ibiere Maclayton had moved on with another man despite the comedian's ailing health.
This was disclosed by Instagram blogger Gislovers alleging Agwu's wife claimed she was tired of taking care of him and that his numerous side chicks should also take turns to care for the comedian.
Gistlovers also alleged that Julius was fond of sleeping with numerous side chicks while making waves in the entertainment industry.
Hence his had also called on side chicks to take care of him since they enjoyed the comedian's money when he was financially buoyant.
In what seems like a response to the rumours, Ibiere shared a mysterious post on how voicing out your feelings ends up showing your level of stupidity.
ALSO SEE: Father of 2, Julius Agwu Opens up on his Terrifying Brain Tumour Experience
Ibiere shared what looked like an advice about not voicing out every thought or opinion on certain matters.
According to her, voicing out your thoughts most times, confirms your level of stupidity to people. She wrote:
"Not every thought or opinion on certain matters should be voiced out. Most times, you only just end up confirming your level of stupidity to people"