Few Months In, Actor Yomi Gold Announces Separation From 2nd Wife: 'She Doesn't Deserve A Man Like Me'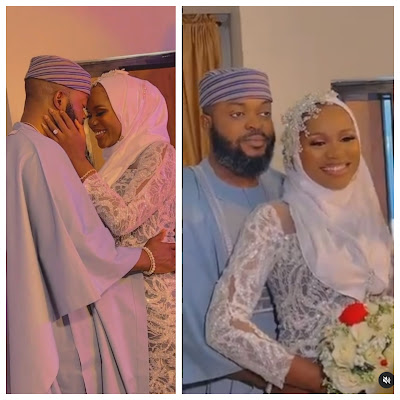 Nollywood actor, Yomi Alore known as Yomi Gold has announced his separation from his wife, Meenah whom he got married to barely a year ago after previously dumping his first wife of 15 years.
Making the announcement on his Instagram page moments ago, the abroad-based father of two disclosed that love is dead in their marriage and it should not be forced… one of the reasons why they are going their separate ways.
He went on to describe his young wife as a good woman but she doesn't deserve a man like him. He wrote:
"Me and meenah decided to go our separate ways..

I want all our families and friends, fans to understand.

This is no time to judge anyone.

When love dies in relationship

No one should force it.

I want to use this time to thank everyone who has been very concerned and supportive.

Meenah is a good person.. she doesn't deserve a man like me.

She will make a great and loving partner to a far better person than me.

I am not perfect.. I will work on myself and be a better person.

This as to be published because we want everyone who knows about us to be aware of our decision.

Time will be good again.."
ALSO SEE: Actor Sanyeri's Wife Announces Divorce: 'I Have Been Living Single For 9 Years Now'
The popular Yoruba actor secretly tied the knots in an unidentified location with another woman after dumping his wife of almost 15 years, last year.
After the dissolution, which had produced two children, the actor married an up-and-coming actress, Ameenat, who was dressed as a Moslem bride.
Unlike other celebrities who publicize their marriages before the D-day, Yomi kept things very low-key and only invited guests who appeared to be aware of the development. It was gathered that people were not allowed to take photos at the event but snaps still made it online.
Yomi and his first wife had a fall out in 2018. Later, in an Instagram post, she accused him of dumping her and their two kids and chasing an upcoming actress called Ameenat.Sharing a throwback photo, the first wife captioned,
"WHEN Saheed was Saheed ……. it is well…..14+ Years is a joke!!! it is well ….. inside life…. "."
Her post got lots of comments from Instagram users, including one from a user with the handle @I_am_turah.
Victoria went on to call out @I_am_turah for her comment. She cursed Turah and another woman named Ameenat who she said took Saheed from her after she suffered with him for years and bore two kids.
SEE ALSO: Actor Yomi Fabiyi Shares on Why He Married His British Ex-Wife & Not a Nigerian Woman
See the Instagram exchange below…
In an interview with PUNCH in 2018, Yomi made it known that walking out of a marriage is better than making a mess of it.
He said,
"Of what good would it be to people if they can't allow me to be the 'driver' of my own car (sic)? Why should they behave like they are perfect? Anything can happen. The society is quick to judge when they are not the one wearing the shoes.

I decided not to talk about it because I own my life. The most important thing is for me is to be alive. If anything bad should happen, I would be on my own. I don't owe anybody an explanation; I just want to live my life. As time goes on, people will see for themselves.

Leaving a marriage that is not working is more honourable than making a mess of it. If people know what really happened I don't know what they would be saying.

I don't need it for publicity; I am a very shy person and a gentleman. I know I am a good man. I don't think I need to go on social media to talk about anything."