Ireti Doyle Speaks On Why She Distanced Herself When Her Daughter Was Accused Of Fraud
Movie star, Ireti Doyle, has opened up on the business scandal involving her daughter, Abimbola Ngozi Onyeulo, better known as Kachi in 2021.
Abimbola, the Chief Executive Officer of Kachi Beauty Products, was accused of defrauding her customers.
An investigation had exposed how the entrepreneur allegedly carted away over N40 million belonging to her patrons after pushing a hair business scheme that promised to make wealthy those who joined its wholesale distribution.
The business, described as an "empowerment scheme", had attracted many young women and men both in Nigeria and in the diaspora, most of whom trusted Abimbola due to the status of her mother as a prominent actress.
With purchases put in batches, Abimbola introduced a distributor package. It cost N300,000 to subscribe to the silver category, N500,000 for gold subscribers, N1 million for platinum, and N5 million for diamond subscribers.
But allegations of fraud from over 60 customers prompted her mother to dissociate herself from the venture, saying she has no part in Kachi's business and the relationship shared with her is just being her mother.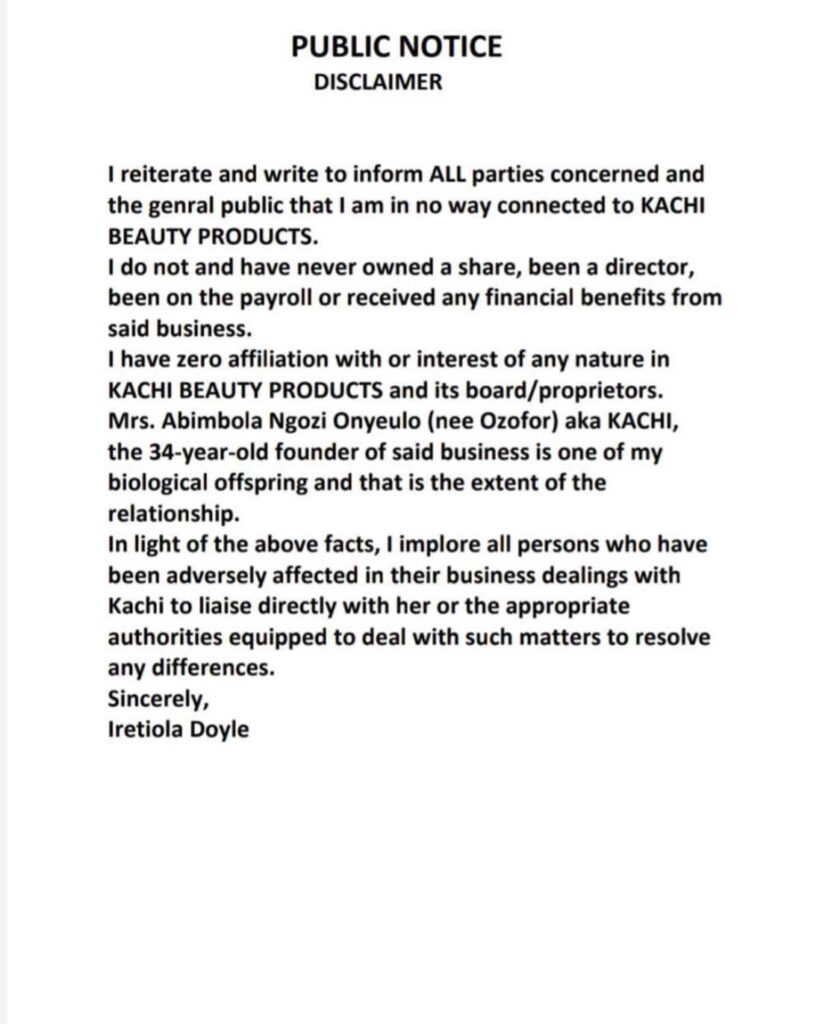 SEE ALSO: Veteran Actress, Ireti Doyle Opens Up On Her Wrong Choice Of Marriage To Patrick Doyle, Confirms Divorce From Him
In a recent chat with media personality, Chude Jideonwo, Doyle said she had to distance herself from the scandal because "I didn't see any decisive action on my daughter's side to take the heat off me."
The Nollywood star added that while trying to resolve the disputes and clear her name, Abimbola told her to "mind your business".
She further said:
"In her defense, the few times I decided to reach out to her and say, 'a random person reached out to me and this is what they said, would you like to deal with this what's going on?'"

"She will give me a detailed explanation with proof and tell me how it is being sorted. It got to a point where I was now like, 'hello I'm not customer care, I don't work for this company.'

"You know another statement that has been weaponised is 'as a mother'. Because of 'as a mother', so you too you're stepping into situations that are really none of your business.

"It got to a point I didn't like how the situation was being handled even on her part because the customer is always right.

"But I didn't see any decisive action on my daughter's side to take the heat off me. There was a time she told me to mind my business. It's her business, she will handle it and I should go and clear my name anyhow I see fit."
ALSO SEE: Star Actress, Iretiola Doyle Revels Her Grandma Status, Pens Beautiful Piece To Her Granddaughter Who Turned One
Some of the people who claimed to have been scammed sent a mail and messaged to the online platform, fij.ng, and it read:
Pretty. Ddy: "Distributors package refund my money so I can pay up the loan you made me incurred so we can go our separate ways."
Blenwoman: "Refund my 300k and stop being heartless."
Hairvolution beauty: "Kachi is the biggest scammer I have ever seen, she is soo rude, it will never be well with her ooo she is holding my 206,000 for the past six months now no product no refund."
Bolu2704: "So this is what I heard from a right source oo .. for the wholesale deal , I head Kachi wrote terms and conditions, people who bought from the wholesale deal didn't read that part they just went ahead and payed …if you bought from her whole sales deal the money is gone except you followed the terms and conditions, I don't think she will pay them oo , na Wetin I hear from someone very close to her."
Shawtymj: "Paid 80k since may last year when I was just 4 months pregnant, now my baby is four months old, no hair and no refund!! Imagine that I wanted to use the returns of the money to buy baby things only to be stranded by Kachi!! Once I asked for refund, she blocked me !! How can you take someone's money refused to deliver and also refuse to refund !! The audacity this Kachi lady has is what is amazing, anyway I don't blame it's cause our justice system is wack. If not she go refund me my money , pay for demurrage and for emotional distress."
Zita: "My God is not their gods.@kachibeautyproducts did you see me calling you again. The way to get my money back is on process. you will come down to Anambra your self and you must pay me with interest. This is the request I made .you will suffer. She is heartless and wicked. if she refused to pay go and petition her at the any of the super shrine in Anambra state.no pity for a heartless bitch. I am Zita, you blocked me, you will suffer I promise you that."