Jubilation As General Hospital Announces The Birth Of Mrs Faniyi's Quadruplets After 11 Years Of Waiting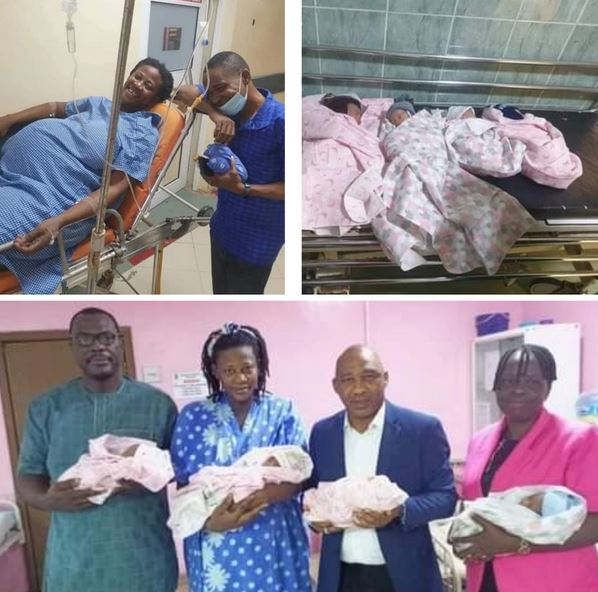 It was a quadruple joy for a 37-year-old Nigerian woman identified as Mrs. Faniyi who was recently delivered of a set of quadruplets at the General Hospital, lkorodu, after 11 years of waiting to have a child.
The all – female quads were delivered 10minutes interval from one another, and weighed 2.45kg, 2.25kg, 1.7kg and 2kg respectively.
This was disclosed on the hospital's social media handles and according to the post, a team of doctors, nurses and other medical personnel of the hospital, led by Dr Femi Aletan, Consultant Obstetrician and Gynaecologist, delivered the babies through a successful caesarean section.
Sharing the good news on Facebook, the hospital management wrote:
"We are proud to announce the birth of a set of quadruplets at our Mother and Child Center. The delivery which was through a caesarean section  conducted by a team of doctors and  nurses including Obstetricians, Paediatricians, Anaesthesiologists and Perioperative Nurses led by Dr Femi Aletan,  Consultant Obstetrician and Gynaecologist, and Dr Dehinde Akinlolu.

The set of quadruplets, all females weighed  2.45kg, 2.25kg, 1.7kg and 2kg respectively. The Faniyi quads  were delivered at a gestational age of 34 weeks and 3 days.

All the babies  were delivered within 10 minutes of one  another on Friday, February 17, 2023 with the first arriving at 12:20pm. The babies are all in good health and doing well.

The mother, Mrs. Faniyi, a 37 year old that waited for 11years before the delivery of the set of quadruplets is filled with immense joy."
READ ALSO: Here's The Impossible But Fascinating Birth Story Of First-time Mum, Ngozi Uzodike's Sextuplets