Whitney Adeniran's Tragic Death: Dance Queen, Kaffy Fumes As She Vows To Withdraw Her Kids From Chrisland School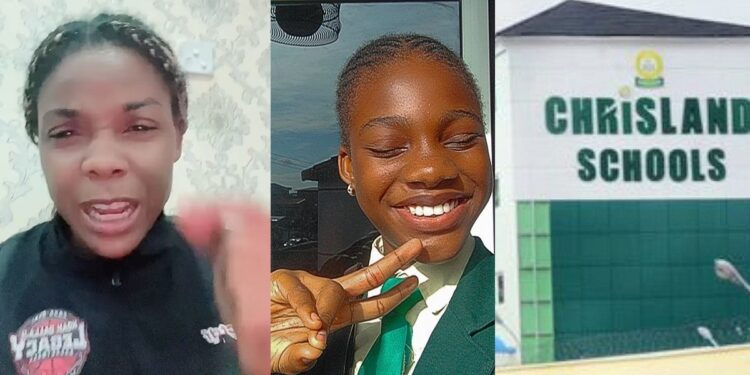 Popular Nigerian dancer, Kaffy Shafau, has vowed to withdraw her daughter from Chrisland School following the tragic death of a 12-year-old student of the school, Whitney Adeniran.
Kaffy made a video to address the growing concerns trailing the school over their negligence in Whitney's death.
Recall that Whitney died during the school's interhouse sports in February. The school had claimed she slumped; however, an autopsy carried out on her body to ascertain the cause of her death revealed she was electrocuted.
Taking to her official Instagram page, the mother of two spoke on the unfortunate incident that led to the death of Whitney and how the school handled the situation.
Kaffy bemoaned the school's negligence and their lack of empathy. She decried the several 'sacrifices' of children in Nigerian schools due to their carelessness.
According to Kaffy, she is heartbroken over the school's nonchalant attitude to the deceased parents and the consistent pattern of molestation in the school.
Speaking further, the entertainer said the negative reports about the school are becoming too many, with the management not showing any effort to make amends.
She went on to reveal she would be withdrawing her children from the school even though she had already paid her daughter's fees.
However, by taking this action, Kaffy is strongly urging schools and other organizations to take student safety seriously and to put policies in place that will guard against neglect and injury in the future.
READ ALSO: UPDATE: Mother Of Chrisland Student Who Died During School's Inter-house Sports Fumes As Autopsy Result Reveals The Real Cause Of Her Daughter's Death 
#JusticeForWhitneyAdeniran: Dancer Kaffy withdraws her kids from Chrisland school, gives reason

— Instablog9ja (@instablog9ja) March 7, 2023
— Instablog9ja (@instablog9ja) March 7, 2023
— Instablog9ja (@instablog9ja) March 7, 2023
Recall that in a video posted online on February 11 , the distraught mum of the deceased, Mrs Blessing Adeniran said she was at the event to watch her daughter participate, but became worried when she didn't see her daughter during the match past as well as other sporting events.
Mrs. Adeniran said she decided to go where the students were all kept to check on her child, and when she got there, she was told by a male student that a certain Whitney fainted and had been rushed to the hospital.
Whitney's mother said her daughter was not ill prior to the inter-house sports day and when she asked the doctor at the hospital the cause of her daughter's death, the doctor said it appears to be cardiac arrest.
Reacting to the incident, Chrisland School management explained that about two weeks prior, Whitney had complained of ill health and chose not to participate in the school's march-past.
In a statement released, the school claimed Whitney died in "public view and not under any hidden circumstances," adding that she was rushed to the nearest medical facility for first aid.
However, Whitney's father claimed his daughter "died from naked wire from one cotton candy vendor machine after she touched it and she was electrocuted immediately she leaned on it."
He claimed water was poured on her which killed her immediately.
"I have documented evidence that my child died from electrocution and it was not Cardiac arrest. She was hale and hearty, she was not sick. And let me state it clearly, by the time I saw her corpse, her lips and tongue had already turned black,"
Mr. Adeniran told BBC Pidgin.
ALSO SEE: Lagos State Government Reacts To Alleged Plans To Exhume The Body Of Late Chrisland School Student, Whitney Adeniran
The school's management however, appealed to Whitney's parents to establish a scientific confirmation of the basic cause of her death before her burial.
An autopsy has since been conducted and the results showed that Whitney died of electrocution, according to her mum.
Giving an update on the autopsy, Mrs. Adeniran accused Chrisland School of lying to her and her husband about their daughter's death.
Mrs Adeniran said her daughter was cut open in order to get the results. She said Whitney was menstruating before her death and her menstrual blood was also taken for tests.
She called out Chrisland Schools for making her family go through the trauma due to the autopsy, when they could have just told them how their child died.